I've never been more aware of my caramel skin color than I had been in 2017. During the past year, the country was yanked from Obama's charismatic and reassuring teat and tossed to the wall loving Trump administration, which crowned Mexicans as an additional minority scapegoat despite always being an underground audience throughout American history and culture. It's true that the air was thick with smoggy racial tension in the past year, but despite the fog people didn't lose sight of what a diverse melting pot the U.S. really is. Mexican culture shone in response to the racial anxiety that arose. Evidently, American culture has made Mexican mainstream throughout the media, music and politics.
DACA Protests
The man inaugurated in 2017 started his presidential campaign with "Mexico is not sending its best…they're bringing drugs, they're bringing crime, they're rapists." This comment wasn't forgotten as the country grew numb to Trump's daily scandalous behavior. These words, and many similar, set the political and cultural tone for 2017.
Although the promised wall wasn't fulfilled, the Trump administration wasted no time cleansing the country of immigrants by installing Travel Ban laws and repealing DACA. For many college students, DACA should sound familiar due to the countless protests on campuses demanding it to not be repealed.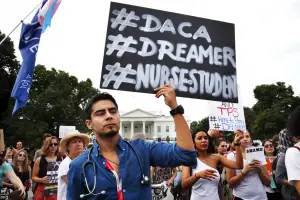 DACA was an Obama Era law that allowed immigrants and immigrant children, who have no criminal background, to stay in the country and to attend college to gain citizenship after graduating. Fall of last year, Trump administration repealed the Dreamers Act, jeopardizing thousands of student's futures.
As many Republican's rejoiced in their victories to separate families and deport thousands of people back to places they don't call home, people responded by coming together in protest. Quince dress protests on the Texas capitol, student walk outs and deportation awareness classes spurred across the country in 2017. Twitter and Instagram trended #DefendDACA for weeks and celebrities vocalized their outrage alongside protesters.
"Coco"
Disney Pixar's movie Coco focused on the Mexican holiday "Dia De Los Muetros." Coco is about Miguel who secretly wants to be a musician, but forbidden from music after his great-great-grandfather left the family to become a famous musical artist. While celebrating Dia De Los Muertos, Miguel magically gets stuck in the Land of the Dead and tries to get back home and find his great-great grandfather. Overall, the movie was funny with Frida Kahlo making an appearance and the mouths on the characters were exclusively re-animated for the Spanish version.
To find the right tone for the movie, Director Lee Unkrich, director of "Toy Story 3," established a cultural consultant group to avoid stereotypes and increase connection to Mexican culture. The tone perfectly embodies Mexican's strong family values, "Familia es primero (Family is first)" as quoted throughout the film.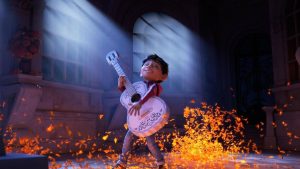 Production of Coco began in 2011, but the film reflects tensions at the Mexican border as families struggle to see each other just as Miguel tries to cross from the Land of the Dead back to Earth. While in the Land of the Dead, Miguel meets his dead relatives and makes discoveries about his heritage and himself. This parallels families not knowing their relatives beyond borders.
In addition, in the Land of the Dead, once the living family forgets about the dead relative, they evaporate. Again, this is mirroring how Hispanic heritage is forgotten along with the unknown relatives. The movie tugs on the audience's heart strings (like any good Pixar film) when you realize that this animated movie is a reality for families across the country. Frankly, even if you don't focus on the deeper message, the plot alone makes you bawl like a baby.
Music
The radio has always dipped its nose in Latin pop waters, but this year some of the most popular songs are a result of big (and occasionally non-Spanish speaking) artists diving deep into Spanish lyrics. The hit summer song "Despacito" (Slowly) by Luis Fonsie and Daddy Yankee's hit single featuring Justin Bieber was the first song made primarily in Spanish to reach the top ten on the Hot 100 in twenty years or so since the "Macarena."
Or more recently, bilingual black rapper, Cardi B came out with a collaboration with Ozuna called "La Modelo." On Instagram, Cardi B translated her Spanish verse reminding listeners why Spanish sounds so hot in general, but understanding is much sexier.
[su_youtube url="https://www.youtube.com/watch?v=X8sSXU-J8fI"]
Another black artist slaying Spanish is non other than the Queen Bee in "Mi Gente" (My People) with J Balvin and Willy Williams. Like most of Beyonce's music, she took another stand in which her lyrics translate to "My music doesn't discriminate against anyone, so we're gonna tear it up," then continues in English to list the affected countries hurt by natural disasters this year, "Lift up your people, From Texas to Puerto Rico, Dem islands to Mexico." The Spanish spice wasn't just another marketing strategy, but rather translated it's message to action by donating all the profits from the song to the countries badly affected by the recent Hurricanes Maria and Irma.
Selena
2017 marked the twentieth anniversary after Selena's death, resulting in "anything for Selenas" with several tributes to the fallen pop princessa. The most popular tribute was the makeup company MAC releasing a limited edition line inspired by beauty icon, Selena Quintanilla. Fans and make-up artists flocked to Corpus to attend MAC's release party and stores across the country had people lining up for hours to get their hands on "Como La Flor" lipstick or "Bidi Bidi Bom Bom" lipgloss. In addition, modern beauty icons such as Kim Kardashian and Demi Lovato dressed as Selena for Halloween in her iconic purple glittery jumpsuit. Even Google made a short animated video on the search page for her birthday with a biography of Selena's life.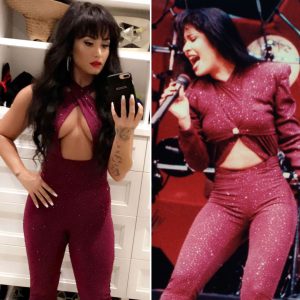 I have never been more proud of my caramel skin color than in 2017. The arts of this past year were done by all races working together proving that this country can battle racial anxieties in style. The examples mentioned above are evidence of recognition and unity, which is something that needs to be further projected in 2018.