It's officially Summer, and the temperature is only going to rise from here on out. Dealing with your hair in your face is the last thing you want to be thinking about during your adventures. When it comes to styling your hair, you want something quick, easy and freeing.
This Summer, try forgoing harsh styling with straighteners, curling irons and products with sulfates. Hair straighteners and curling irons can make your hair look unbelievable, but the added heat can fry your tresses. Products with sulfates can dry out your hair and skin, and even strip the natural oils and proteins that help keep it healthy. Try a sulfate-free shampoo and silicone-free conditioner, put down those hair irons and give your hair a break before it breaks off.
The list of harmless hairstyle possibilities is endless. Here are the top five heatless hairstyles you should try this Summer.
1. The Topknot
The topknot bun is an effortless look to try out this Summer. With this hairstyle, your hair is completely out of your face, so you don't have to worry about it getting in the way.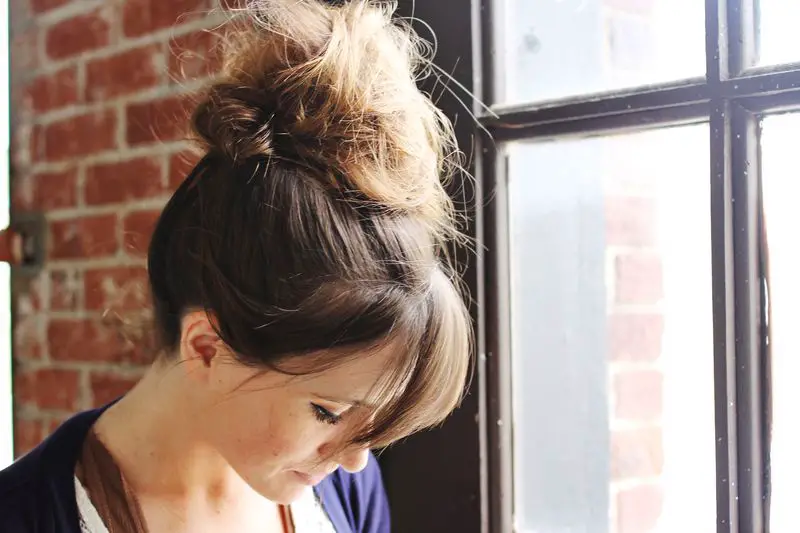 My personal favorite topknot style is the messy bohemian look, which you can achieve by pulling a few strands out around your face and loosening the bun. To make you outfit look more sophisticated, I recommend slicking your hair back with hairspray to tame any baby hairs or flyaways and making your topknot bun really sleek and tight.
2. Space Buns
The hottest hair trend is double buns that make you look like Mickey Mouse or Princess Leia. You can wear this hairstyle numerous ways to look flirty and cute, and you can wear your buns up high on the top of your head, low down to your neck or in the middle by your ears.
One of my favorite ways to wear the double-buns is a half-up, half-down look. My hair is in a lob-style, which is essentially just a long bob, but since the hair in the back is too short, I have to either pin it up with bobby pins or just leave half of it down.
Here's a how-to: Start by putting half of your hair into two high pigtails. Next, wrap your hair from one of the ponytails around the elastic and then secure it with another hair elastic. Repeat that step with the next ponytail, and you'll have two buns on the top of your head.
One way to spice up your space buns look is to add braids. First, section your hair off into two high pigtails. Then, start braiding each section, and securing them with a hair elastic. Next, wrap the braid around the pigtail to create your first bun, and then repeat with the second section. Pull at the buns to loosen them for a more voluminous look.
3. The Half-and-Half
The half up, half down hairstyle is perfect no matter the length, thickness or texture of your hair. This hairstyle is great for looking stylish effortlessly and, most importantly, your hair is out of your face. You can mix up this look in so many different ways by incorporating different braids, buns and hair accessories like bobby pins and headbands.
To achieve this look, section the hair above your ears into a clear hair elastic. Now, you can either leave you hair in the ponytail or you can spice it up. To add something extra to your half up, half down hairstyle, braid the hair that's tied up into a loose fishtail braid. Once you have created your braid, you can either leave the way it is, or you can wrap the braid around the first hair elastic to create a fishtail braided bun. The fishtail braided bun is quick and easy to do, and once it's completed, it looks almost like a beautiful flower.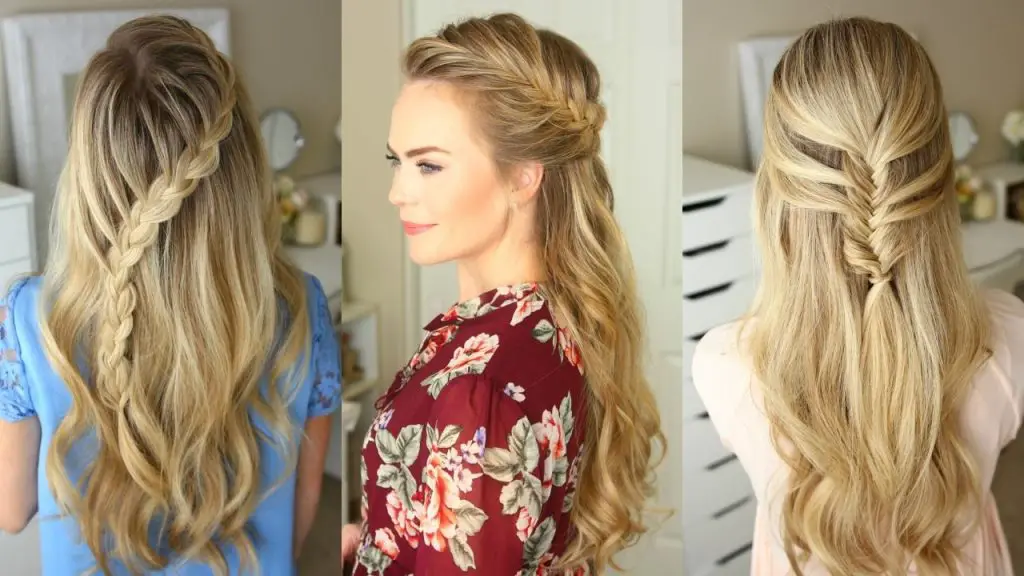 One of my favorite versions of the half up, half down hairstyle is the half bun. I'm all about quick hairstyles, and the half bun takes around four seconds to complete. Plus, it looks very trendy. To create the half bun, simply section your hair above your ears, and instead of securing the ponytail, twist the hair, loop it under the hair elastic and pull it to create a bun.
4. The Spunky Pony
The classic ponytail is so timeless and is hands down the easiest hairstyle to keep your hair out of your face. To make a ponytail, all you have to do is grab any hair elastic and secure all of your hair inside it. You can make your ponytail as high or as low as your heart desires. This look is simple, but it will never go out of style.
Instead of doing a simple ponytail, try jazzing it up by pulling out a strand of hair that is one inch in width. Once you have your one-inch strand, wrap the piece of hair completely around the top of the hair elastic, which creates the illusion that your hair is secured by the strand, and secure the strand with a hair elastic or pins. Or, to add something different to your pony, braid a one-inch strand of hair, wrap it completely around the hair elastic and secure.
One of my favorite ponytail styles is to split my hair down the middle into two sections and start double Dutch braiding the sections. Once the two braids have reached right above your ears, secure them with a hair elastic. Pull the braids until they're loose and voluminous, and then pull the hair into one messy ponytail and secure it with another elastic. This look is edgy and trendy, and is also really simple to achieve.
5. The Braid(s)
Hair braiding is the interweaving of two or more strands of hair. The best part about braids is that you can wear them many different ways and every version is so cute. You could have one braid or you could have five different braids, the limit simply doesn't exist when it comes to hair braiding. A few types of braids are the simple three-stranded braid, the fishtail braid, the French braid, the Dutch braid, the Milkmaid braid and the waterfall braid.
To add something different to your braids, try adding floral bobby pins to make your look more girly and bohemian. Adding a funky colored headband to your braided hairstyle is so simple, but chic. If you are feeling a little spontaneous, try doing upside down, double Dutch braids into space buns for an edgy look.
The most important thing with these hairstyles is that your hair is out of your face, which is one less thing you have to deal with on those hot summer days. There is no right or wrong way to do these hairstyles and you can even combine a few of them or start your own hair trend. Stay cool out there and don't let your hair weigh you down!