Just recently, Discovery paid a whopping $70 million to increase their ownership stake in Oprah Winfrey's television network, OWN. This will be an additional 24.5 percent to what they previously owned, totaling up to about 75 percent. In 2011 when Oprah Winfrey started OWN, the channel's ownership was backed by Discovery and her own television company, Harpo Inc, which she ran with her lawyer, Jeff Jacobs. Despite Discovery owning the majority of the network, Winfrey will remain as the CEO up into 2025.
Personally, I was pretty off the radar and forgot that Oprah even had a television channel after her talk show ended in 2011. David Zaslav, Discovery's CEO, partnered up with the icon to create OWN in replacement of the Discovery Health Channel. Zaslav was persistent to help Winfrey, especially in the very beginning of the network when things were moving a little rocky. His recent move to acquire even more ownership of OWN leads me to the unavoidable question of whether Oprah's leading voice in the network will be hindered at all. Fortunately for all Oprah fans, no, it will not. By the looks of it, Zaslav's channel will help more than hurt the channel.
After a bittersweet goodbye to the daily talk show in 2011, Oprah found different ways in the media to venture out. O, the Oprah Magazine, started back in 2000 and was one of the many avenues of her communication to fans and continues to impact people's daily lives. With the end of her show, she was able to focus more on cultivating her voice and vision through the magazine as well as her website, oprah.com, and overall her network.
When Oprah first began her show back in 1986, an empire was truly born without the back-up of any big corporations. She left an impact on women (and surprisingly even men) everywhere across the United States. From celebrity guest interviews to talks about physical and mental health, Oprah's talk show touched on the most urgent topics of the society and catapulted her into a trusted figure to viewers everywhere.
As the CEO of a $19 billion empire, Zaslav knew what he was getting himself into when he partnered with the host to make her channel work. The start of OWN was rather rocky—when a channel is first out into the media, it can actually take a couple years to gain recognition, even if you're Oprah Winfrey. An interview with Oprah and Lance Armstrong marked the end of the years-long period of a consistently low subscriber turnout and the beginning of the channel's flourish. In the interview, the seven-time Tour de France cyclist opened up about coming clean over using performance-enhancing drugs and being stripped of all seven of his titles, as well as an Olympic bronze medal. The interview brought in revenue of millions of dollars for OWN and turned the television channel's fate around.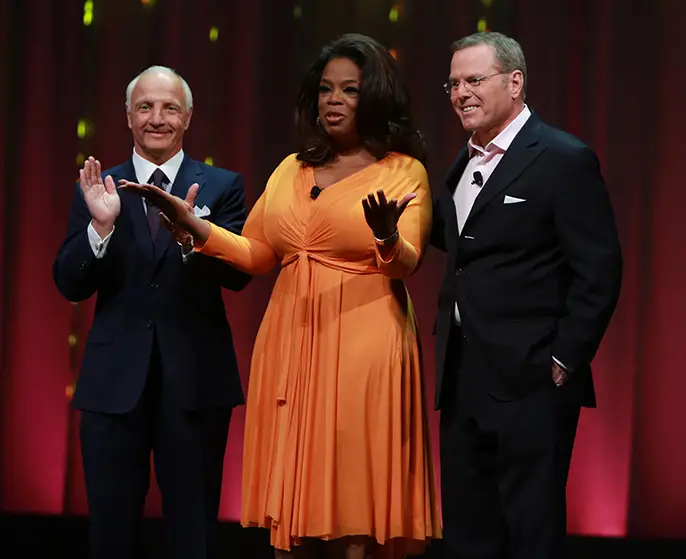 When I first read that the channel would revolve around non-fiction, I expected a bunch of talk shows that were relatively similar to Oprah's previous ones. Contrary, OWN became home to shows filled with heartbreak, love, loss and a variety of different emotions and situations that pertained to all viewers. Hit dramas such as "Queen Sugar," "Greenleaf" and "The Haves and Have Nots" became the top television series for African-American viewers. Ever since then, OWN rose to become the No. 1 network for African American women. As the channel began to evolve, so did it's partnerships. Relationships with top writer-producers, such as Tyler Perry, Ava DuVernay, Mara Brock Akil and Salem Akil, started to bloom, establishing the channel's name among the most popular.
Years ago when Zaslav and Oprah began to envision what the channel would reflect, they worked together to create a network that could continue to inspire women through relatable, real-life stories. He remarked that "In an increasingly crowded landscape, OWN has emerged as the leading destination for African-American women and one of the strongest superfan brands across all screens and services. This transaction allows Discovery and Oprah to unlock more value from our partnership; extends once more her commitment to the network, and lets us continue our strong work together to nourish OWN viewers with the content they love."
Despite being the owner of fourteen different networks, Zaslav hasn't failed to put OWN on the highest pedestal.  What many expected to be an impossible success is now one of the most watched channels on television. Because Discovery has already spent years watching OWN gradually prosper, it's no doubt their ownership will become even more beneficial. It's an opportunity for the network to continually strive for success securely with even further support from Discovery that comes along with the increased ownership. The fact that Discovery had actually just acquired Scripps Networks in July spells an opportunity for a direct-to-consumer streaming service and increase leverage with pay TV operators. This could potentially boost the viewing by 20 percent!
It only seems like OWN could go up from here. Years of highs and lows have been learning experiences for the channel. With Discovery taking major ownership, I feel that the network will work hard to play out Oprah's visions as the CEO. Hearing from Zaslav and Oprah herself, we're sure that they strongly believe the success of OWN will also take off under a grand portion of Discovery.  Ever since 1986, Oprah has formed a strong foundation for a positive, uplifting community. Especially in this day and age, the topics emphasized on OWN impact the lives of women everywhere. Discovery's increasing ownership of OWN seems to only be another road too soon success.
"Creating OWN and seeing it flourish, supported by Discovery and a rapidly growing group of the finest storytellers in film and television, is one of my proudest achievements," said Winfrey. "I'm thrilled with the network's success and excited about this next chapter in our partnership. Together, we'll continue to inspire our viewers with real-life stories that are emotional and entertaining, connecting them to each other and to their greatest potential."