With my final online piece for "Study Breaks," I hope I'm given the liberty to talk about someone who every other sports writer has already written a novella. It would be remiss were I to not dish out my two cents on Steph Curry and the absolutely remarkable two, hell three year span of time that saw an undersized, baby-faced kid with rubber ankles catapult to take the NBA throne. He's a modern day Achilles—the greatest player alive, unstoppable and invincible, unless you take out his Achilles heel: his glass ankles.
Curry's rise to supremacy was about as fast and forceful as what I imagine Daenerys Targaryen's attack on King's Landing will be—if the writers for "Game of Thrones" ever decide it's time for Daenerys and her dragons to do anything cool. To further the analogy, Curry is Daenerys, who rode his dragons (Draymond Green, Klay Thompson and Andre Iguodala) to overthrow and claim the throne held by King (Lebron) James for the past decade. One step further, I could say Coaches Steve Kerr and Luke Walton are Steph's trusted advisors, assisting his in ascension to rule.
Okay, enough with that. Back to the point: Steph's 2015-16 season was, and continues to be in the postseason, unreal. Every time you tuned to SportsCenter, the latest whirly-twirly half-court, no-look, buzzer-beating shot from Steph dominated the news cycle.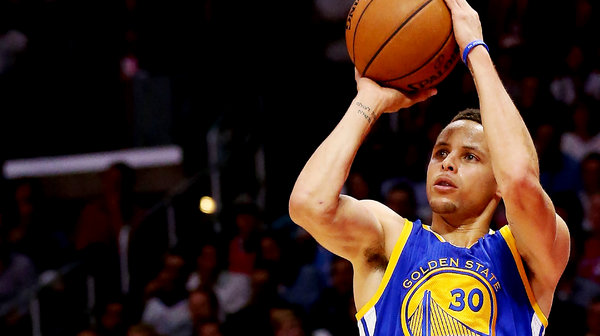 When it wasn't a beautiful bucket, Curry was wrapping his elastic arms all the way around and through defenders to snatch the ball. Then, using his arms as a slingshot, he launched the ball between his legs, around his back or from a third arm that magically sprouted from his body, directly into the hands of Green or Thompson or Iguodala who just had to take that ball and put it in the basket.
Neuroscientists say that humans only use 10 per cent of our brain capacity, and, well, I'm convinced that Steph Curry learned to tap into his unused portions. No one can defend him. He's the closest thing to unstoppable that I've ever seen in the NBA. At times throughout the season, he even made the two-time reigning Defensive P.O.Y., Kawhi Leonard, look like a chump. When he dribbles, it's like the basketball is an extension of his body. Curry has mastered the art of moving up and down, left and right, around in circles and pretty much anywhere he wants with the ball in his hand. And, he makes it look effortless. That's probably what's most astounding about him: Everything he does on the court looks so easy, like everyone should be able to do what he does. You can't, though, trust me.
It's easy, as a basketball fan, to watch Steph play and understand that he's an incredible player. But, thanks to the masterful statisticians at "ESPN," even you can now understand exactly how unbelievable the last several years have been for Curry. It's unprecedented, just take a look.
What's crazy is that he's only getting better, assuming he stays healthy (*knock on wood*). Since 2012, Steph Curry has broken the season 3-point record three times, most recently this last season with 402 3-pointers, over 100 more than the record he set last year. All of this while still shooting 50 per cent from the floor and over 45 per cent from 3-point range. He even didn't play in three games this season. If he had, and kept his average of five 3-pointers a game, the record would be 417. Absolutely nutty.
But, if you're reading this, you probably already knew all of those stats, or at least had a pretty good idea about them. So, I want to leave you with a thought about the future of the NBA.
The game is changing, thanks to Steph. The Warriors are dominant once again this year, thanks in large part to the shooting efficiency of Curry and Thompson. If Curry is going to continue to get better, we're going to see that 402 shot record be broken, probably by Steph, in the next few years, if not next. He set a bar for himself, 400, to reach again and surpass next year. With that kind of shooting, teams will have to adapt.
Players like J.J. Redick, who actually shot a better percentage from the arc last season, will begin to shoot more 3-pointers. James Harden, Kawhi Leonard, J.R. Smith and all the other efficient deep range shooters will have to shoot more.
Steph Curry is a gifted shooter, and though many of his shots are remarkable, many are a result of good play calling, fluid passing and getting the ball to the open man. The NBA is on the verge of become a league full of jump-shooters, even more so now that the king is the best shooter of all time. Every kid growing up that plays basketball idolizes Curry and will mimic his play style, creating a new breed of shooters that may one day put Curry's legend to rest.
But, in the mean time, let's revel in the spectacle that's unfolding before our eyes. Steph Curry, the best basketball player in the world, is changing the game of basketball. One can only hope that he doesn't fall victim to the same fate of his predecessor, Achilles, and see his career cut short because a Cavs fan shoots an arrow into his ankle.