There are a lot of awards to get through, so let's dive right into the 2017-2018 NBA Midseason Awards.
These are by no means scientific, but I do watch a lot of basketball and argue about a lot of arbitrary rankings, so I'd say I'm as qualified as any other talking head to weigh in on who's lived up to the hype and who deserves an early off-season.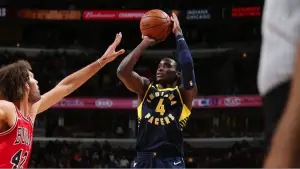 After being drafted with the second overall pick following a stellar stint at the University of Indiana, Victor Oladipo appeared to have reached his peak in the years leading up to this season. However, after a welcomed change of scenery, Oladipo found himself as the man in Indiana once again, as he took over the wheel for the Pacers.
This season, Oladipo has been nothing short of spectacular, emerging as an efficient, mid-20s scorer that can also get it done defensively. Not only does Oladipo have the Pacers competing, but he is also taking home the NBA Mid-Season Award for the Most Improved Player.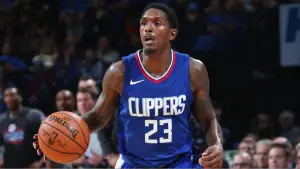 "Sweet" Lou Williams is a walking bucket. We all knew this before this season began, but Williams has taken it to another level.
Posting multiple 50-point games already this year, Williams is clearly capable of absolutely taking over a game whenever he wants, yet he has also taken his efficiency up a notch.
It will be interesting to see if the Clippers attempt to move Williams at the deadline, as they are not going anywhere this season, and they could absolutely get an awesome return for the scoring machine on their bench.
I know, I didn't pick Ben Simmons. However, I can back up Donovan Mitchell's spot. While Simmons has almost unmatched versatility for a rookie, his numbers pretty much plummet as soon as Joel Embiid sits down or misses a game.
Mitchell, on the other hand, does not have another scorer to lean on in Utah and has accepted the role of the team's primary scorer from day one.
Without question, Boston's Jayson Tatum, Los Angeles' Kyle Kuzma and Philly's Ben Simmons all have a case for being placed at the top of the rookie rankings, but for my NBA Mid-Season Awards, Donovan Mitchell takes home the gold.
Most Petty – Paul Pierce
As a Knicks fan, fuck Paul Pierce. As a fan of basketball as a whole, I understand why Pierce feels as though he deserves an entire night to himself when he gets his jersey retired on Feb. 11.
However, refusing to allow Isaiah Thomas' minute-long tribute video to run because it's supposed to "your night" is beyond petty. For once, Draymond Green said it best, you're not Kobe, we don't love you like that, Paul.
Thomas played in a playoff game one day after the tragic death of his sister, had arguably the best statistical season in franchise history and carried his team to the conference finals.
I don't care if Thomas was only there for a few seasons, and I don't care that he never won anything, as the biggest Celtics hater on the planet, I was captivated by Thomas' play last year and he deserves the recognition that the fans want to give him.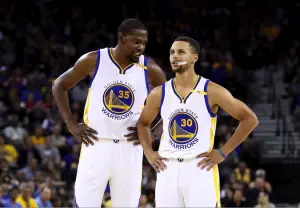 Despite the Houston Rockets appearing to pose an actual threat to the Warriors, I think we all know who will be representing the Western Conference in the Finals once again.
Statistically, the Warriors are still unfair, as Kevin Durant is tied for third in the NBA in blocks per game with Anthony Davis, and the team as a whole leads the NBA in almost every statistic that matters.
The Warriors stole Jordan Bell from the Chicago Bulls on draft day, and he has proven to be an incredible addition to an already stacked roster.
In a year in which other teams are attempting to level themselves with Golden State, the Warriors have remained ten steps ahead of the pack.
Prior to the start of this season, I predicted that the Thunder would finish fourth in the Western Conference.
Even though they are currently sitting around fifth, they are further away from being in fourth than ninth place, as only a few games separate the teams in the bottom half of the playoff race.
The acquisitions that they made during the off-season, Carmelo Anthony and Paul George, have played about as well as the Thunder could have expected them to, but some of the problems that plagued Anthony and George on their previous teams have persisted with the Thunder.
Anthony is still a relatively inefficient player at this point in his career, as his VORP (Value Over Replacement) rating is by far the lowest on the team.
Meanwhile, Russell Westbrook is still playing at an elite level, and the Thunder's defense is still just as daunting as last season.
The Thunder winning the Mid-Season Award for being the Most Disappointing is not stating that they are a bad team, but that they have absolutely no chance of challenging for a Western Conference Finals spot, as some thought they might before the season began.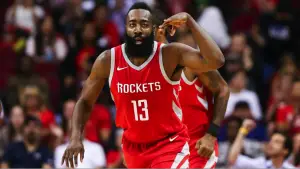 James Edward Harden Jr. has not scored less than twenty points in any of the games he has played in this season, which has helped him to lead the league in scoring during the first half of the season by nearly five points.
The insane level of consistency that Harden has reached when it comes to scoring, combined with the fact that he does not rely on his athleticism to score, points toward Harden being atop of the NBA scoring list for the foreseeable future. Not to mention, Harden is also one of the best passers in the NBA, and has gelled more quickly with his new teammate, Chris Paul, more quickly than anyone could have imagined.
For advanced stat nerds like myself, Harden is number one in the league in Win Shares, Box Plus/Minus and Player Efficiency Rating, and is in the top five in Assist Percentage and VORP.
By any measure, the success that the Rockets are having this season, combined with Harden's dominance on the court, point toward Harden bringing home his first NBA MVP.