For years, fans of Tyler Perry's iconic character Madea have piled into theaters to enjoy her on-screen silliness in films like "Madea's Big Happy Family," "A Madea Christmas" and "Boo! A Madea Halloween." Unfortunately, Perry has announced that the upcoming Madea film, "Tyler Perry's A Madea Family Funeral," which hits theaters last Friday, will be the last of the series.
The mastermind and director behind these comedy films, Tyler Perry, has said on numerous platforms that he will no longer be creating storylines about Ms. Mabel "Madea" Simmons. Though the world is losing a character who has encouraged many laughs with her catch phrases "good mornting" and "hellur," Perry's iconic character will be gone, but not forgotten.
What will be missed once Madea is no longer in your life? Plenty.
Knock, Knock, Madea's Here
Madea's hilarious, tear-jerking moments will certainly be missed. Check out the video below to get a glimpse into some of her greatest bits over the years.
The good news is, regardless of the year in which these films were released, with exception to "Boo" and "Boo 2," you will still be able to watch the story and personality of Madea.
The Memes
Madea memes, which flood social media platforms, simply won't be the same when she disappears from the big screen. Now, the memes will remind fans that Madea is no longer.
Most of the famous Madea memes regard the character's tendency to use vulgar language and make somewhat threatening but humorous comments. Here are a couple that are on the humorous side.
What in The H—-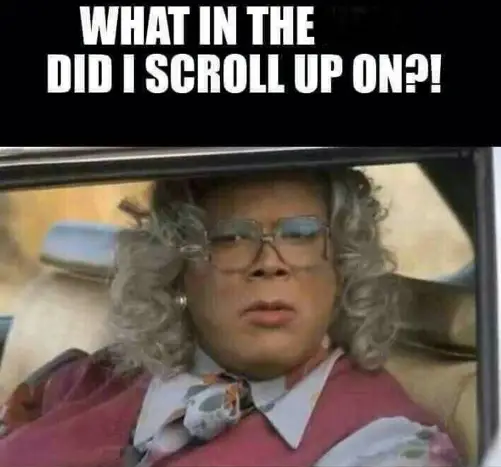 Her face says it all, making the viewer laugh and question what is going on. What movie is this picture taken from? What was going on during this scene? Did the creator of the meme include a caption?
Hello It's Me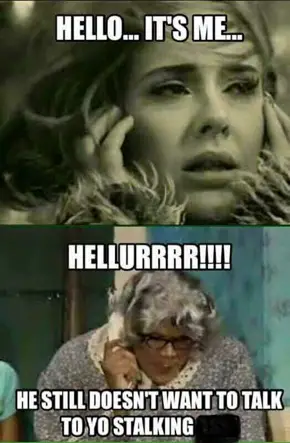 This meme is a play on Adele's "Hello" music video, showing a gray-haired Madea assaulting a friend, family member or stranger on the phone with her infamous line, "Hellur."
Why Did the World Need Madea?
Life is short — so don't live it without laughter. When you're overwhelmed, stressed or conflicted, it's important to take some time to relax in your home. What better way to blow off steam than to watch the latest Tyler Perry comedy?
Most of Perry's films have children-to-adult jokes that an audience can connect with, especially when it comes to different generations and age groups. Madea makes the audience feel connected, like they are part of her big, hard-headed family.
As an elderly character, Madea shows her status and leadership by teaching her family and the audience lessons. For example, when one of the younger characters, H.J, addresses elderly people with a careless attitude, Madea whips him into shape. In a clever declaration to H.J., Madea says, "I got silver hair, but also got silver bullets, do you want one of them?"
Trembling with fear, the young boy seems to change his mind. But Madea continues on, teaching H.J. to address her as "ma'am" and not old lady. She also insists that the boy use some of her respectful phrases, like "good afternoont." And just like that, children won't disrespect their elders any longer — well, at least when Madea is around.
Why Does the World Need This Finale?
"Tyler Perry's A Madea Family Funeral" will be the 11th installment to the Madea film series. What started as a lighthearted family reunion becomes a nightmare when Madea and her squad take a trip to the backwoods of Georgia to plan a funeral.
Each one of the series' previous films have encompassed something or someone that creates a quirky storyline during the showings. The 11th film will be the icing on the cake — a final chance to see some favorite characters, like Cassi Davis as Aunt Bam and Patrice Lovely as Hattie. More familiar faces include retired wrestler and WWE color commentator David Otunga as Will, and Aeriél Miranda, who played Shana Fring on "Pretty Little Liars" from 2013 to 2015.
Goodbye to One of America's Silliest Women
To Madea: The world will miss you and your throat-catching comebacks to anyone who got in your way. Audiences will miss hearing your creative twist on daily greetings. Thank you for the laughs and good times, bonding with family and friends over your jokes. The world wishes you the best wherever you might be after the release of your final film.
Tyler Perry, thank you for the willpower you had to continue with this character. Are you sure this is all audiences will get of her?
In all sincerity, it's saddening to say, but goodbye Madea. Catch you on the flip side!