Johnny Manziel was first introduced into the world of fame after winning the Heisman trophy as a freshman at Texas A&M University back in 2012. Since then, Manziel has become no stranger to media attention.
After being cut from the Cleveland Browns roster in 2016 following constant controversy, Manziel has not faded from the spotlight since. In training for The Spring League and possibilities of signing with the Canadian Football League, he is making a bold statement with his "ComebackSZN."
In case you've been absent from the sports scene for the past four years, here is a rundown of Johnny Football's most famous controversies since his claim to fame:
2012
June: Manziel arrested for fighting, caught with a fake ID and then charged with three misdemeanors.
2013
August: NCAA begins an autograph investigation following allegations of Manziel profiting from autographs in the offseason.
2014
August: Manziel gives the Redskins bench the finger during a preseason game, resulting in a $12,000 fine.
2015
January: Manziel checks into treatment for ten weeks.
October: Domestic incident in a car occurs.
2016
January: Possible domestic assault investigation ensues.
February: Reports surface that Manziel threatened to kill his ex-girlfriend.
March: The Browns release Manziel from the team.
What "ComebackSZN" Means for Manziel
Despite the long list, the former Browns quarterback had been silent for quite some time. However, after recently launching his #ComebackSZN, he has made it clear that he is determined to play again.
Manziel has always been one to watch; his resurfacing gives fans hope he'll be back on a roster in 2019. "I am coming back from a huge downfall," Manziel stated. "I don't know what kind of comeback it will be, but I know I want to get back on a football field, to what brought me so much joy in my life."
Even with the motivation to rehabilitate his image, his sudden resurfacing does not ensure Manziel will ever play in the NFL again. Manziel even took to Twitter to give insight on what his comeback actually means to him:
ComebackSZN is not about regaining what you lost. It's about harnessing adversity as a tool to become greater than you were before. It's about falling from the top to then find yourself to climb even higher. Without you guys support I'd never be where I'm at today..THANK YOU

— Johnny Manziel (@JManziel2) February 3, 2018
ComebackSZN is for anyone that's been hurt, down and out, whatever your situation may be. Staring the adversity dead in the face admitting your wrongs and pressing forward with a vengeance. Just wait on it…

— Johnny Manziel (@JManziel2) February 3, 2018
Since being dropped by the Browns, Manziel has shown significant improvement in taking steps to sobriety. However, only time will tell if he will be able to either stay clean or submit to the demons he claimed to have faced in his downward spiral battling depression.
In terms of his mental illness, his publicity about his diagnosis of bipolar disorder and depression might serve as a platform to bring awareness to the disorders millions of people live with. A new Manziel appears to be on the horizon, but his credibility is still in question if this facade will prove to be authentic.
Manziel's Unforeseen Future
Manziel certainly knows how to make headlines. Although his eye-catching new line of merch branded "#ComebackSZN" might unite his fan base again, it might be a little more difficult to persuade the NFL that the former first-round draft pick is trying to turn over a new leaf.
However, after being diagnosed with bipolar disorder, and admitting to self-medicating with alcohol, it is understandable how Manziel took advantage of his endless opportunity. The Heisman winner has been notorious for admitting his need to take his career more seriously but it is likely the league has heard this plea from Manziel a few too many times.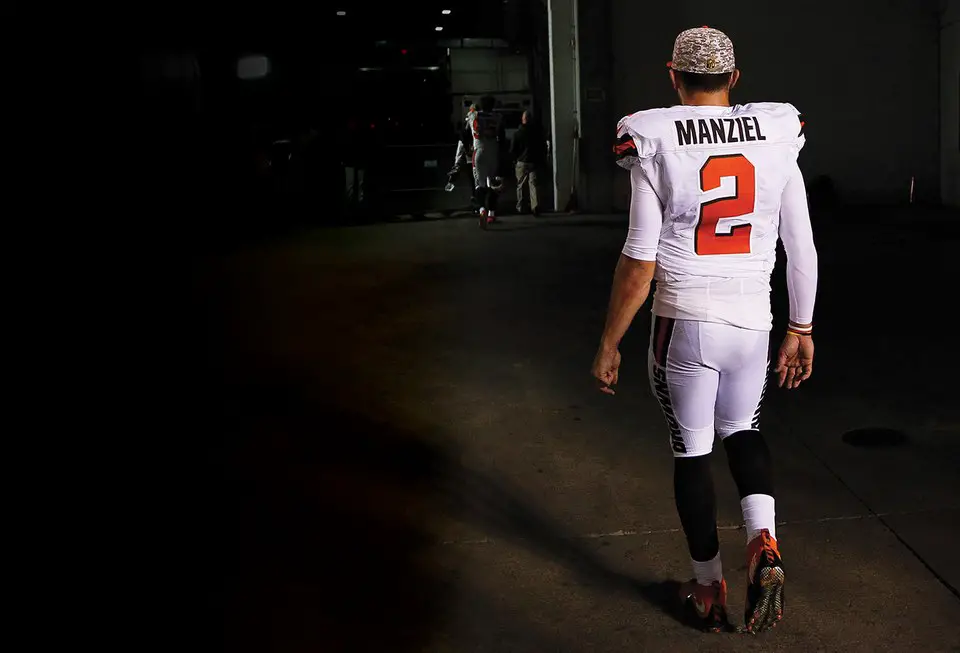 As for his career, there might be a slight glimmer of hope in returning to the field; Manziel has been offered a two-year contract from the Ti-Cats, a team within the Canadian Football League.
Although he did not accept the contract with aspirations of being offered a second chance in the NFL, the former quarterback can benefit greatly from learning from CFL's VP of Operations and head coach, Kent Austin. Austin has a long list of accomplishments for himself in the CFL, and adding Johnny Manziel to the Ti-Cats roster can certainly aid Manziel in his comeback.
Apart from the CFL, the XFL has also expressed interest in Manziel, but the league is not set to launch again until 2020. So, Manziel certainly has an opportunity to play again — just not in the league he anticipated.
In fact, Manziel just announced he will be joining The Spring League. The Spring League is designed to give players exposure to coaches and professional teams, giving Manziel the opportunity to show his comeback is sincere.
With so many NFL scouts present at the event held in his home state, the league will have him under close observation in the next few months to determine if he is worthy of another chance. After all, as cutthroat as the league is and with quarterbacks found by the dozen, he will have to do more than prove that his career is his priority.
Besides his authenticity, Manziel will have to show he is still capable of playing at the professional level after taking almost a two-year break from football since he was released by the Browns.
There is no doubt that everyone loves a comeback story. If Manziel can execute it successfully, it will make teams like The Dallas Cowboys hard to ignore the quarterback as the draft approaches.
Dallas has been notorious for giving players second chances, and if Manziel can manage to stay out of the negative spotlight in the media for a while, there is no way Jerry Jones can resist the quarterback he previously expressed such high interest in.
It is still too early in his claimed #ComebackSZN to predict what path Johnny Manziel will choose to continue his future, but it is guaranteed he will be not be satisfied until he accomplishes his goal of getting back into the NFL. Until then, it will be interesting to see what the former Aggie will do to overcome the obstacles he once created for himself.