The Netflix original series "On My Block" has been confirmed for a second season and it can't be released soon enough. From the creators of the greats like MTV's "Awkward," and the Tupac memoir "All Eyez on Me," the show follows four Los Angeles-based friends as they learn the hardships of high school, love and heartache.
Although laced with bits of comedic and sometimes cheesy moments, "On My Block" doesn't stray away from more controversial topics like gang violence and drug use. While these dangers certainly take place every single day, especially in the harsh setting of South Central LA, depicting these events for such a young audience may stir some unease.
Although light-hearted throughout, the premise of the series is very serious. Monse (Sierra Capri), Ruben (Jason Genao) and Jamal (Brett Gray) are trying to save their fourth link, Cesar, from a life of crime. Cesar (Diego Tinoco) has just been jumped into the Santos, an LA gang that promises brotherhood and a constant feud with the Prophets, the other dominating neighborhood gang. What makes the show even edgier is the fact that the protagonists are only 14 years old.
To put this in perspective, my biggest struggle at 14 was trying to find a package of silly bandz that I didn't already own, meanwhile these friends are trying to save Cesar from dancing with death. The intensity rises in each episode as Cesar's older brother Oscar pushes him to test his loyalty with the Santos through riskier and riskier trials. The confused teen must constantly choose between the easy-going life with his childhood besties or his pre-determined destiny in the clutches of the gang.
Another sub-plot that drives the story is the relationship between Monse and Cesar. Viewers learn throughout the season that before Monse left for writing camp the summer leading up to the crew's freshman year of high school, she and Cesar's friendship dove a little deeper behind closed doors. This is a secret that eventually spills out to the rest of the clan, causing further turmoil amongst the other adolescent issues each character goes through.
Hot topics like these have presented themselves in television and film for years and will continue to reign as long as these issues exist. With a PG-13 rating for a comic slew of sex, violence, profanity and drugs/alcohol, "On My Block" pushes the boundaries for young teen life in an urban culture.
Perhaps the tougher reality than presenting these issues to such a young audience is the fact that occurrences like this really do happen during adolescence, they are just not as openly talked about.
On the other hand, one could argue that shows such as these might influence young minds to partake in the same behavior. Are teens more likely to be influenced by observing scenes of underage partying, sexual activity, gun violence and profanity than through the behavior of their peers in real life? Granted, the show's rating indicates that no one younger than 13 should be viewing, but the reality is any kid can turn on the TV and watch whatever pops up.
According to organizations like the American Psychiatric Association and the American Psychological Association, there is a definite risk factor. Through decades of studying the correlation between violent television viewing and violent behavior, excessive viewing in children has presented more aggressive behavior. Of course, there is no sound evidence that violent television is the leading cause of this sort of behavior in children. Factors such as socioeconomic status, education and parenting have to be taken into consideration when researching an issue like this.
So, does "On My Block" promote negative behaviors like aggression and gun violence? By presenting rough inner-city living through the lives of four quirky teens who find themselves in equally quirky situations, I would argue no. I believe the show is more of an entertaining portrayal of big city life and all the crap that goes with it.
Although tragedies occur more frequently and more widely known in cities like LA, the series isn't at all gloomy or dark. The reality is, negative underage behavior DOES happen. The media can either choose to ignore it, or portray it in a way that is still light-hearted and comic at times. Each character discovers things about themselves and the world around them as they maneuver their way through school and relationships. It's easy to laugh, cry and sympathize with the crew throughout the season as new and tougher situations arise.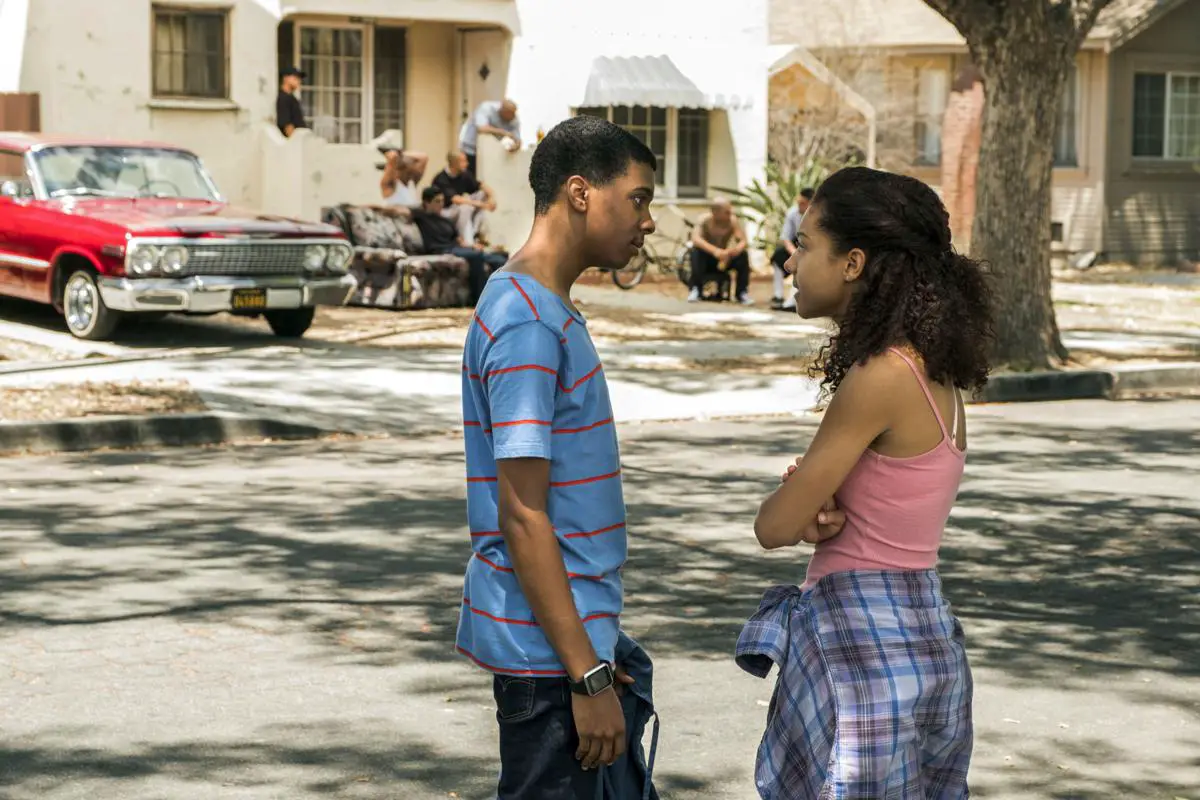 At a Netflix roundtable in February, Brett Gray said of the series, "I feel like it's so normal for me to be on a show like this where it's comedy intermittent with violence and drama and gangs and stuff like that, because that's life."
For some individuals, that is real life. Every time they walk outside, it is racial warfare. The show makes light of regular-occurring drive-by shootings with each character trying to guess what type of gun it is this time by the sound. In reality, this is "normal" for millions of people. "On My Block" simply shows these kinds of situations in a humorous manner and allows teenagers going through the same issues to relate and empathize with the characters. Not to mention the soundtrack for season one is absolutely killer.
Don't worry though, not everything portrayed in the series is of drastic measures. The four amigos still struggle with school dances and puberty just like every other teenager. There's even a hilarious money scandal that makes itself more prominent throughout the episodes and is sure to be a driving factor in season two.
The seasons finale presents a major cliff-hanger ( though I won't give away any details), making season two a must-have necessity. "On My Block" offers a glimpse into the real life of inner-city living in the best way possible with a perfect mixture of seriousness and humor. You will fall in love with the characters right away and root for them from beginning to end. Let's start the countdown to season two and hope that Monse, Cesar, Jamal and Ruben can stay safe until then.