Neil Gaiman has been huge in the literary scene for an impressive amount of time. First finding fame for his comic book series "Sandman" in the early '90s, he went on to have a successful career writing fantasy and fantasy-horror for adults, teenagers and children that continues to this day with his most recent publication, "Norse Mythology," his own retellings of Viking legends.
The English author has somewhat of a cult following within young adult (YA) and fantasy book fans and has collaborated with the late author of "Discworld," Terry Pratchett. Gaiman has had plenty of very mainstream success, too; for instance, a commencement speech he made at Philadelphia's University of the Arts has been adapted into a hit online comic strip called "Make Good Art."
But something new is happening. In a kind of second breakthrough, Gaiman has begun conquering the world of digital TV. Someone with a reputation for stealth-signing his own books in bookstores, he now seems to be creeping into lot of our new, popular TV shows.
He's currently showrunner for an upcoming Amazon Prime show, "Good Omens," based on his and Terry Pratchett's series of the same name. He's already had a novel, "American Gods," adapted to TV last year. And the Fox show "Lucifer" — recently canceled but then picked up again last month by Netflix — was adapted from a "Sandman" storyline.
This isn't Gaiman's first foray onto the screen. He's written scripts for multiple "Doctor Who" episodes and co-wrote both the cult movie "Mirror Mask" and the (admittedly pretty badly received) animated adaptation of "Beowulf." Most famously, "The Nightmare Before Christmas" director Henry Selleck adapted Gaiman's novella "Coraline" into the fantastically scary claymation movie of the same name. Interestingly, "Coraline" is a book that adults find terrifying but kids don't. Gaiman said that "Children react to the story fundamentally as an adventure…adults get disturbed, and I think one reason for that is because it's a story about a child in danger."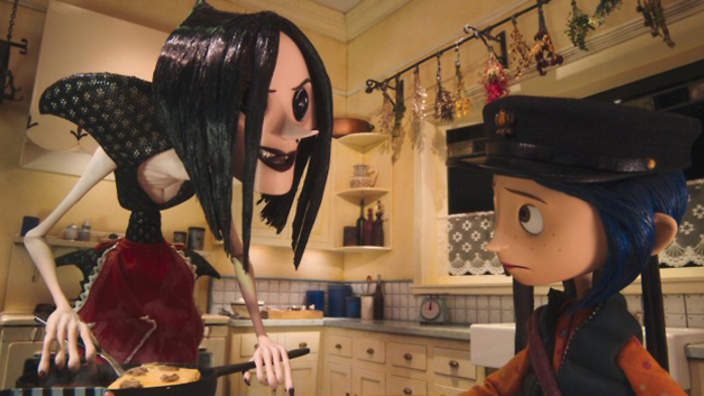 "Coraline" came out a decade ago, though. Gaiman's TV ventures are all much more recent, and densely packed together. He's been putting out comics, novels, poems and short stories for thirty years — why are they only now seen as ripe for adaptation?
One factor might be the movie "How to Talk to Girls at Parties," released in the U.S. earlier this year. Starring Elle Fanning and Nicole Kidman, the movie, based on a short story by Gaiman, follows an alien navigating the world of 1970s London. It's a wacky premise invested in nostalgia, counterculture, human emotion, science fiction and magic all at the same time — basically very on-brand for Gaiman.
Reviews were mixed and the film was generally deemed a little dumb. Rotten Tomatoes said the movie "has energy and ambition, but is ultimately too unfocused to do much with either." But perhaps the daring and imagination that went into it paid off and renewed interest in the author's work from studios.
Digital TV, though, probably has the most to do with this renewed success. For instance, one of his novels, "Neverwhere," actually started out life as a TV mini-series for the BBC way back in 1996. It was low-budget — filmed on video tape instead of film — and was quickly forgotten, despite the novel staying popular and even getting a new edition last year.
Now, though, the television scene is completely transformed, with maybe the biggest difference being that it's much more international. A BBC series in the '90s would have only been seen in the U.K. and only by people who were at home when it aired. Gaiman's current shows on Amazon and Netflix reach a much bigger audience, who have the option to watch where and when they like. Plus, the way has been paved somewhat. There has already been a surprise fantasy hit due to digital, international audiences: "Game of Thrones."
The trajectory of Gaiman's three new shows reflects the impact of the new TV world. "Lucifer," a show about the Devil's retirement to Los Angeles, originally aired on FOX but was canceled after three seasons. However, it was picked up by Netflix after a fan outcry and the hashtag #savelucifer.
In a digital world, fans' voices can be heard and taken into account; social media campaigns mean that Gaiman's fanbase — known for being diehard but fairly under the radar —suddenly have a say in TV programming. Plus, the fact that Netflix picked up "Lucifer" gives the show a chance to improve. Creators have promised that the move to Netflix means that Season 4 of "Lucifer" will dial up the horror, gore and nudity. Surely, for a show about the actual Devil, those are very fitting tropes. In contrast, on a network channel like FOX, all those elements would have been toned down.
For Millennials and Gen Z-ers, network TV comes across as increasingly tame, rolling out shows that haven't changed or innovated much in the past 10 years: the brain-dead laugh-track sitcoms like "The Big Bang Theory" or tired out drama formulas like "CSI." Digital TV is where it's at for more creative and darker fare like Gaiman's writing.
Both "Good Omens" and "American Gods" currently reside on Amazon Prime, although, "American Gods" first premiered in the U.S. on premium cable channel Starz. "Good Omens," set for a 2019 release, has pulled impressively big-name actors, such as David Tennant, Jon Hamm and Michael Sheen. "American Gods," Season 2 of which is in production, has got great reviews so far — Rolling Stone called it a "breathtaking, batshit adaptation of the Neil Gaiman classic" — and was nominated for three Critics Choice awards.
The show is awesomely original: it follows an ex-convict's journey through an America ruled by new gods — in opposition to the idea of the old gods of Lovecraftian lore or of Greek and Norse myth, these gods represent both mythology and 21st century America. They include Media, played by Gillian Anderson, and Technical Boy, god of the internet. 17 years after the publication of "American Gods," it could be argued that the power of these new gods is truly being realized in the real world, too.
Gaiman's fantasy novels are scary, strange and idiosyncratic — definitely a risk for studios and executives. But now those studios are more willing to take those risks, and in return viewers get to watch much more creative, adventurous and artistic programs. It's a testament to how the television landscape is transforming, and a sign that it's happening in a positive direction.