The best thing about movies that take place in Las Vegas is the electric atmosphere at the casino tables, slot machine games and the action taking place behind the scenes. Gambling pervades our cultural zeitgeist, promising some excitement into our daily lives. From the well-heeled high rollers to the casual players and passers-by, gambling is laden with the promise of big winning potential. Hollywood heavyweights have not backed away from this exciting theme, and for good reason.
Over the years, some of the most memorable action-packed gambling ensembles have made their way to the big screen. These include titles like "Casino" (1995 by Martin Scorsese), "Croupier" (1998, Mike Hodges), "Ocean's 11" (2001, Steven Soderbergh), "21" (2008 by Robert Luketic) and Mississippi Grind (2015, Anna Boden and Ryan Fleck). And of course, no listing is complete without mentioning "The Hangover" (2009, Todd Phillips), "The Cooler" (2003,  Wayne Kramer) and "Vegas Vacation" (1997, Stephen Kessler). 
Let's get this show on the road with some home favorites for film fans.
Fancy a Vegas Vacation?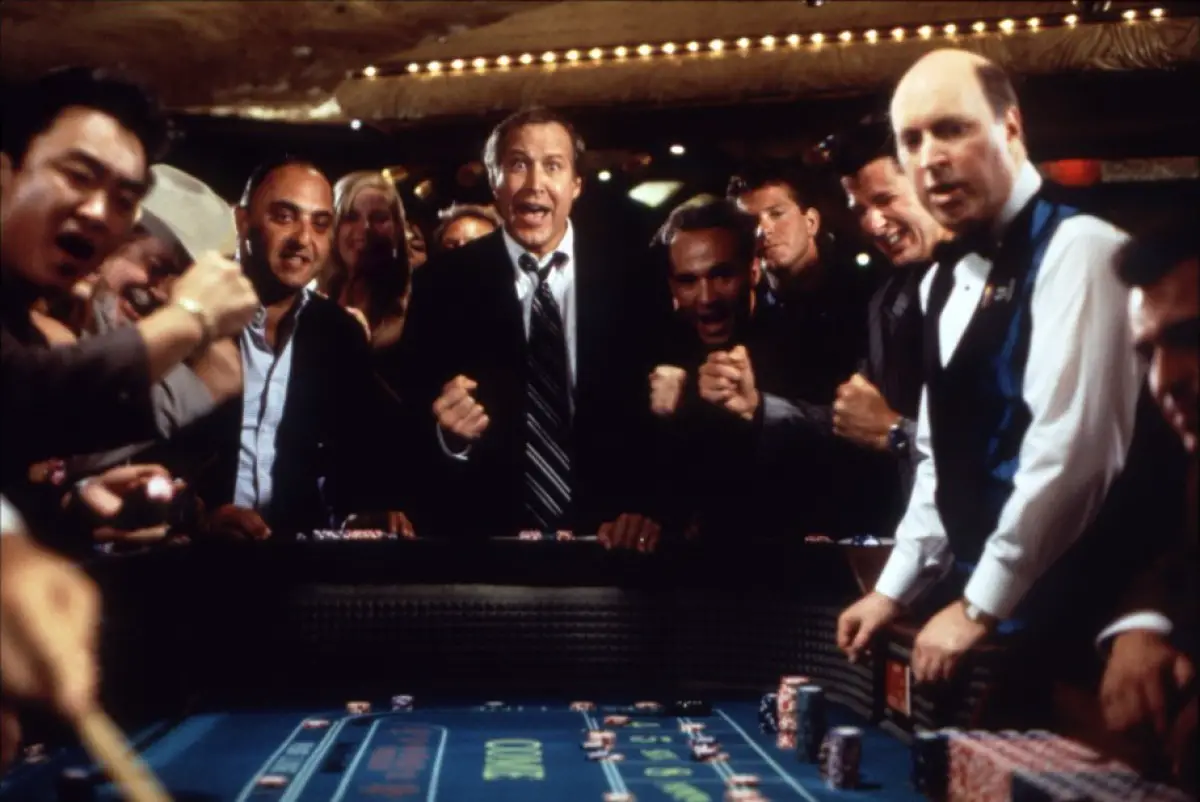 Movie buffs could have an absolute field day going through the full listing of gambling movies to binge watch, but only a handful are worth seeing over and over again. Our fascinating journey into this pulse-pounding genre begins with none other than Chevy Chase, Beverly D'Angelo, Randy Quaid and Ethan Embrey in the smash-hit comedy, "Vegas Vacation" from 1997.
Funnyman Chase has come out with an ensemble of side-splitting comedies over his decadeslong career. This award-winning comedian has made several appearances as the bungling Clark Griswold in several exciting adventures. "Vegas Vacation" is one of the finest gambling comedies of all time. Light-hearted, slapstick humor makes for compelling viewing, and it's the perfect reason to break out the popcorn, put your feet up and relax. Few Hollywood flicks cover as much gambling activity as this one. It starts off with Clark Griswold announcing to his family that an all-inclusive Vegas vacation is on the cards. 
What follows is one of the funniest '90s-era gambling flicks. When Vegas calls, the Griswolds go running, and there are many celebrities in attendance, including Siegfried and Roy, Wayne Newton, as well as other world-famous casinos. Griswold is clueless as a card player; his poker game is shot, and his blackjack card counting prowess leaves a lot to be desired. Yet that doesn't deter him from plundering his life savings to score a win. As part of the National Lampoon series of movies, this big budget Hollywood release certainly hits the right spot with fans of the gambling genre. P.S. —  See if you can spot Mr. Papa Giorgio …
Get Ready to Meet the Enforcer and Sam Rothstein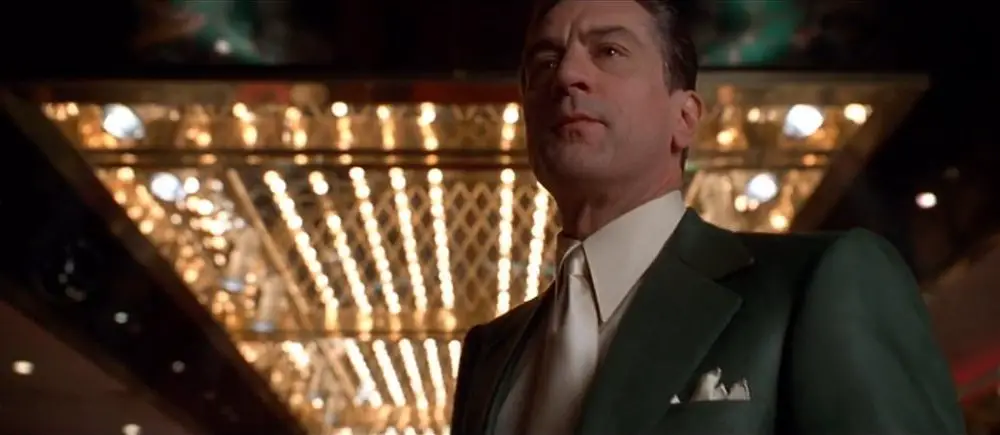 Las Vegas was not built by a bunch of stand-up guys. It was built by mobsters, hoodlums and gangsters. Funnily enough, these crews lend an air of excitement, tension, and charisma to the gambling scene. It comes as no surprise that Hollywood titans in the form of Joe Pesci, Robert De Niro and Sharon Stone decided to bring Nicholas Pileggi's book to life in spectacular fashion. For those who don't know much about Pileggi, he was a gangster turned informant who brought down the mob. His story is legendary, and "Casino" borrows from many of these elements and brings the genius of Scorsese's filmmaking prowess to the fore.
"Casino" is a story of many stories. It is the embodiment of greed, power and mob justice. It is a story of sex, gambling, deceit, drugs, violence and money laundering. It's got all the vices you could hope for and very few of the virtues – the perfect recipe for a gambling movie par excellence. Viewers will be treated to Oscar-winning performances from the finest actors in the history of cinema. Sharon Stone stars as Ginger McKenna, a high-class hooker who straddles the line between Vegas socialite and sleaze. Then there's Robert De Niro — the star of the show. He takes on the persona of Sam Ace Rothstein, a casino manager sent out west by the Chicago mob to run the Tangiers Casino.
The best is saved for last … the muscle. He is pint-sized, but he is violent, brutal and totally savage. Joe Pesci stars as Nicky Santoro. Few characters have displayed such wanton disdain for the law and cordiality than this enforcer. He is a rogue mobster with a penchant for violence. The film spans an impressive 178 minutes of screen time and racked up multiple awards over the years. There is no doubt that "Casino" will have you riveted to your screen for the entire duration of its runtime. Buckle up, it's going to be one hell of a ride.
The "Hangover" Does for Vegas What "Goodfellas" Did for Mobsters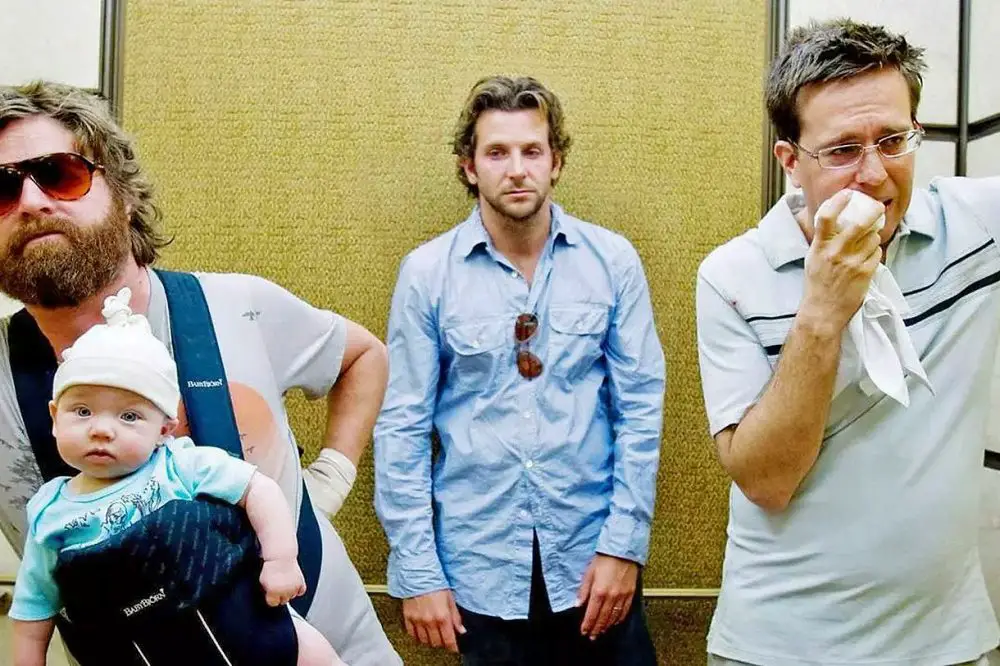 The first "Hangover" movie made an incredible debut in 2009. It's a comedy with a twist. The cast of characters includes Bradley Cooper, Zach Galifianakis, Heather Graham and Ken Jeong. Mike Tyson makes a surprise appearance with his pet tiger too. Anyone who's ever seen The "Hangover" is blown away by the storyline and its execution. As it turns out, a group of guys decides to go on a Vegas vacation for a bachelor party. 
Of course, nothing turns out the way it's supposed to. There are crazy gambling sprees, exotic dancers, Rohypnol, and other bizarre twists and turns that keep this film running on high octane energy. Many of the stars from "The Hangover" went on to develop extremely successful careers in comedy later on, a tribute to the extraordinary appeal of this Hollywood blockbuster. Without giving anything away, imagine going to Vegas, waking up, and not knowing what just happened. It is blinding entertainment.
You could go on for hours and hours about gambling movies to binge watch, but these are among the best of them. "The Color of Money" by Paul Newman and Tom Cruise is a fantastic old-school movie, much like "Leaving Las Vegas" with Nicolas Cage. Most reviews will give mention to the spectacular movie starring Matt Damon and Ben Affleck, "Rounders" (1998) and Casino Royale — the James Bond thrill-fest starring then debutant, Daniel Craig. Whatever movies you pick, be sure to get comfortable because it's going to be a long haul.