Cameron Esposito has never been uncomfortable with sharing her personal life onstage. The 36-year-old comedian has unabashedly talked about her lesbian identity, criticized her Catholic upbringing and shared the stage with her wife, fellow comedian Rhea Butcher. But one thing she thought she would never talk about was sexual assault, and, more specifically, her experience as a survivor of it.
But then things kept happening. The Weinsteins, C.K.'s and Trumps of the world kept dominating the headlines as millions of people said #MeToo, and she felt she could not be silent any more. "As a comic, sometimes you talk about things on stage because you get to this point where you're like, 'I can't not talk about this. I have to. I can't not. This is where I'm at,'" she said in a May interview with Vulture.
As a veteran comic, she was well-acquainted with the usual timeline of a comedy special: a year or two to build up and test material, a few months to gather a director, venue and financing, a few nights of filming, dozens of pitches to possible distributors and the agonizing wait as the special is edited and waits for air.
She simply couldn't wait that long, especially as she saw the conversation around sexual assault start to move in a direction she found disturbing: away from victims' stories and toward redemption narratives of the perpetrators.
So, in the span of a few short months, the comedian wrote, workshopped and recorded new material about her experience of assault and the ways that culture deals with stories like hers. The title, "Rape Jokes," takes special aim at the way that some standup comedians use rape as a punchline to shock an audience into laughing without considering that members of the audience may be victims or even taking the time to write a fully formed joke on the subject.
"I want comics to tell rape jokes. I just want them to be good and I want them to be jokes that work for justice and that work for the greater good of understanding. The thing is rape jokes are usually kind of bad. They're not well done," said Esposito.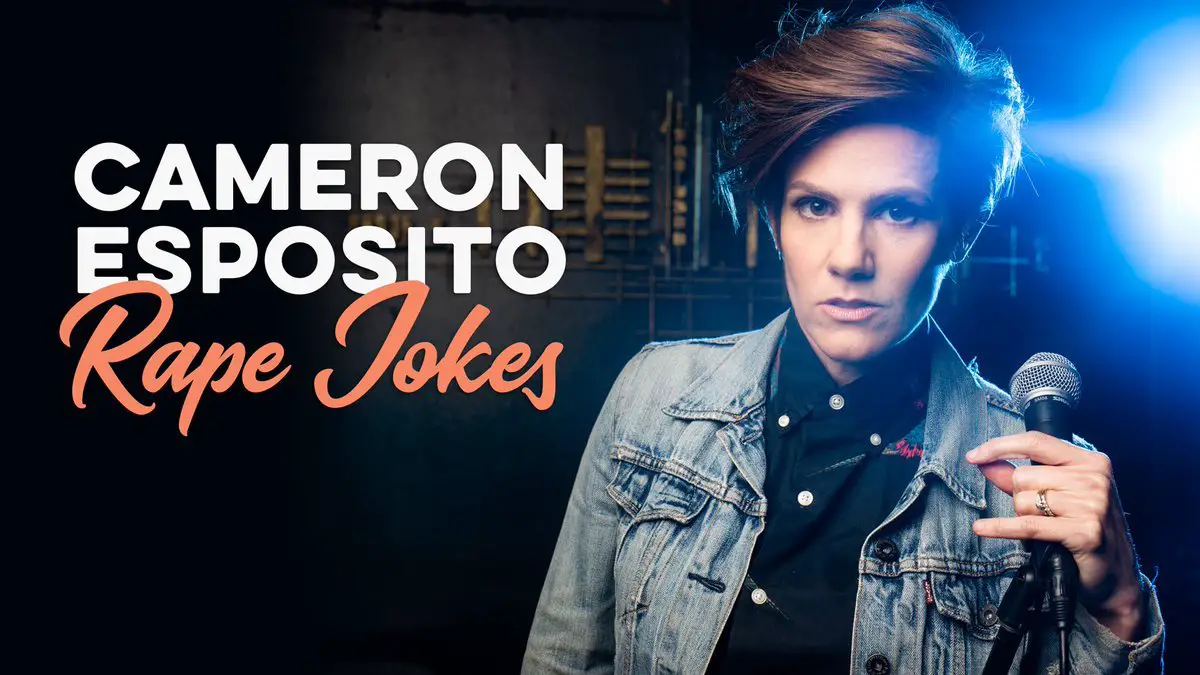 If Esposito's issue with the mainstream treatment of sexual assault is the lack of deep thought, "Rape Jokes" is a welcome antidote. Devoting a full hour to one subject is rare in comedy, but Esposito uses her time to carefully move through topics as generally un-funny as gender roles, internet toxicity and the concept of political correctness before moving into her own story of assault and healing.
Even the distribution of the special, which is available on her website and Vulture on a pay-what-you-can basis, with all profits going to America's largest anti-sexual assault organization, is deliberate.
But what is truly remarkable about this special is that it is funny. Not editorial cartoon, laugh because you feel like you should funny, but genuine laugh-out-loud funny, despite its heavy subject matter. Comics like to say that anything, even that which is most scary and serious, can and should be joked about, and there is no better proof of this maxim than Esposito, who deftly handles a complicated web of issues with warmth and precision.
The DIY feel of the project, which was put together in only six months, shows the urgency that Esposito felt to make space for the voices of victims, and also allows a looser feel for the special. Filming in a small black box theater (the Upright Citizens Brigade Theater in Los Angeles) allows her to interact with the audience more than commonly seen in specials, which are usually filmed in cavernous theaters.
It also offers a sense of intimacy by sharing her identity with the audience as a queer woman and assault survivor to ally herself with both the women (she calls herself an ally to straight women) and the men (she talks about having sex with other women who are survivors) in the audience.
She is goofy yet impassioned, like your funniest family member ranting at the dinner table, and delivers most of her jokes in a flippant tone that just barely covers the deep anger she rightfully harbors. When talking about President Trump, she follows up a witty observation — "he somehow bankrupted a casino, which is impossible" — with a painfully understated one — "I also don't love that he brags about assaulting people."
She uses the same vocal intensity for both the obvious joke and its serious follow-up, which is strangely relatable for the current political moment when everything is outraging and nothing makes sense.
Esposito only talks about her assault in the last third of the special, using her previous material about growing up Catholic and closeted to contextualize the incident. The long buildup to her assault, which is later talked about without much detail, is also deliberate. "I'm trying to talk about how hazy it is when your story isn't the archetypal story of like. I was knocked down by a stranger and I knew when it started and I knew when it ended. That was not my story," said Esposito in the Vulture interview.
We live in an age where comedians are constantly forced to philosophize on the purposes of their jokes, and they often use the idea of comedy as a subversive act to justify hateful, half-baked jokes and say that political correctness is the real problem. "Rape Jokes" acts as proof that it is indeed possible to be both funny and kind and to subvert for actual social change, rather than to maintain a conservative status quo.
Esposito is a masterful comedian, and the fact that she uses her talent to tackle difficult issues and comfort the marginalized is an example that other comedians should aspire to. She educates about the victim's experience with warmth, and is a welcome antidote to the generally masculine, combative tone of the comedy world. When she finally encourages the audience to "get in the way, any way you can," when they see someone at risk of assault, it feels genuinely inspiring, which is rare in a comedy special.
"Rape Jokes" is available for streaming at Esposito's website, where you can also find her two podcasts, video series, previous specials and TV show. Seriously, take in everything that she creates. It's all great, and shows the direction that I hope comedy is trending.