"Trollhunters" fans, rejoice! Although the exciting and popular kids' show "Trollhunters" has ended, the story will live on through not one, but two new spinoff series coming to Netflix.
No longer just "Trollhunters," the trilogy bears the name "Tales of Arcadia," which shares stories about a particularly strange town filled with unexpected heroes who rise to fight the monsters that live there. Spinoffs "Wizards" and "3 Below" all take place in the same universe created by Guillermo del Toro. "Trollhunters" sets up the next series to air, "3 Below," with little clues spread throughout each season — but what exactly do they mean for this new, eagerly awaited show?
Warning: "Trollhunters" spoilers ahead!
Clues from Season 1
To be candid, not much appeared in Season 1. The only real hint of something going on outside of Jim's Trollhunter circle was little Eli Pepperjack's insistence that monsters existed. In fact, in the very first episode, Steve shoves Eli in a locker for his outlandish claim that he saw creatures with stone for skin.
That immediately sets Eli up for a bigger role than just the wimpy nerd, though what that role entails doesn't come to light until Season 2; basically, Season 1 sets up the potential for development in Season 2.
Okay but we need the audience to watch trollhunters: tales of arcadia. It's such pure and genuine series with well developed characters. It won't disappoint ????

— m (@astarfires) July 11, 2018
Clues from Season 2
Dweebish teen Elijah Leslie Pepperjack and star football jock Steve Palchuk form an unlikely alliance after Steve learns that Eli told the truth all along. Cue one of the best episodes in Season 2: "Creepslayerz," where the two young men decide to protect their town from the strange and dangerous creatures that they believe have plotted the doom of Arcadia Oaks.
In this episode, Eli pulls down a large UFO poster in his bedroom to reveal a conspiracy theory map on a corkboard with strings and thumbtacks connecting photos — his own collected ideas of what's really going on in town.
Here comes the first real foreshadowing for the spinoffs: Several photos of UFOs shining spotlights on a forest tree line hang on the left of the corkboard, and on the right are several blurry photos with the caption, "WIZARDS."
Not much else arises about the spinoffs until Season 3.
Clues from Season 3
In the first shot of Season 3, a light streaks across the night sky. By the time this season had been released, word of "3 Below" had gotten out, and anyone who knew about it probably pointed at the screen at that moment and shouted, "Aliens!" just as emphatically as I did.
Later in the season, two "foreign exchange students" randomly pop into the series. It feels slightly out of place, but it makes sense for brother and sister Krel and Aja to come into this world before "Trollhunters" concludes because of their relevance for "3 Below."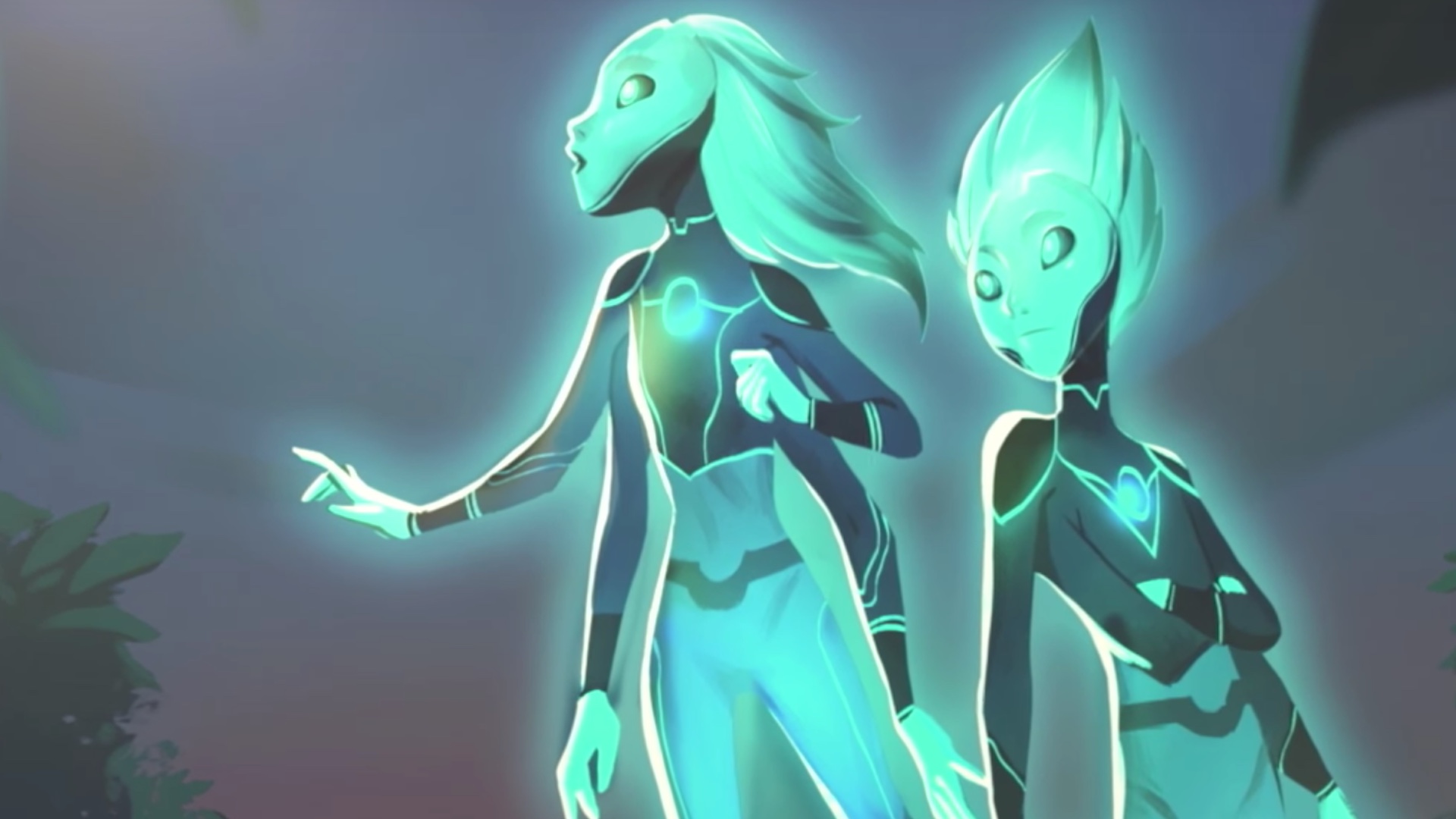 It's clear that Krel and Aja aren't quite truthful to Jim when he's forced to show them around town. They claim to have come from a place in Europe called "Cantoloupia," off the coast of "Santo Puerco." But Cantaloupia is just the name of a melon with "-ia" thrown on the end, and "Santo Puerco" translates from Spanish to "Saint Pig," which is a ridiculous name.
Those small hints, coupled with their fascination with seemingly ordinary things (braces) and boredom over the exceptional (underground secret lair), lead to the conclusion that the teens have some abnormal qualities.
They adapt changeling spy technology in the underground lab into a rave and hack into a power grid to capture lightning. The odd pair stands out as new and eccentric — just what I'd love to see in "3 Below."
In the grand finale of Trollhunters, Jim and Claire lead the trolls out of Arcadia in the wake of Gunmar's defeat, leaving Toby and AAARRRGGHH!!! behind to watch out for remaining threats. A heartbreaking moment for beloved bros Jim and Toby, AAARRRGGHH!!! and Blinky, but a total score for "3 Below." Keeping old characters on for the spinoff would draw in old fans of Arcadia, while the sci-fi situation would add a new edge to del Toro's world.
Just finished Trollhunters' final season, and it was excellent. I highly recommend the series to anyone, and I'm very much looking forward to the future Tales of Arcadia series.

— MandJTV (@MandJTV_Michael) June 10, 2018
The teaser trailer for "Tales of Arcadia" reveals the very characters I hoped to see in "3 Below." Toby, Eli and suspected aliens Aja and Krel will stand at the forefront of the series. The wacky Aja and Krel, according to the synopsis of "3 Below," are royal teenage aliens who crash land on earth after fleeing a hostile dictator takeover of their home planet.
This quirky new series will feature the misfortunes of intergalactic bounty hunters, a broken ship in need of repair and the siblings' longing to return to their home planet all through the struggle of fitting into high school.
Although some fans were surprised when they heard of the "Tales of Arcadia" spinoffs, "Trollhunters" really did an excellent job setting them up as its own story concluded. Now all that's left is for "3 Below" to air, which should happen later in 2018 — and I can't wait.