Late in 2017, Warner Brothers announced the upcoming wizarding world game, "Harry Potter: Hogwarts Mystery," set to come out this spring. There had been rumors of the company making a "Harry Potter" mobile game since "Pokémon Go" was released in 2016.
People wanted a game based in the "Harry Potter" universe that followed the same principals of "Pokémon Go," but instead of walking around the city to catch various Pokémon, they wanted a game that would allow the user to host magic duels with their friends, catch magical beasts, face off against horrible Death Eaters and essentially just allow Potter fans to become immersed in the wizarding world. This new game, which is being developed by Jam City and Portkey Games, is what everyone was asking for and so much more.
The tagline for the game, "Your letter has finally arrived," immediately sparked interest in "Harry Potter" fans around the globe. No one knew exactly what the game would entail except for the fact that fans were finally getting their chance to attend Hogwarts School. This has been a dream for many Potter fans of all ages for the last 20 years since the first book was released.
Fans all over the world began to excitedly discuss the possibilities of the "Harry Potter" mobile game. Would fans get to take a quiz and be sorted into their Hogwarts house, like they do on Pottermore? Would they be attending classes with their favorite "Harry Potter" characters? Would they be able to go on adventures like Harry and his friends and explore the wizarding world? Well, in a recent panel at Universal Orlando's A Celebration of Harry Potter, the team behind the game confirmed all these expectations and let everyone know exactly what was going to happen in the game.
The main aspect of the game is that it revolves around you. You are the witch or wizard and you'll be able to customize your avatar so that it will be just like you. The Jam City team has apparently gone above and beyond with their customization feature saying that they wanted to show diversity and have a character for everyone.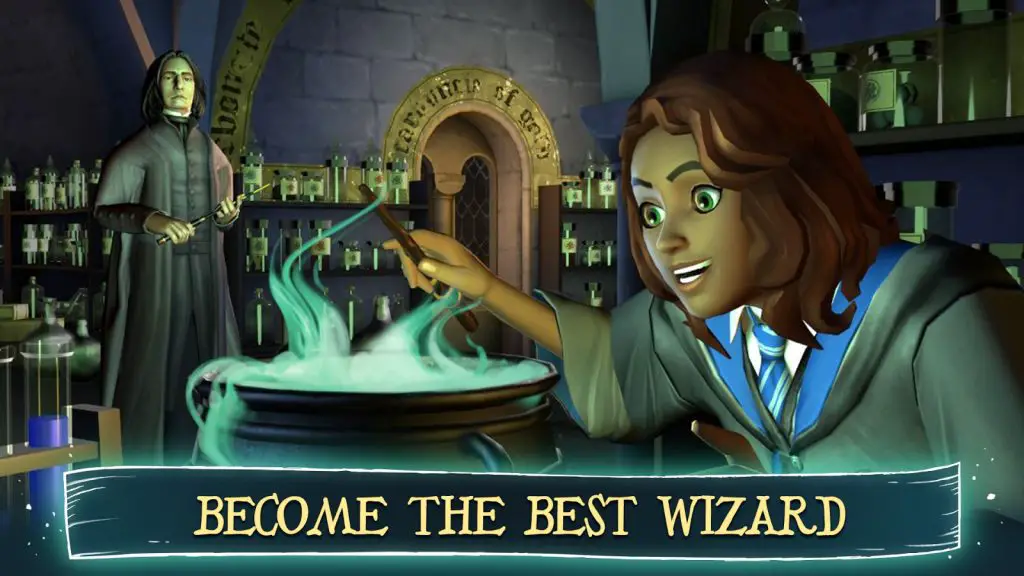 Expectations revolving around this customization are fairly high. The creators behind the team have said over and over that they've done everything they could to make sure everyone felt included. This avatar-building aspect is expected to be similar to that of "The Sims," meaning people will be able to change details such as shape of face, eye and hair color and so much more to make sure the player is able to actually play as themselves.
The "Harry Potter" mobile game will be staying true to J.K. Rowling's wizarding-world canon while adding brand new surprises and adventures for the players. The game takes place during the 1980s, seven years before Harry Potter himself arrives at Hogwarts. What exactly does this mean?
It means that all your favorite professors are still teaching at the school, as the events of the "Harry Potter" books haven't occurred yet. In addition to your favorite professors making an appearance, players will also get the chance to attend classes with other characters from the franchise that were at the school before Harry and his friends arrived, such as everyone's favorite metamorphmagus, Nymphadora Tonks, as well as the older Weasley brothers Bill and Charlie.
Even though players will be surrounded by familiar places, it's important to remember that you are in charge of the story. "Harry Potter: Hogwarts Mystery" is all about the player being able to achieve their dream Hogwarts experience. As a result, choice is an extreme part of the mobile game: Players constantly make decisions while playing the game and each one alters the story so that the resulting narrative is uniquely yours. Even the dialogue choices you make influence the story that unfolds around you.
The game also allows you to make this character as similar to yourself as you like. If you want to be the villain of the story, guess what: you can. There's an infinite amount of choices that you'll be able to make over your seven years at Hogwarts, so let your avatar be whoever you want it to be.
The entire premise of the game revolves around the player attending Hogwarts for seven years. We've been told these seven years will include classes like charms, transfiguration, defense against the dark arts and more. Players will be able to actually attend these classes and learn new spells and potions. It's unclear how these classes will happen, but there will probably be short lectures from a professor and then a wand movement the player will need to learn.
When you complete classes your "magical skill," aka the game's version of experience points, will increase. Depending on this magical skill, you will be able to get involved in dueling clubs, leaning how to fly and hopefully join the house quidditch team. You will also have the chance to both gain and lose house points depending on how you act with the characters around you.
There's currently not much known about the game, but fans all over the world are counting down the days until the app is released. The "Harry Potter" mobile game will be available at some point in the spring of this year for Android and iOS mobile devices.
"Harry Potter: Hogwarts Mystery" is also only the first wizarding world game being released by Portkey Games. They will also be releasing another mobile game later in the year called "Harry Potter: Wizards Unite." There is next to nothing known about this second "Potter"-themed game except that it's made with help from the same people who make "Pokémon Go," meaning this may be the "Harry Potter Go" game fans were originally asking for.
It's likely "Harry Potter: Hogwarts Mystery" will come out before we learn any more about "Wizards Unite," but the Hogwarts simulation game should be more than enough to hold over all those witches, wizards and muggles all over the world looking for a "Harry Potter" fix.