There's a considerable shift that has happened in our lives in recent years because of the internet, whether it pertains to entertainment, work or personal care. When everything can be done online, how can we leave betting behind? Betting has always been an exciting entertainment option to participate in for a significant number of people. Undoubtedly, it has been considered to be one of the most exciting activities in sports.
In a few years, online sports betting has reached new heights with so many websites and applications on board. With all these online facilities, any adult out there can place bets from anywhere, but the debate over whether online betting is a better option never seems to take a back seat. So, here are five reasons why people are shifting to online betting.
1. Genuine Profit From Good Websites
The profit margin varies a lot with both types of betting, be it online or offline. However, many have the misconception that online sites are always up to some fraudulent activities.
But if you choose an authorized one that holds a license, then you can play a fair game. Many such websites have developed over time, which allows the betters to win a handsome amount.
2. The Convenience of Online Sports Betting
Placing bets on sports online is always a convenient option to go for over offline ones. You can forget the hassle of going to the bookies to place your bets and then waiting until the game finishes.
Nowadays, accessing the internet can help you invest money from anywhere and any time. You do not even need to stand in long lines to cash out your money, as it will get credited directly to your given bank account.
3. Can Incur High Payout Online
Compared to the offline casinos and betting, online betting sites and casinos can earn you higher payouts. It has been one of the most attractive reasons as to why people are choosing them over anything.
Moreover, it saves money for the service providers, too, as they do not need to invest in space and labor. So, both individuals have their share of benefits in the case of online betting.
4. No Need to Reveal Your Identity
In the case of dealing with offline bets, you need to be physically present at the place. While in the case of online betting, there is no compulsion to reveal your real identity.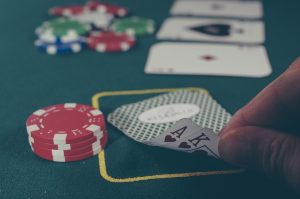 Privacy is of grave concern, and thus, you do not need to enter your real name to begin betting. Nobody online will ever ask for your real identity so you can place a bet wherever you want to and earn profits without getting spotted.
5. Get Lucky Bonuses
It can be considered one of the first options why even the non-gamblers and non-betters are trying their hands at betting online.
Many such online sites offer the opportunity to earn bonus rewards for registering. Other bonus opportunities like free spins, no deposit betting and free betting are also widely given to the lucky users.