I don't know about you, but I used to believe that the Kardashian/Jenners were a pretty hard family to relate to. Unless you're living that upper-class, waist-trainer-wearing, FitMe-tea-promoting, reality-show-having and internet-breaking lifestyle, then you probably feel the same way.
I never followed any members of the family on social media. I never even considered watching "Keeping Up with the Kardashians."
What I believe now is that I've been conditioned to hate on people like the Kardashian/Jenners from a very early age. It's a little scary to admit it but Kardashian has been a well-known name for as long as I can remember. "Keeping Up with the Kardashians" first premiered in 2007 and I was only 11 years old.
I remember being told that since they didn't base their careers on particular skills, like singing or acting, that the fame and wealth they received was unfair to the regular working class. From then on, all I could see the family for was money and lack of talent or work ethic.
The millennial generation, in general, is discouraged from looking up to the Kardashians/Jenners as role models of any degree; whether it's for their lifestyle, career or even body image. Instead, millennials are encouraged to look at them as competition and are expected to be better than them in terms of work ethic.
If millennials aren't reaching the Kardashian/Jenner level of success by the time they're in their 20s then society says something is wrong with them. How could Kim Kardashian be a millionaire without a college degree, while this generation is struggling to look for work and pay off college loans?
Their millionaire statuses were supposed to motivate millennials into earning their living through more "honorable" means. Even though I didn't believe this entirely, I still wasn't a fan of the Kardashians/Jenner work ethic. I didn't like that part of their wealth was inherited as well as their fame, or that they got a huge head start in this competition of life.
My particular "competition" is supposed to be Kylie Jenner. She's the youngest original member of the Kardashian/Jenner family and she's only 13 days younger than me. Not only did she star in "Keeping Up with the Kardashians" since its premiere, but she also has her own line of nail polish, clothing, shoes, handbags, hair extensions and makeup.
Her makeup line, Kylie Cosmetics, has made $420 million in 2016. She co-authored the novel "Rebels: City of Indra: The Story of Lex and Livia" with her sister Kendall Jenner, whom she also shared a PacSun clothing line. She also starred in her own reality show, "The Life of Kylie." As you can see, I have a lot of catching up to do, that is if I'm actually trying to compete.
I need to remember that Kylie Jenner and I have totally different backgrounds. I live that "normal" life that she's often said she wanted as a teenager. She lives a wealthy life that is supposed to define my success.
She was raised in an upper-class lifestyle and had most of her life documented. Her lifestyle may not correlate with mine in a lot of ways, but it's the significant moments that people from all backgrounds can relate to which transforms the perception we have of one another. Her lifestyle is very different from mine, but she's still a millennial like me, going through milestones that many from this generation can relate to.
Feb. 4 was not only Super Bowl Sunday, but it was also the day 20-year-old Kylie Jenner posted an 11-minute video titled to "To Our Daughter" on her YouTube channel announcing the birth of her first child. It's basically a montage of moments during the nine months of her pregnancy as well as her relationship to the father of the baby, 25-year-old rapper Travis Scott.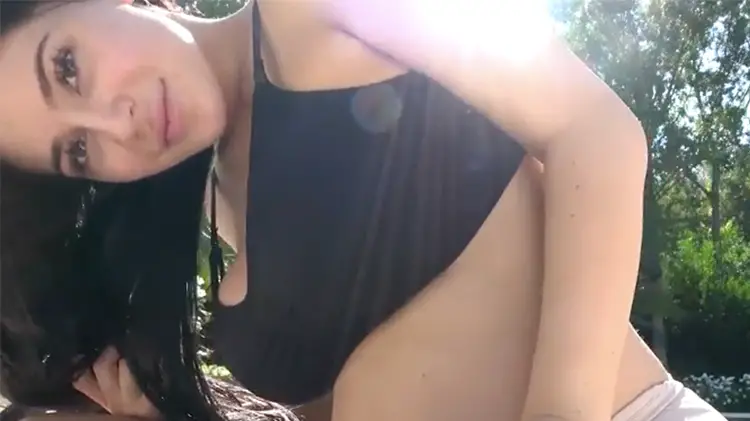 Her pregnancy was only a rumor until the YouTube video and an Instagram post Jenner made to her followers confirmed everything. Later in the week, she posted a vague picture of her newborn with the caption "stormi webster," which ended up then surpassed Beyonce's pregnancy announcement photo for her twins on Instagram in likes.
Again, I never followed any of the family members, including Kylie, on social media. Any news I heard about the Kardashians/Jenners I got through news sources. I didn't follow up on the pregnancy rumors or try to decipher her social media posts for hints.
The Kylie Jenner pregnancy video is what got to me. If you haven't seen the video already, let me walk you through what it was like for me. I was sitting in the hallway, waiting for class to start; had enough time to watch the entire eleven minutes, so I put sat alone and put my headphones in. It was early in the morning so the hallway was pretty empty, maybe one or two students walked by as I was watching it.
The video consisted of clips from her private baby shower. Kylie's friends and family recorded heartwarming messages for the new-born during the baby shower that were heartwarming. There were clips of intimate moments between her and Travis Scott that looked so genuine, like something I would go through. The video included clips of Kylie at doctor's appointments and moments where she announced the pregnancy to significant people in her life.
The video, in general, made the viewer seem as though they were experiencing a little bit of the nine months with her as if the viewer was a close friend of hers. The video definitely portrayed Kylie as more than just an Instagram account. The video gave her the control of the part of her life that she wanted to document.
After watching, I wanted to personally congratulate her, and I wanted to root for her. I didn't want to compete with her or be better. She's no longer just a symbol of wealth. She's a millennial who reached an important milestone. And if you were wondering, I did shed some shameless tears in the middle of my university hallway while watching it.