The Austin bombings started on March 2, when the first package killed Anthony Stephan House, a middle-aged African-American male who was a prominent figure in his community.
Then, 10 days later, the first package of the day killed 17-year-old Draylen Mason — an African-American teenager who was both an honor student and a musician — and injured his mother in the process.
According to NBC News, Sara Hickman, a friend of Draylen Mason, expressed her anger for the serial bomber(s), saying, "I'm mad they're infringing on our peace of mind."
The second package of that morning, March 12, severely injured Esperanza Herrera, a 75-year-old Latina woman hoping to visit her family.
Yesterday, March 19, another Austin bombing injured two white male college students.
The use of a tripwire, rather than a package, signals to investigators that the attacker(s) have a level of expertise in crafting distinctive bombs for each explosion.
At first, investigators believed that attacker(s) had specific targets, but with the use of a tripwire, it is now suggested that anyone can be in danger, regardless of race. The local police department in Austin is now working with the FBI and the Bureau of Alcohol, Tobacco and Firearms (ATF) to understand the framework of the bombs and discover who may be involved in the explosions.
With each explosion, the areas of attack are widening, which makes it more difficult for investigators to pinpoint the next neighborhood at risk.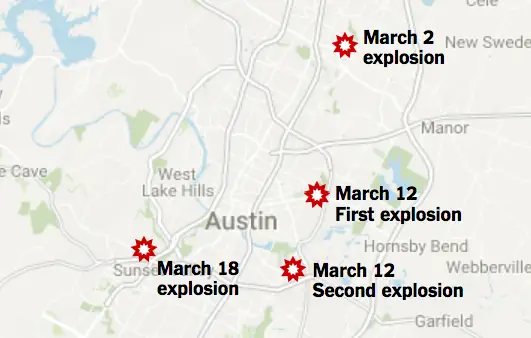 The first three Austin bombings targeted neighborhoods composed mainly of minorities (specifically African-Americans and Latinos), which led investigators to propose the idea that the crimes were racially motivated.
However, since the latest explosion occurred in Travis County, an affluent neighborhood in Austin, and the two victims were white men, investigators have walked back their initial hypothesis of a racial motivation for the crimes.
The Congressional Black Caucus called on Congress to see the Austin bombings as acts of terrorism and discover whether or not these explosions are racially motivated.
Statewide, the Houston and San Antonio police departments are working with Austin law enforcement to send bomb technicians.
Along with that, Governor Greg Abbott has spent $265,000 for x-ray systems that can detect explosives or other suspicious materials.
After the fourth explosion, the neighborhood of Travis County went on lockdown.
Nationwide, Trump has been briefed on the Austin bombings and has expressed support for the local law enforcement working tirelessly to catch the serial bomber(s) associated with these crimes.
The ATF wants suspected attacker(s) to call 911 in order to establish a line of communication before more explosions happen in the future.
Although investigators are unable to find a clear motive for these explosions, they believe the serial bomber(s) have a message and they are willing to listen to that message if doing so allows them to save lives in the process.
There is currently an $115,000 reward for any important information on the explosion that could lead to possible arrests.
Update: This morning, March 20, a package exploded in a FedEx building in Schertz, a city located just outside of San Antonio. Officials say the package was headed for Austin and was filled with nails and metal shrapnel.