Technology is more present than ever nowadays with virtual reality, 360 video, cloud services and applications hogging the spotlight for new and cool ideas. However, very few still appreciate the value in classic technologies in the modern world like Anna McKee, the most recent winner of IBM's "Master the Mainframe" competition.
The 22-year-old Dallas-Fort Worth native's victory, in addition to her interesting history with the enterprise IT field will open up many possibilities for her career. As most kids grow up with a dream of being an astronaut, lawyer or doctor, she struggled to find her true calling. "Coming out of high school I really didn't know what I wanted to do. All I knew is that I had a strong background in math and music. When I got to college, I still didn't even know. I did my first year of college and I realized I never found anything that I was passionate about," McKee says.
Through a push from her mother — her biggest inspiration — she gained the courage to go back home for her sophomore year of college to figure out her passion and enroll in a coding course at a local junior college. "My first class was C++ and that's where I started to say 'this is something I can do.' I didn't realize my passion for mainframe until that moment."
McKee started to hear the siren calls from the technology field and pushed forward after getting into C++. Reflecting upon her decision to pursue technology, she found no regrets going all-in with this passion. "I didn't think about it too much. I chose it and I did it. In the end, it worked out for the best because Java, the next course I took, helped me find something that I really enjoyed." She put all her eggs in one basket and went down the computer science information path.
Finding her passion is a result of her hard work, yet the University of North Texas student is grateful for her mother's example. "My mom is my biggest role model; she has been in technology all of her life. She paved the way for women in technology and she's the one that inspired me to get into this. I owe it all to her."
After discovering what she wanted to do with her life, McKee went ahead with an ambitious college plan. She decided to pursue a Bachelor of science in business computer information systems and a Bachelor's in business administration in decision sciences.
Although it may seem overwhelming to other students, she finds the challenge less complicated than it seems. "The good thing about my two degrees is that they go hand in hand, some of the things I learn in one of them correlate to the other." Thanks to a requirement from one of her advanced classes, the dual-degree pursuer had her first encounter with IBM's "Master the Mainframe" competition.
Meredith Stowell, the North American Manager of Academic Initiatives and Entrepreneur Programs for IBM, took the time to explain a bit more about the mainframe technology and the competition itself. "The best way to look at it is that mainframe is the system behind credit cards, airline reservations and ATMs, systems that handle millions of transactions per day."
Despite mainframe computing being written off as a relic of the 1960s in the current era of cloud computing, the technology has been reinvented to handle more than 12 billion encrypted transactions daily. That's about three times the number of daily Google searches. This is where "Master the Mainframe" comes in to foster the talent needed to keep this technology running.
"This is not a hackathon, it's more of a challenge-based contest. The real purpose of the competition is to help build the skills and awareness of enterprise IT. Not many students are familiar with this and larger companies need this skill. It's a growing industry," Stowell said.
Not only does the contest draw more than 17,000 people, but more than 120 countries highlighted the diverse crowd this type of technology reaches. On top of that, the average age of this year's attendees was 22 years old.
According to Stowell, "There's a career out there for mainframe computing. The competition is also a way for companies to identify the talent they want to bring into their organizations. We have a very high rate of success of the winners going on to pursue enterprise IT jobs."
That opportunity to pursue enterprise IT jobs is just what winner Anna McKee has at her disposal now. However, her first face-to-face encounter with "Master the Mainframe" didn't go as she expected. "The first time I entered this competition was through a class requirement, as they require you to do parts one and two. When the competition was over, I was bummed that I didn't get to complete part three, the final part. I set a goal for this year to complete all three parts and do my best," McKee says.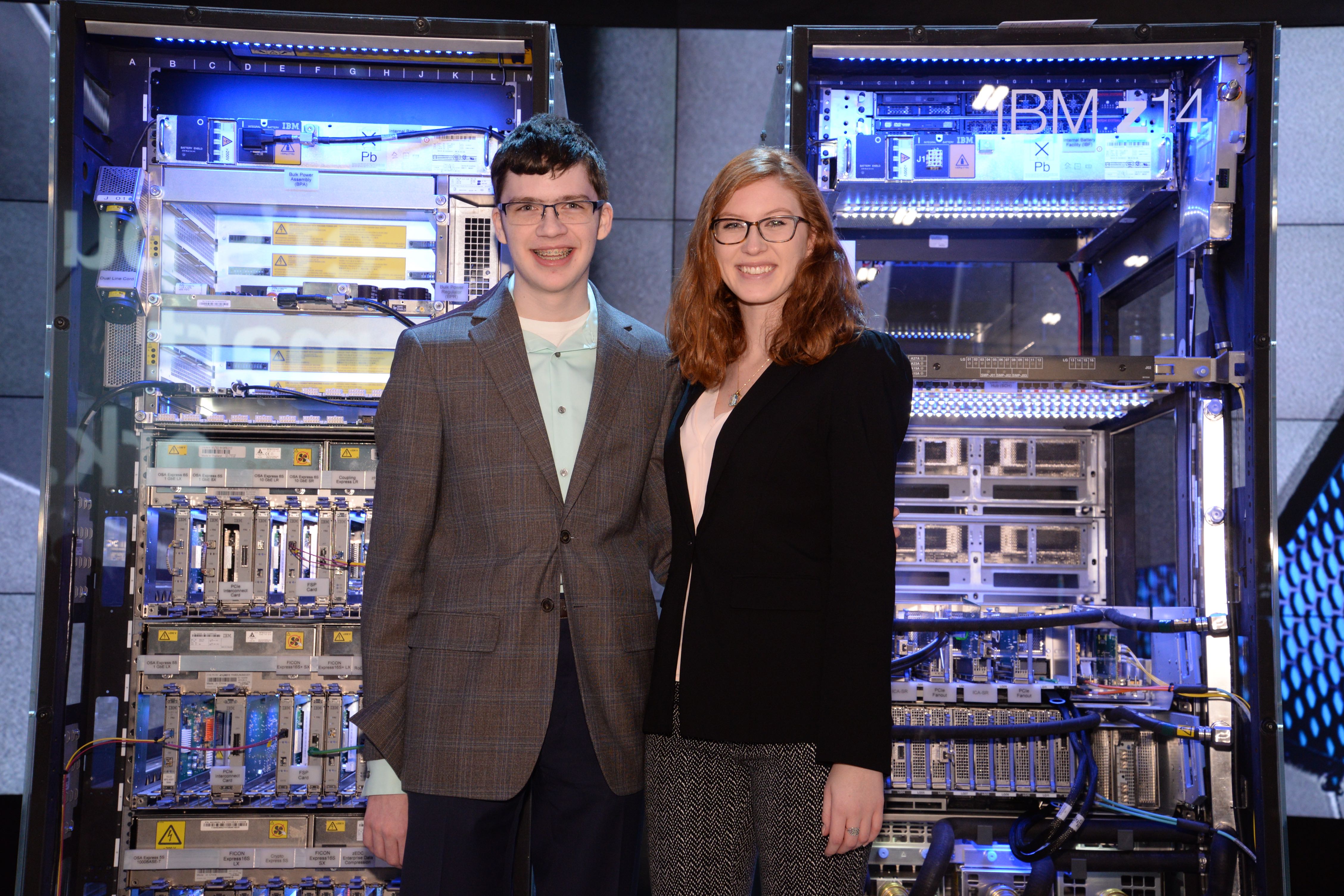 The second time was a charm and McKee is now the first North American female winner of  "Master the Mainframe." This fact highlights the changing tide in the technology field. "Times are changing; women are getting into technology nowadays. I went to a meeting of the Association of Information Systems and I was surprised to see that gender-wise it was half and half. I'm also seeing a lot more women in my classes," she said.
Still, entering the industry wasn't easy in the beginning, but with time, she discovered it was less challenging than what she thought it would be. "When I first thought of going into technology, I was very intimidated. It was an industry run by men. I encourage other women to go for it if you have a passion for coding. It's not as hard as it seems, if you put in the effort you can become successful." Looking ahead, the new queen of the mainframe hopes to get a Masters in Data Science after her final graduation and move on to the corporate world.
McKee's story is one to inspire newer generations of college students. You don't have to have your life figured out by the time you graduate high school. Things take time for some and the wait may very well be worth it. On top of that, her passion for a "classic" technology also encourages her peers to not be afraid of finding the value in the old. Like vinyls, Polaroid cameras and retro gaming consoles, what's old is new again.
"I'm lucky enough to go to a school that gives you access to this environment. A lot of professors may want to focus on the latest and greatest technologies, and we should, but I think we should also be focusing on traditional systems," McKee says.