A Culinary Education
After nearly dropping out of high school, Nickerson has created a booming catering business that's landed him a post-grad gig cooking under Neil Perry.
By Miguel Robles, University of Colorado Denver
---
The lucky ones often have a moment of inspiration.
A moment where they silence any fears, crush any self-doubt, say "fuck it" and just go for it. Most students never have this moment, letting the fear of failure destroy any pursuit of their lofty goals. Many young people, individuals who represent the future leaders of the world, simply never take that leap.
If you do take that leap though, you may find yourself in the position of Texas State University senior Ryan Nickerson: an executive chef in your early twenties, with a kickass job right out of school and a future brighter than the Austin sun.
Nickerson proves nothing in life is handed out. Nothing short of your blood, sweat and tears will cut it in this industry. I got to chat with Nickerson about Cypress Falls Catering, his vertiginous rise to executive chef and the hyper-local Austin food scene.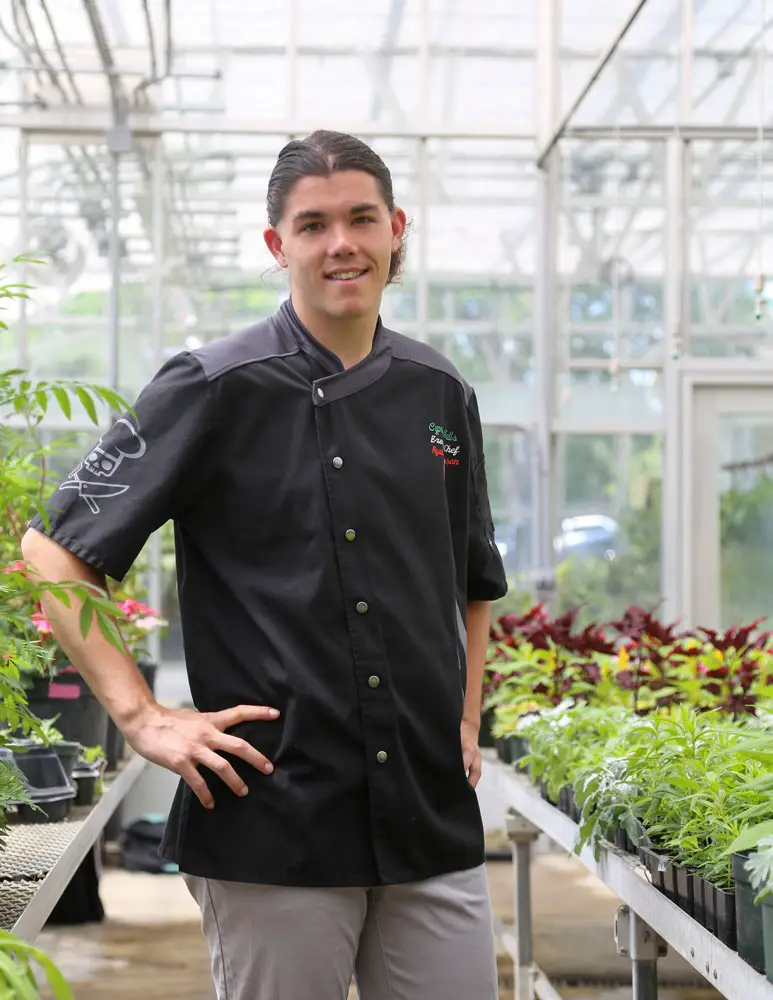 "I'm a senior at Texas State University with a Consumer Affairs major, Business Administration minor and a concentration in Food and Consumer Science."
"I've worked for Cypress Falls for about a year now. I started there last May as a hospitality management/wedding coordination intern. I went in for an interview that I originally wasn't going to go to. I already had a good job as a zip line tour guide, which paid a lot of money to zip line all day long. I only went to the internship interview because I needed it for school."
"I went out to Cypress Falls and met with the general manager, Lynnsey Hastie. We were really clicking throughout the interview; she went to Texas State when she got her MBA. I asked her if they had a kitchen. She said they had this big 3,400-square-foot space, but that they didn't use it because it needed severe 'tender love and care.' That's when I grew interest. I left the interview saying that if this whole internship thing doesn't work out, I'm your man for starting up that kitchen. I got a call back within a day or two telling me I had the internship, which was cool, but I was more interested in what was up with that kitchen."
"After about three or four weeks of the internship, around June, after seeing my work ethic, they started the planning process into making me the executive chef. By July, I was completely renovating the kitchen from floor to ceiling. When August rolled around, I was able to obtain the necessary permits and licensure and was managing my own kitchen."
"Cypress Falls is super non-restrictive; we have a shit ton of menus created. If you come in and say you want tikka masala, I'll accommodate you. I studied abroad at the Apicius International School of Hospitality in Italy, so I'm not really familiar with cooking tikka masala, but I will make you tikka masala if you want that. We can even incorporate family recipes. A lot of things other chefs aren't willing to do, I'm open to try. This coincides with my philosophy of meeting unmet needs through personalization and customization. It's unique to the haute cuisine I try to convey."
"We focus on sustainable food practices. I do hyper-local sourcing, so I try to source as close to home as I can. The main farm that I use is EIEIO farm, and it's only two-and-a-half miles away from me, so it's as local as you can get. When they don't have all the stuff I need, I go to a farm about 15 miles away in Austin, called Johnson's Backyard Garden."
"I compost, and I work with a company called Southern Star Aquaponics that grows their own food through aquaponic floating vegetative beds, a system where the harvested waste from tilapia helps fertilize the plants, and the plants help break down the waste. This allows me and other local kitchens to have feasible access to a crop-rotating purveyor that cares about the integrity of their produce. The farm is also working on developing a kitchen for events, which I'll be consulting with regarding its development in hopes of having bilateral relations between my CFCC and Southern Star."
"I can't say much about the rest of Texas, because I just moved here a few years ago from Boston, but Austin's food scene is very centered around the sustainable philosophy. You see farmer's markets all around the Central Texas area; a lot of the restaurants out here are focused on the farm-to-table trend. This really fits my background with my focus on restaurant sustainability while I was in Florence."
"I approached the local chamber of commerce and was able to talk to a member of the chamber who was also a part of the Wimberley Valley Art League—a bunch of local artists. She got me in touch with some more farmers and purveyors who helped promote my farm-to-table event back last October. People came in and paid $50 per person. I made a nine-course meal for them, and everybody loved it. It utilized seasonal ingredients that I helped pick with authentic approaches to each dish."
"On the same property we have Chef Jay, who does barbecue, and of course Texas barbecue is a big deal, in a restaurant called the 'The Back Porch.' I was one the chefs that helped get that going. He has been in the catering field with Chef Jay Events, so it was great to see a community-oriented chef-turn-restaurateur in action and collaborate with him, as we have different culinary backgrounds."
"He taught me how to cook Southern-style, and I helped him set up the expediting system and what not. He's big on using local food as well, and defines the term 'community-oriented chef.' This was awesome for me, because one of the first chefs I ever worked for, Ken Rothwell of Ken Rothwell Custom Catering in Salem, Massachusetts, has been deemed a 'community hero.'"
"Playing with the local food scene is the way to do it. I'm in a market that is predominantly tourist-driven. The Texas Hill Country and southwest Austin boast beautiful venues out by the rivers and lakes; everyone comes down to see those.  My whole philosophy is that if I get the locals on my side, when all the tourists come, they'll ask the locals where to go. If you have a good connection with the locals, then bada-bing bada-boom, I'm cooking for the bride and the groom."
"Texas State University offers exclusive internships that include Cypress Falls as a site. We have four interns this semester: two on the event side, one for PR and one for social media. We always have at least two interns each semester. Since we have a pretty diverse portfolio, we have many different brands under the Wimberley Water Resort at Cypress Falls: Cypress Falls Event Center, my catering company, the hotel [The Lodge at Cypress Falls] and a bar called The Tavern."
"The Tavern is the newest addition, and I am excited to say that I will be opening up regular restaurant hours starting this May, with my concept of 'Beer, Brunch & Bistro.' The historic bar has hosted Willie Nelson and George Strait, and I'm hoping I can attract some interns from Auguste Escoffier in Austin or the Culinary Institute of America in San Antonio to complement our involvement with higher education."
"I learned to love school, and I find it important to question everything and never stop learning. It's often overlooked that the practice of cooking is what makes us human, and that alone, to me, leaves me consumed by the industry. It's the only industry that allows me to be a cutthroat-kitchen dweller, while doubling as a business professional. It allows me to be narcissistic through art and humble in craft. It's all a matter of perspective."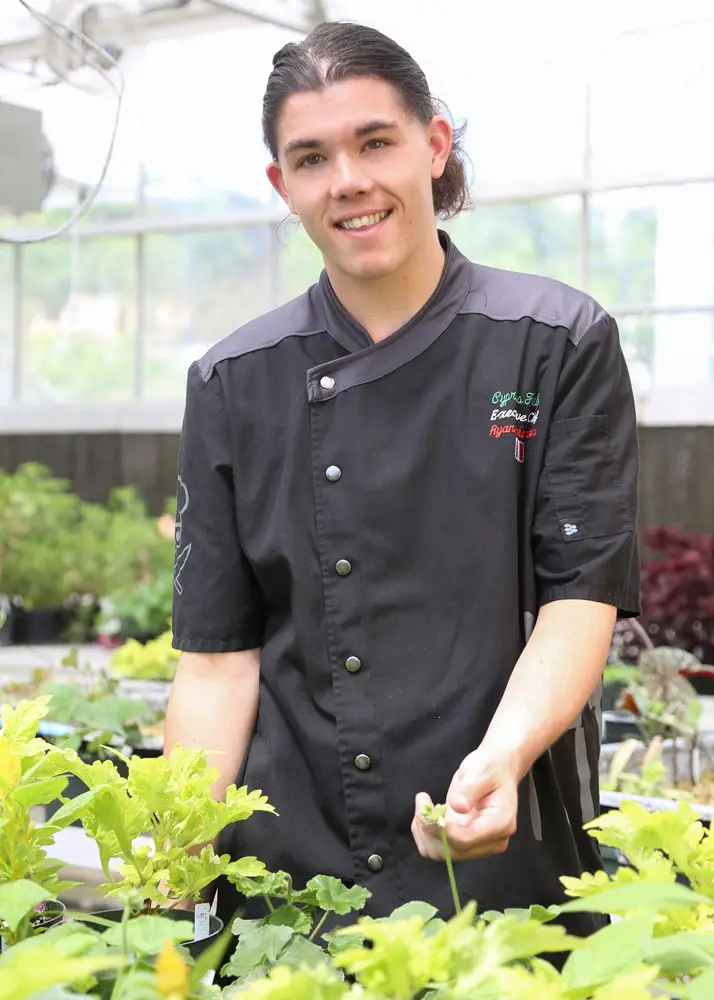 "The hours always vary, but I typically put in about 35-50 hours a week for Cypress Falls, while being a full-time student in both the summer and the school year. I'm currently in my last semester at twenty-one credit hours. I do not sleep a lot; I beat my body up. I try to defy the whole 'sleep/study statistics.' It'll probably all come back to me, but I've been in a kitchen since I was thirteen; I've already beat my body up so much. But, I'm young, I feel like I can take the abuse, and eventually it'll all pay off in the end."
"I just signed a contract with Rockpool Dining Group in Australia. They're giving me a dream opportunity, a lot better than what the projection stats led me to anticipate coming out of school. I'll be working with Chef Neil Perry, ranked the fourth-greatest chef in the world, back in the early years of the renowned 'World's 50 Best Restaurants,' right behind Gordon Ramsey and Thomas Keller of the French Laundry. You can watch him on Netflix in his show called 'Restaurant Australia.'"
"I'll still be a stakeholder within Cypress Falls. My Australian visa is good for four years, but I plan to stay for at least three. I'll be helping them open their new restaurants, like Rosetta in Sydney. They'll be doing some acquisitions and mergers in London and LA, so they potentially could bring me back to the U.S., so I hope I'll be on the inside team."
"In school, I take a bunch of finance classes, business classes and nutrition classes; it's cool to see how everything is interdependent on each other in the food system. The food system is the big giant monster that consumes all sorts of industries. It's beneficial to see the correlation and causation that the food industry has on everything. That's the way I succeed in school. I'm not a big math guy, but when the math formulas are applied to a food scenario, it just clicks for me."
"During my sophomore year of high school, my mom passed away, and I was not handling that well at all. I had a lot family problems. I got into trouble, and found myself in places that no individual wishes to be."
"I was broken down to my core. When I got out, I had missed so much school. I just thought I could drop out of high school and just get a job with a GED. I met with my principal, who convinced me to enroll with the community college the next semester to do dual enrollment program. Not only did I get college credit, but I also got that diploma, and surprised a lot of people when I walked at commencement."