College life is hard enough as it is, but as a musician, Ericsson Hatfield experiences many struggles outside of academia ranging from the pressures of the music world to trying to compose pieces on time.
As an accomplished violinist, the NYU music theory and composition major has been playing the violin for almost 20 years and through his experiences of learning, teaching, performing and composing, he has collaborated on an album and won competitions.
Hatfield started playing the violin at 5 years old. His mother, who was a soccer coach, gave him the choice of either violin or soccer and "I choose both," he recalled. Hartfield explained his interest in the violin was having watched too many Yanni concerts as a kid.
"There was a violinist [in the concerts] … I really liked, and I wanted to be like her and play the violin." The composer also enjoyed the attention brought by performing music compared to soccer. "I would do a lot of [violin] competitions and people would come up to me. In soccer you don't get as much specialized attention."
Being a musician is a risky career choice with many uncertainties. Hatfield is grateful to have a family that provides for him and helps him succeed. "My uncertainty is that I go back home and live with my parents until I can get my foot in the door, for a lot of people it's a matter of eating."
Like every high school student, the violinist was apprehensive in deciding to peruse his passion as a career. Now that Hatfield has had the opportunity to work with professionals and perform during his college years, he has no doubts about what he wants.
"I never feel like I'm working. It's like how they say: do something you love, and you never have to work. I love doing chamber music in terms of playing and I love composing. It's like arts and crafts class in elementary school but professional," he says.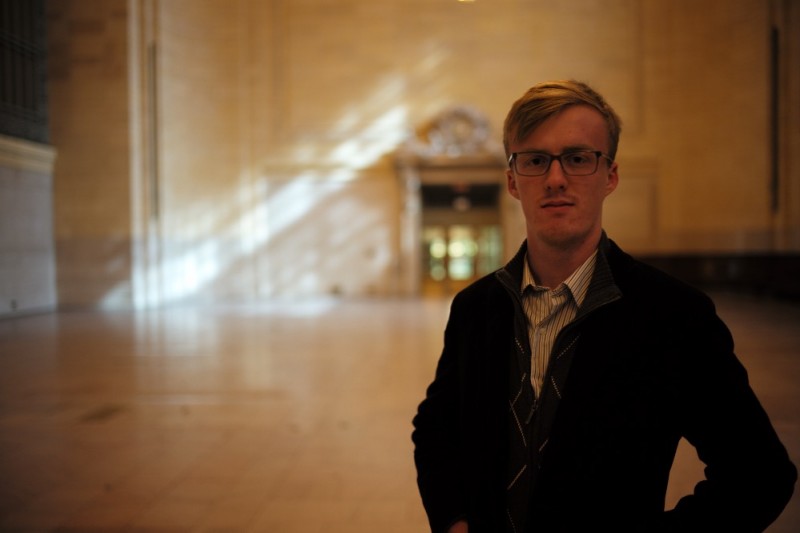 Originally starting at NYU studying Baroque style music, Hatfield has transitioned from the 300-year-old music style to more modern compositions, mostly due to pressures in the music world. "It's scary to compose in the Baroque style nowadays," Hatfield says, "because people are very critical of that. The push to be modern is very severe, especially in the classical music world."
While the pressure to succeed is heavy in the music indistry, this senior is open to different paths, such as teaching, performing or composing. According to him, success comes in various forms.
Recently, Hatfield won first place in Division 1 (Ages 22 – 35) of the 2018 Tribeca New Music's Young Composer Competition for his piece "Constellations." The lack of stars in Florida and New York is what motivated him to compose "Constellations."
"When I lived in Florida, you can't see the stars and now I live in New York, so there have only been 3 or 4 times where I have actually seen them. I went on a schooner cruise with my brother several years ago, which was a sail boat and I didn't want to go on a regular cruise because I wanted to see the stars. So, I've always been fascinated with that."
In 2016 Hatfield had the opportunity to record his pieces with Dr. Petra Matějová, a Czech pianist, who was also his piano teacher at NYU's study abroad program in Prague. The slower pace of life and appreciation for the arts in the Czech Republic gave this violinist an engaging learning experience where he "got to learn a lot without having to do much work."
As a rare student that composed baroque music, Hartfield immediately piqued Matějová's interest and the piano lessons became less about practicing the instrument and more of just "geeking out."
When asked to compose pieces for the album, the two dominant emotions swirling through Hatfield was excitement and fear — excitement for recording music with a well-known pianist and fear from having composed not many of the pieces and left the writing for a semester before the recordings.
Just like any other students, he has issues with procrastinating and motivation as "most of my progress has been made in very fast splurges, I just wish I was more consistent in my productivity because then I might get much further [in my compositions]."
The album titled "Signature" contains nine songs and was released in June 2017 on streaming sites such as Spotify and iTunes. Dr. Matějová plays the piano and Hatfield plays the violin.
Although the purple caps and gowns of NYU commencement are a month away and a gap year has already been on the calendar, the composer is still keeping himself busy. Hatfield, his violin teacher and other talented violinists have been asked to personally play for a member of the board of directors of Astral Artists, which is a non-profit organization that presents classical musicians to the greater Philadelphia area and mentors them.
After graduation he plans on practicing the violin more, saying how "in college you're putting up so many flyers and you're running from gate to gate that you never have much time nor motivation to practice the hard stuff."
In addition to building a portfolio for graduate school and performing in recitals, Hartfield has decided to take a gap year to improve his health after a diagnosis of Crohn's disease in his junior year. One thing he's interested in is potentially going to bartending school. "I love making drinks and I feel like that would be a great skill to have going into grad school."