Logan Malik is a senior at George Washington University, majoring in chemistry with a double minor in chemistry and sustainability. Malik is also the Student Association Director of Sustainability at his university and launched a campaign in September to save one million pieces of paper by next summer.
The campaign, called "Save a Million," calls for students to limit their university printing habits to only what's absolutely necessary and to always choose to print double-sided sheets, for a discounted price. The discounts specifically are what's been able to cut back paper usage on campus by a significant amount.
Malik believes that the initiative would save about 60 percent of paper if students followed through with the printing restrictions.
He predicts that an increase of 20 percent in double-sided printing at WEPA (a cloud-based, pay-for-print management solution for student printing) printers would result in saving 600,000 pieces of paper, as compared to the fiscal year 2016 (George Washington's fiscal year runs from July 1 to June 30).
So even though his push to save a million pieces of paper would "definitely be a push," Malik believes the target is feasible if he's able to promote the mission hard and far enough to his fellow college students.
The process of promoting the campaign has been divided into phases, with each phase including specifically planned steps. The first phase for Malik was primarily to raise awareness among students.
His advertising plans included: visiting classrooms, encouraging students to join the campaign, hanging posters made entirely with recycled paper, using SA email blasts to the staff and students, coordinating advertisements on university printers with Academic Technologies (a company that controls the university's contract with WEPA) and encouraging WEPA and recruiting SA senators to take up the cause.
WEPA's reports on paper usage come out on a quarterly basis, which will help Malik keep track of the campaign's progress over time.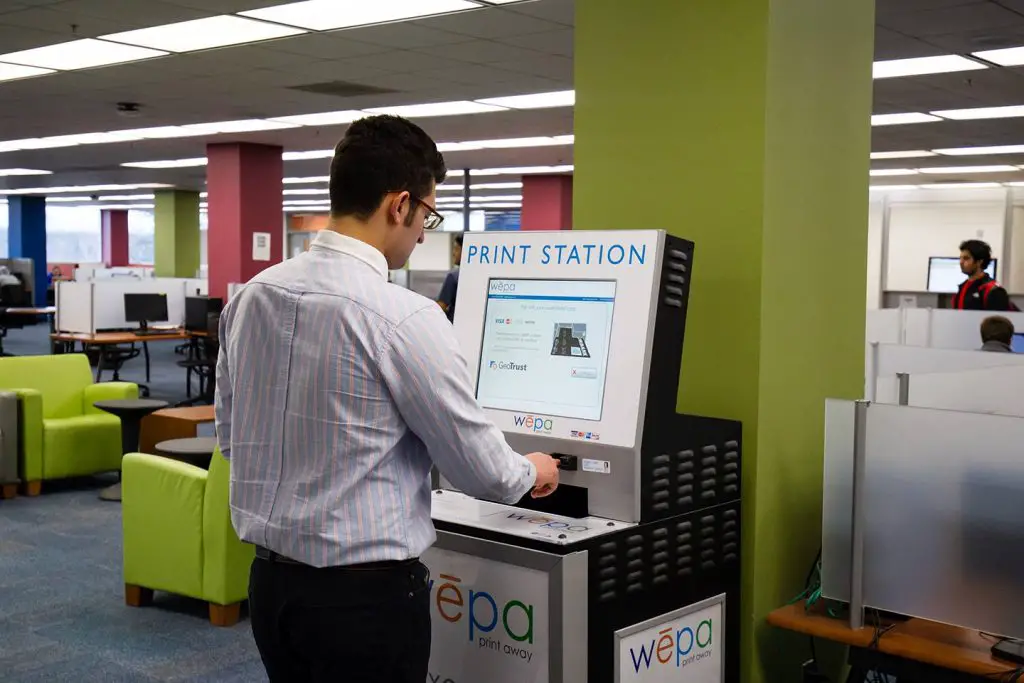 The second phase of the "Save a Million" campaign was saved for later on in the semester and it shifted focus away from the student body of the university to that of faculty and staff who don't use WEPA printers.
The request to them would be the same: print double-sided pages and reduce the copies they print both for themselves and for their students.
The inspiration for "Save a Million" started with Malik's wish to change the pricing of printing on campus and to obtain a discount for double-sided printing when he was elected as an undergraduate-at-large senator.
He believed that proposing a new policy to decrease the cost of double-sided printing at campus-printer kiosks would provide an incentive for students to reduce the amount they used on a daily basis.
"I was initially inspired to change the pricing of printing as a senator because I did the research and saw the potential impact that a small change in pricing could make on the amount of waste that the George Washington community generates," he says.
The entire George Washington community used over 20,300,000 pages of paper in the fiscal year of 2012, which equals to over 2,000 trees, 1.6 million gallons of water and nearly one million kilowatts of energy — then in 2016, the student body alone used 3,200,000 pages of paper.
Malik believes that individual campaigns to raise awareness of environmental issues are crucial for the development of sound environmental policies. "A campaign like this is valuable because it encourages students to think about how their actions impact the environment and climate change," he says.
"While small behavioral changes are not going to save our world from the effects of climate change, they can be a stepping stone to necessary systematic and institutional changes by engaging people in the problem and increasing awareness."
Environmental sustainability and fighting climate change have always been a passion of Malik's, and he wants to be an advocate for change within George Washington to limit its negative impact on the environment.
The "Save a Million" campaign is a way for him to encourage students to engage with these issues of sustainability and show the community that "sustainability can, and should, be a priority for all people who are interested in public service both in college and beyond."
All those involved with the campaign, Malik included, know that while small behavioral changes help — like choosing to print double-sided on paper — they do not have the ability to save our world from the effects of climate change or environmental breakdown; however, they can be a stepping stone to necessary structural and institutional changes by engaging people in the problem and asking them to be a part of the solution.
The campaign will also allow Malik to make a measurable impact in the George Washington community. "While I am passionate and motivated to address the institutional problems that have an impact on the environment, such as George Washington's investment in fossil fuels, I also think it is important to recognize that some things as trivial as double-sided printing can make a big difference," says Malik.
"If we succeed in our campaign, we will save approximately 125 trees, 95,000 gallons of water and 56,000 kilowatts of energy. I do not view that as a small feat, and I think putting time and energy into working to do that is valuable."
Reaching a million pieces of paper saved is an ultimate goal of Malik's and the rest of those included in George Washington's Student Association, but it's not the number that they're focusing on.
Instead, they want to pass on to their university's students and staff that there are a number of small things that can be done to improve their community's environmental footprint – small things that can add up to large contributions in the future if everyone works together.
The "Save A Million" campaign will continue until this June and anyone who wishes to join the team can sign the pledge here.