The Creative Appetite of Munch
Maher Hachem, a.k.a. Munch, has been making music for seven years, and it shows.
By Kayla Kibbe, Connecticut College
---
Maher Hachem is just like every other student artist with a dream, but with one important distinction: He's living it.
With his laid-back charisma and the instant, down-to-earth vibe he brings to a conversation, you'd never know the University of Michigan senior also happens to have spent the past seven years building a successful music career as recording artist Munch.
Since high school, the Detroit native has been crafting his sound, a self-described hip-hop new-age house blend that seeks to connect with listeners on a deep level by channeling positive energy through self expression. At twenty-two, Munch has released two-full length projects, launched music videos for his tracks, and performed nation-wide alongside noteworthy industry names like Big Sean and Juicy J.
I caught up with Munch last month mid-Mardis Gras celebration, New Orleans style, to talk about cultural inspiration, positivity and the importance of living and performing in the moment. The positive energy that radiates from Munch's music is instantly recognizable in his enthusiastic, outgoing approach to life, and it's clear that for this artist, an open mind is the beginning and end of everything.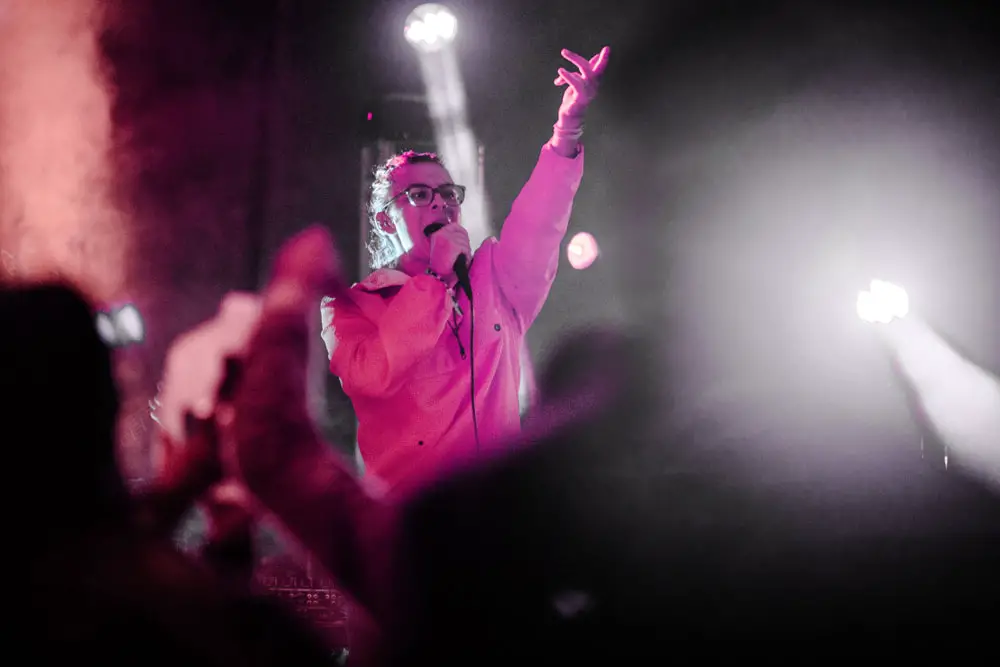 Kayla Kibbe: You've been pretty busy the last few months, opening up for Big Sean and releasing new music. How did this all start? What were your first projects like?
Munch: I got started making music my freshman year of high school. It was a really natural process. I was listening to so many different genres and styles, and I really wanted to transition from being a consumer to being a creator. I wanted to be able to express myself through music, so I just started writing. Eventually, I had all these notebooks of different songs and concepts that I wanted to start recording, and the rest is history.
KK: What would you say was your first big break? When you did realize that this is more than just a hobby, that it was something you can take to the next level?
M: I started realizing I really wanted to pursue this once I got to college. By the end of my freshman year, I started to understand that life was getting serious, and I needed to figure out what I wanted to do. My sophomore year, when I was working on my second project, "Beaches," I decided I either need to be doing this full throttle or not at all. I realized my end goal was just being happy, and pursuing music was what I needed to be doing to accomplish that.
I just made a commitment to keep focusing on it, and then once I finished the project, I started reaching out to people in the community to find different show opportunities and different media outlets to feature me in showcases. Once I got some publication out there and some P.R., I felt like I started receiving a lot of more relevant opportunities for my music career.
KK: Throughout your career so far, you've released two full length projects, "The New Kid" and "Beaches." How has your style evolved throughout those projects?
M: When I started making "The New Kid," I was really just a beginner, someone just trying to make music and find a style. So "The New Kid" is just a huge experiment. I was a new kid trying to figure out what I was doing with music, so that's a bunch of songs of different feelings, different vibes; everything is all over the map. So, when I started the second project, "Beaches," I wanted to take that experimentation and turn it into a conceptual album and try to make music that had a meaning behind it. I wanted to take my time with it and really have a meaning from front to back with each song.
KK: So what would you say that meaning is? If there was a central theme to "Beaches," what would you say is the takeaway from that album?
M: "Beaches" is supposed to be an album that people can escape to. So, when I think about the beach, that's a place where I can get away and actually relax and really just see where the world is coming together. It's a place for me to find myself at peace, so I wanted to take that feeling and turn it into a project.
When people put that CD in, I want it to be an escape for them, I want them to be able to get lost in the sound. I wanted it to be a project people could really connect with and not see it as just another mixtape.
KK: So as much as your music is a personal expression, you really are focused on making music with your listeners in mind.
M: Exactly. I mean, you have to recognize that when people are listening to you, you could make an impact on their life. And that's something you owe to your listeners. They're taking the time to listen to you, so you have to take the time to realize how they can be influenced by your music and your art.
K: In a "Her Campus" interview last year, you talk about how the name Munch started as half of rap duo "Crunch and Munch" with a high school friend. How has the name evolved since then?
M: Well, there's a few different stories to it. So I started making music my freshman year of high school with my best friend, Cameron. We wanted to think of a name we could do as a rap duo, so we came up with the idea to be "Crunch and Munch." Afterwards, I just kept going with it.
Later on, I started thinking about the name more seriously, and realized it worked well because I'm always hungry for that next thing, that next opportunity. I definitely value every opportunity I get, but I'm always looking for that next move, that next interaction, that next listener. I'm always looking for something new, so I'm always hungry for something.
KK: To what extent is "Munch" just a name, and to what extent is it more of an alter-ego or character? 
M: Its actually a pretty interesting thing in my life, because it really all depends on the relationships I have with people. I meet a lot of people as Maher first, and then, when they find out I make music, I become Munch to them. A lot of times they don't even realize it, but they'll just start calling me Munch because of my music.
KK: So the name kind of takes on its own life through your music?
M: Yeah, its pretty interesting. It just happened last night actually. I'm in New Orleans, and we were at this jazz bar talking to a bunch of musicians. I just love to pick the minds of different musicians in different cities and see what the music culture is like and explore the local artist community.
So, anyway, I'm in this conversation with this artist, and my friend comes out of nowhere and he's like, "I gotta put my boy on, have you heard about Munch?" It was funny, but its really great to have friends who appreciate what I do and want to share it with the world like that.
KK: Are you in New Orleans for business right now?
M: Well, I'm here for a little bit of business and a little bit of pleasure. Like I said, whenever I travel, I love to meet local musicians and explore new cultures and find different opportunities in new cities. So I'm down here looking at new venues for future shows, and I'm also celebrating Mardis Gras with some friends, so it's a little bit of both.
KK: Speaking of different cultures, your website's bio mentions that your music draws on your Lebanese and German roots. How do you see your heritage affecting your music?
M: Being raised as a first generation American by a Lebanese dad and a German mom, I was exposed to so many different cultures growing up. I was constantly traveling and seeing new cities and different countries. It really made me open to the power of music and how it connects people.
You can be in a place where you don't even speak a word of the local language, and you can play your music and connect with people on a completely different level. And that really made me realize that beyond all the conflict and negativity in the world, music has the power to bring people together. So that's where I draw from my roots, in my belief that people have the power to come together through music. That's what I feel like my art's purpose is, just to make positive music that people can connect to.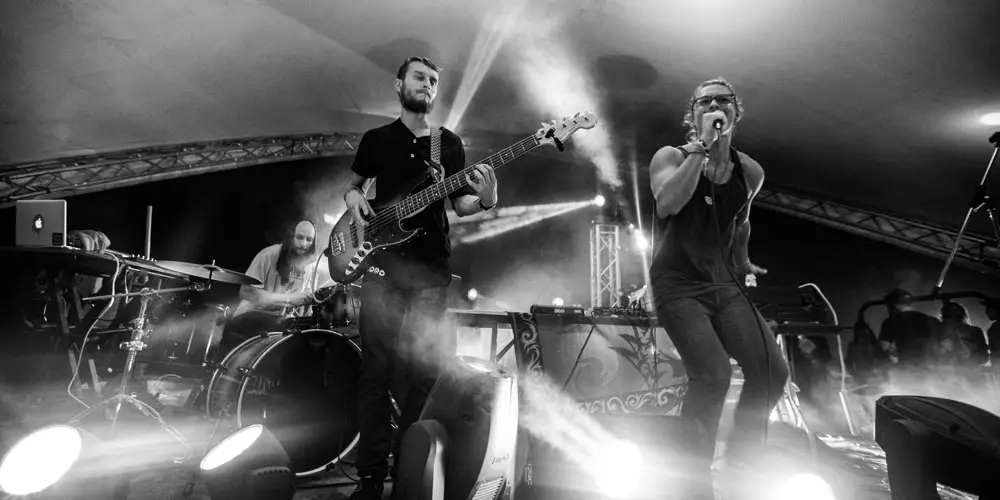 KK: That sounds like an important message to be able to share in today's world, especially on a college campus. How has your success affected your life as a student? Are you something of a campus celebrity?
M: I would say that at this point a majority of the people I run into know I make music. I'll definitely be walking around campus and people will be like "Yo, is that Munch? I saw you open up for Big Sean, that was the craziest show ever man." It's so interesting because when you first start making music, there's a lot of doubt from other people. Everyone just treats it as a hobby that will pass over.
Then, eventually they realize that you're doing shows every week, putting out new videos, new music, new merch. And then its like, "Okay wait hold up, I need to actually look at this guy because he's doing something bigger than I thought."
KK: How do you balance life as a student and as an increasingly successful musician? Do you feel that those are in some ways separate identities, or do they blend together?
M: When I decided what I wanted to major in, I knew I wanted to do something in the creative world. But I didn't want to do something with music because I knew that would just make me get tired of it really fast. I didn't want to be forced to make music through school. So I wanted to do something that was also creative but challenged me in different ways.
That's why I focused on technology design. It's a different perspective, and through my program, I get to do a lot of different projects where I get to express creativity by creating an interface online to expose new ideas. So I use a lot of those projects to relate back to my music and see how I can apply it to that part of my career. I try to not separate my identities, but really to use the knowledge from both fields and apply them to each other.
KK: Opening for Big Sean seems to have been a pretty memorable performance for your classmates and fans. How were you able to land that gig?
M: There is a student organization on campus called Big Ticket Productions, which I joined my freshman year because I wanted to get involved with the school's music scene. So, when the Big Sean show came around, I reached out, and the talent booker sent a list of different options to Sean's management, and they hit me back and said they wanted me to perform. I was pretty hyped; I mean, they chose me out of everyone, so it was a really good feeling.
KK: So would you say then that you owe a lot of your success to opportunities you were able to get through the school?
M: Definitely. The school gave me an opportunity to create a platform. A lot of people think you just put music on SoundCloud and the rest takes care of itself. But that's not the way it works. You have to build. It's like building a house. You have to dig down first and then start building up. You can't just go right to the top; you have to have foundation.
The school gave me the resources and the opportunities to build that foundation and let people know what I'm doing. I have a huge respect for the school and what they've done for me and my music career.
KK: Now that you've established that base, what are your next steps? Any upcoming projects we should be on the lookout for?  
M: There are few things in the works. I'm about to put out a new music video for my latest single, "Eyez Lo." I'm also working on a new project called "High Tide," which should be coming out in the next few months. It's basically the next step after "Beaches," which was a conceptual album, while this one is a more honest project where I'm really focusing on connecting with the listener.
I also recently started hosting shows in Ann Arbor at my house. I started doing this thing called "No Phones" where I host these house shows with different artists in the community. So basically when you come into my house, you put your phone on airplane mode and it's just you connecting with the music. It's not, you know, "I'm going to Snapchat this" or "I'm going to take this picture because I want it for later." It's more about creating the memories, and it really makes a difference. People come to these shows and it's crazy because they connect to the music so much more when they're not distracted by their phones.
It's a really intense experience, and people realize, "Wow, I'm in the moment. I'm able to have genuine conversations with people, I'm able to see how the artist actually interacts instead of seeing it through my phone screen and worrying about having the perfect picture and the perfect angle. I'm not stressed about looking dumb in someone else's Snapchat story." So I'm putting on these different showcases for artists where they can actually connect with the crowd. Its so important for an artist to have an audience that can really be in the moment with them and the music.
KK: Are these performers fellow classmates?
M: So far, a lot of them have actually been Michigan students, yeah. A few of them are alumni, and a couple of people are just Ann Arbor locals I've met through the music scene. But yeah, I love to use it as a tool to showcase students because it's their school and they should not be afraid to get out there and share their work with their classmates and the community.
KK: It's really cool that you're already at a point where you're using your success to help other aspiring artists. That's not always something you see people being willing to do. A lot of time there's some selfishness in art.  
M: There's definitely a time and place for selfishness, but there's also a time and place for helping other people grow. In my mind, if I'm going to be selfish, that's during my creative process when I'm really fine-tuning something to make sure people see or hear something in a certain way. But beyond that, I really don't see the benefits of selfishness.
Why not give people different opportunities and help them grow? I don't understand why anyone would want to hog it for themselves. I love seeing other people succeed, and it makes me happy to contribute to their growth.
Follow Munch on Twitter, Instagram and Facebook, and don't forget to check out his SoundCloud and YouTube channel.