According to MLive, students and first-year alumni from University of Michigan-Flint, Mott College, Baker College and Baker College of Owosso will be able to participate in Suit Up, a free event in partnership with JCPenney, Career Service Centers and local colleges and universities that gives college students the opportunity to practice for job interviews.
The event will take place on Sunday, Feb. 11 from 6:30 – 9:30 p.m. at Genesee Valley Center in Flint, Michigan, and the store will be closed specifically for the opportunity.
On behalf of JCPenney, students will have a 40 percent discount on select men's and women's career dress apparel and shoes. Representatives from local colleges and universities, as well as a team from JCPenney, will be in attendance to help students learn everything they need to know: what trends to follow, how outfits should fit and much more.
There will be other activities at Suit Up, including a chance for a free mini-makeover from Sephora inside JCPenney, a free salon visit and express-bar hair touch-up at JCPenney Salon and a business headshot by JCPenney Portrait Studio with an opportunity to purchase packages for a fee. There will also be an opportunity to interview with local colleges and university spokespeople, as well as the JCPenney's general manager.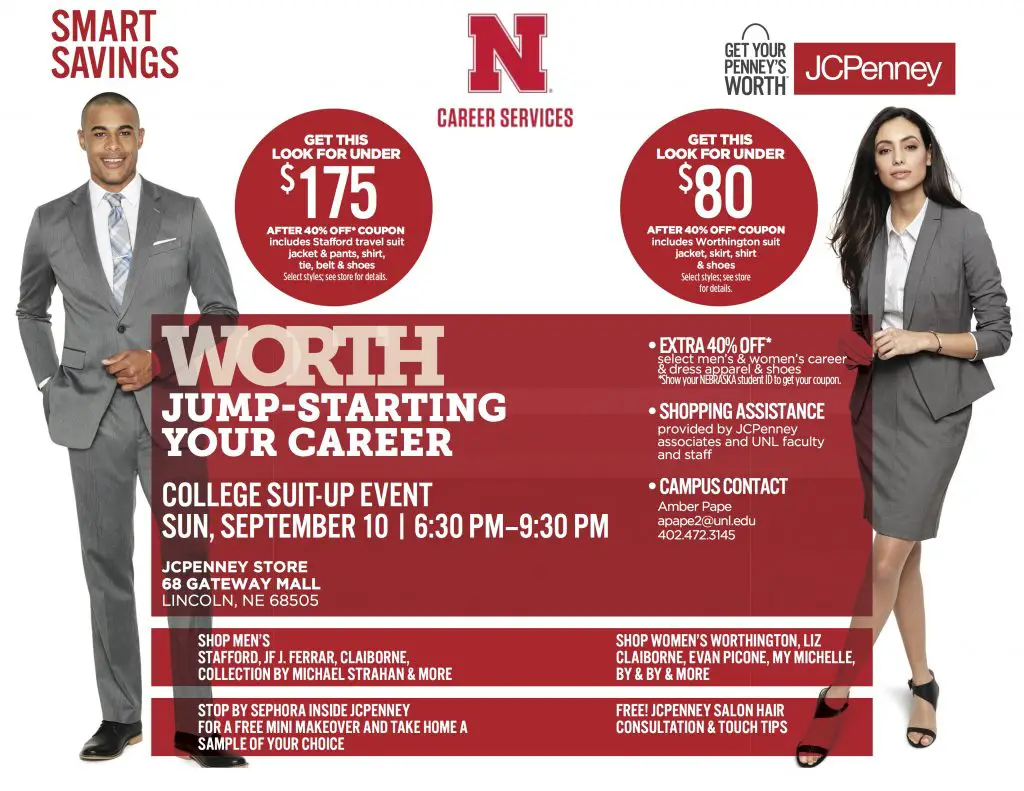 The event was held last year in October for the University of Michigan in Ann Arbor, and JCPenney has held and plans to hold the event for other schools in additional states, including Louisiana State University, Binghamton University, the University of Tennessee, Knoxville, the University of Arizona and Texas Tech University.
Job and internship interviews can be intimidating, which is why an event like Suit Up is a great way to help prepare students. According to Chron and Forbes, dressing for an interview is vital. It is the interviewer's first impression of the interviewee and helps the interviewer interpret whether or not the individual cares or respects the company they are interviewing for.
Individuals are also encouraged to visit their own college or university's career center for more information concerning events similar to Suit Up, as well as other opportunities to receive and practice job and/or internship interviews.