In 2017 alone, California-based musical collective Brockhampton released a trilogy of albums titled "Saturation," while other artists struggle to release things every two years or so. It does help, however, having a total of nine performers and producers working at once. In the era of streaming, where the most prolific artists like Drake and Charli XCX are thriving, Brockhampton offers a steady flow of stylish and cutting-edge hip-hop.
While "Saturation III" does not pull any experimental punches, Brockhampton's new album challenges closely held traditions of music production through DIY techniques. One of the most exciting elements of Brockhampton's new album is its lyrical density, which is all due to the varied styles and energies of the group's numerous performers.
Kevin Abstract takes the baton of leadership and direction for most of the album, easing listeners into the album with a self-assurance and swagger that not all can muster. Abstract delivers some of the best verses, especially on the boisterous lead "BOOGIE": "What are the rules for breakfast today? / What are the words I'm forbidden to say? / I need to let my hair down and grow out like a real ass bitch / A real ass bitch, bitch."
Talking your shit (whether you have shit to talk of or not) has always been an essential technique in rap, and Brockhampton's new album finds the boys manifesting their dreams and looking back on hard times. Abstract's verse in "BOOGIE" is restrained, certainly, yet still marches forward with the confidence of hard-earned success. "JOHNNY" finds the crew passing this same energy back and forth effortlessly. Ameer Vann raps some of his finest here: "If you got a problem with me, try some other guy / I let you know I'm a dog, I ate the cat alive / But really though, I'm alone cause I don't stick around / and Yes, I know it's my fault, so put your finger down."
Abstract keeps everyone on the move, closing spaces between the members, but it's Vann who really finds space to shine on "Saturation III." Vann spins the most convincing and complete stories, delving into real experiences with thoughtfulness. On "STAINS," he reflects on a long distance relationship that fizzled and the ascent to success. Still, his victory feels hollow: "Mash the chip that's still in my shoulder / Ain't a day that I still been sober / These the things that I'm tripping over."
In spite of its adherence to certain rap standards, Brockhampton's new album is at odds with them in terms of sonic elements. The near-atonal noisiness of the sirens and horns on "BOOGIE" recalls the sounds of late '80s, early '90s hip hop; the dominant synth that vacillates between vacuum cleaner, alien drone and arcade game on "Sister/Nation" suggests something electronic and a little synthpoppy. The plaintive, reverberating guitar on the first half of "Team" is reminiscent of some indie rock outfits; none of it seems out of place. Brockhampton joins the ranks of artists like King Krule who push the edge of their genres, innovating with every release.
The most obvious deviation from form is Abstract's clear and triumphant declarations of his sexuality. The world of rap has rarely been friendly toward the LGBT (with maybe the exception of CupcakKe), but young artists like the members of Brockhampton have helped change that. It's downright cool to hear Abstract rap "and I like taller guys" as the de facto host of Brockhampton's new album. Exploring the sexual tastes of a queer rapper? As a prominent figure on your group's fourth release? After having and taking multiple opportunities to discuss it earlier? Yes, yes and yes. I'll take all three.
Brockhampton breaks rank from classic rap in other ways, too. There are frequent references to pop boy band One Direction: "best boy band since One Direction" on "BOOGIE" and "Anybody got Harry Styles' phone number? / Okay, I called him and they said I got the wrong number" on "JOHNNY." The members of the group are masters at controlling their story. In an interview with W Magazine, group member Merlyn Wood said, "We're a boy band because we say we're a boy band." I'd say that it's almost punk to do so.
Apart from their marked growth as a collective, each member of Brockhampton has developed a sense of artistry independent from one another. On the more sedated tracks like "BLEACH" and "STAINS," Matt Champion carves out a nice niche for himself, taking the lead or hitting the hardest. Joba, who rarely takes the full front, finds a nice spot for himself too as a supporting player (and occasionally leading), linking verses or providing a comfortable refrain to settle into.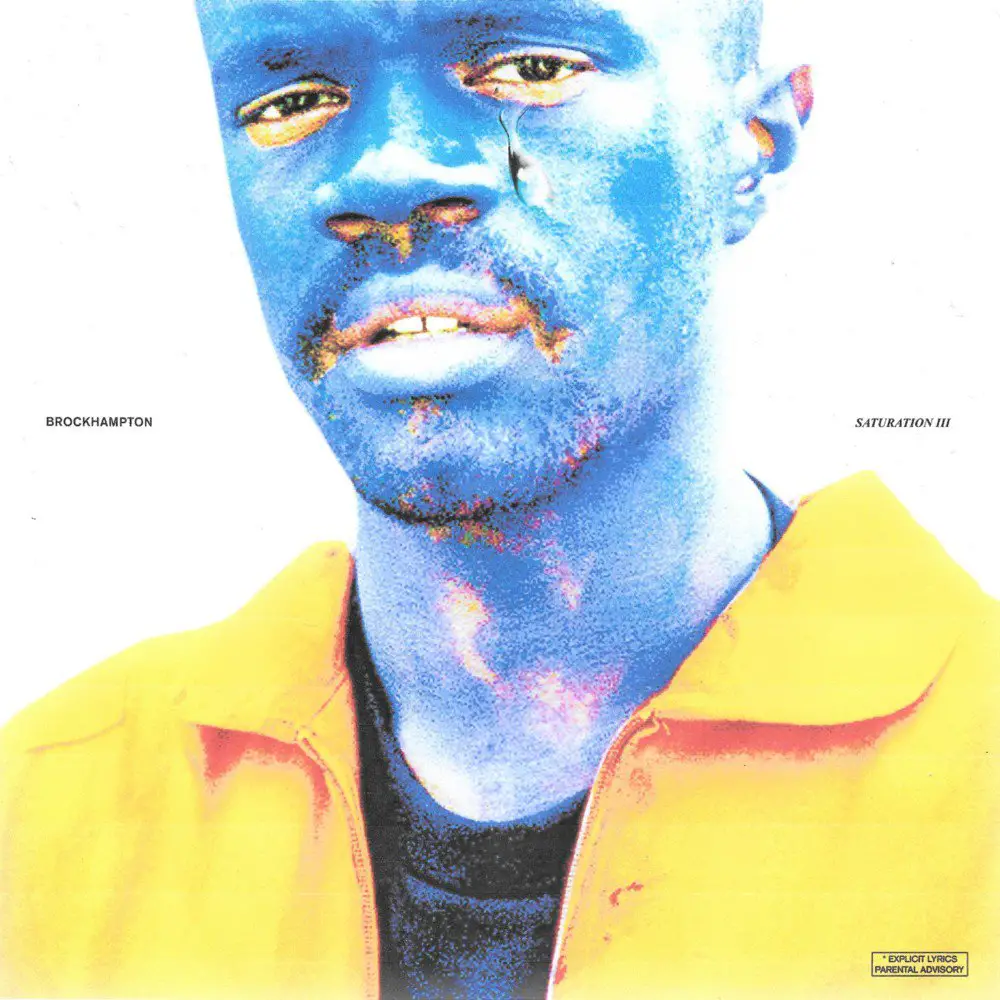 Since there are so many compelling and varied performances on "Saturation III," Brockhampton's new album takes a few full listens to appreciate. Getting accustomed to four, five, even six unique performers on a three minute cut takes some adjustment, and when you factor in some dense production, tracks can seem overstimulating. It's no excuse to stop listening, though. The near-maximalist approach, where more really is more, is in line with the ambition of the trilogy.
As the "Saturation" trilogy comes to an end, the direction of Brockhampton looks both positive and uncertain. They have proven themselves as an energetic group of performers that embody the far-flung dream that many high school rap fans have: to run away with your boys and make music. The fact that they've been successful is another matter entirely. It's still too early to call whether or not Brockhampton will end up being a tidal pool for a solo career or two. If they release more as a collective, awesome, and if not, the completion of the Saturation trilogy seems to meet some of their long-term goals.