For most Americans, the closest they'll ever get to stepping on a professional field, court or diamond is by purchasing a ticket. Despite the many obstacles though, there are still those who defy the odds and manage to make it pro, and Central Arizona College sophomore Ryley Widell is one of these incredible few. The last school year has been a wild ride for Widell, a ride that ended with him being selected as the first pick of the seventh round in the 2017 MLB Draft. However, the events leading up to his selection clearly illustrate just how incredibly difficult making it pro truly is.
Ryley Widell has always been a top athlete, playing a multitude of sports as a child and excelling in football and baseball while attending a public high school on the island of Maui. Growing up in Hawaii, in a rural, small town setting, Widell quickly learned that in such an isolated place with no professional sports team, high school athletics have the potential to unite the community. "Over the years, I've felt support build around me as I progress towards my goal. The support I've received after I got drafted is special. I feel as though the community is behind me and cheering me on through this new journey of mine," says Widell.
As he entered his senior year of high school, the support for Widell continued to grow as it became obvious that he would be offered scholarships from more than a few top-notch baseball programs. In the end, he chose to attend Washington State University, a solid Pac-12 program that has appeared in the Division I College World Series four times and has participated in sixteen NCAA Tournaments. At this point Widell's future seemed simple enough. He would work his ass off in Pullman, Washington, on and off the field, impress the coaches, earn his spot and, with any luck, garner the attention of MLB scouts. It would take an immense amount of work and a little luck, but Widell was confident that this was his path and that he had what it took to follow it all the way to the promised land. In fact, he was confident enough that he got a tattoo of a cougar on his ribs, the mascot of WSU. He claims it's a lion, but it's awfully coincidental and very cougar-esque.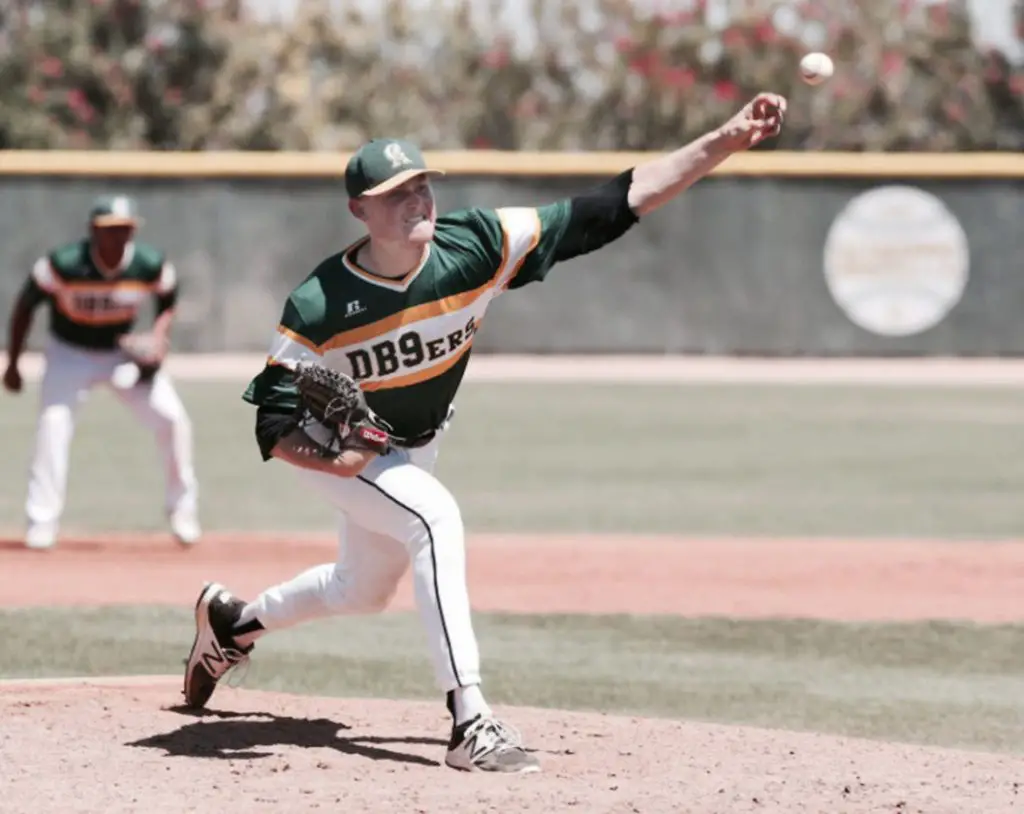 However, despite his potential and his work ethic, Widell's first year at WSU was far from ideal. Donnie Marbut, the head coach for the Cougars and the man responsible for recruiting Widell, was fired months before the Maui pitcher ever arrived on campus. The new head coach and Marbut's replacement, a man by the name of Marty Lees, had no interest in keeping on athletes recruited by his predecessor; he wanted to hand-pick his new team even if it meant cutting kids who had worked their entire lives to play in Pullman. Widell was one of the unlucky ones. "I was told I needed to leave Washington State. That feeling I had was indescribable, and I was at a very low point in my life at that time," Widell says.
He describes it as the first time he truly doubted himself. For the first time since he first picked up a baseball as a kid, Ryley Widell thought that he might not be good enough to play professional baseball. "Eventually I dealt with the feeling. One thing that I feel that sets me apart is that I am calm and levelheaded through good times and bad times. I told myself that I was good enough and going to overcome this. Thankfully I turned it around during my summer of 2016 and I've grown immensely since then."
The turnaround that Widell is speaking of is not simply a mental one, although his newfound determination to prove himself surely helped what can only be described as a performance explosion. The recently cut pitcher entered the summer league with a vengeance, playing better than he ever had before and chose to leave the D1 route by the wayside, instead opting to attend a junior college known for its baseball—Central Arizona College.
Although the choice of a junior college for his sophomore year may have at first seemed like a step backwards from D1 baseball, the decision paid off and it paid off big. Widell's summer success carried on into the baseball season, and he began to get offers from big-time schools, schools ranked much higher than the Washington school that had snubbed him. But it wasn't until June 12 of this year that he got his true vindication. Not only was Widell, the pitcher who had been cut from WSU, drafted, but he was drafted, by the Minneapolis Twins, long before the three WSU players who had been taken in the draft were selected.
Despite this huge victory, Widell has been nothing but humble; he is well aware that as exciting as it is to make it to the big leagues, surviving and thriving there is a completely new challenge. "At the next level, I really need to focus on getting stronger. I'm still developing as a man and as a player, and I feel that getting stronger, both mentally and physically, is crucial to my development," says Widell. "Playing in the big leagues is rare, so I want to be sure to take it seriously. My whole life I've worked for this moment and now that it is here, I'm proud that all the sacrifices I've made have worked out. I'm proud to represent the island of Maui and I hope that through my story and my struggles, I can help kids understand that it is important to believe in yourself, and that if you make smart choices, work hard and trust the process, you can go a very long way."