Food waste is a worldwide issue, and ironically, so is hunger. National Public Radio (NPR) reports that the United States alone throws out 33 million tons of food in a year. Of course, the U.S. is just one nation, so the rest of the world only adds to that already massive number. Even though you could say that some countries have too much food, others don't have enough. Luckily, Iowa State senior Ella Gehrke is well aware of the devastating impacts that the wasting and shortage of food have on various communities.
Ella Gehrke is one of the founders of KinoSol, a company dedicated to the reduction and elimination of unnecessary food waste. KinoSol keeps food out of garbage cans with the Orenda food dehydrator, which took two years to create. The Orenda food dehydrator is a solar food dehydrator that utilizes clean energy to efficiently dehydrate food for preservation that is also collapsible and lightweight. The moisture exits the dehydrator through ventilation at the top of the machine, leaving the food dry with a longer shelf life. The Orenda can dry out many edible materials, such as produce, fish and insects. Even after the foods lose their moisture, they still retain their nutrients. Although the Orenda is KinoSol's signature product, the company has other features and different items for sale.
KinoSol's website allows patrons to help sponsor an Orenda and send it to a subsistence farm from only $20. Once the donations reach $200, they ship the Orenda to a subsistence farm in need. In addition to the contributions, KinoSol also has merchandise for sale, and one-third of the sales are used to fund dehydrator sponsorships. Their merchandise includes T-shirts with several designs to choose from, a set of pint glasses and even bags of dried food made with Orenda dehydrators. With all this merchandise and global nourishment, it's hard to believe that KinoSol started with only four people and a contest.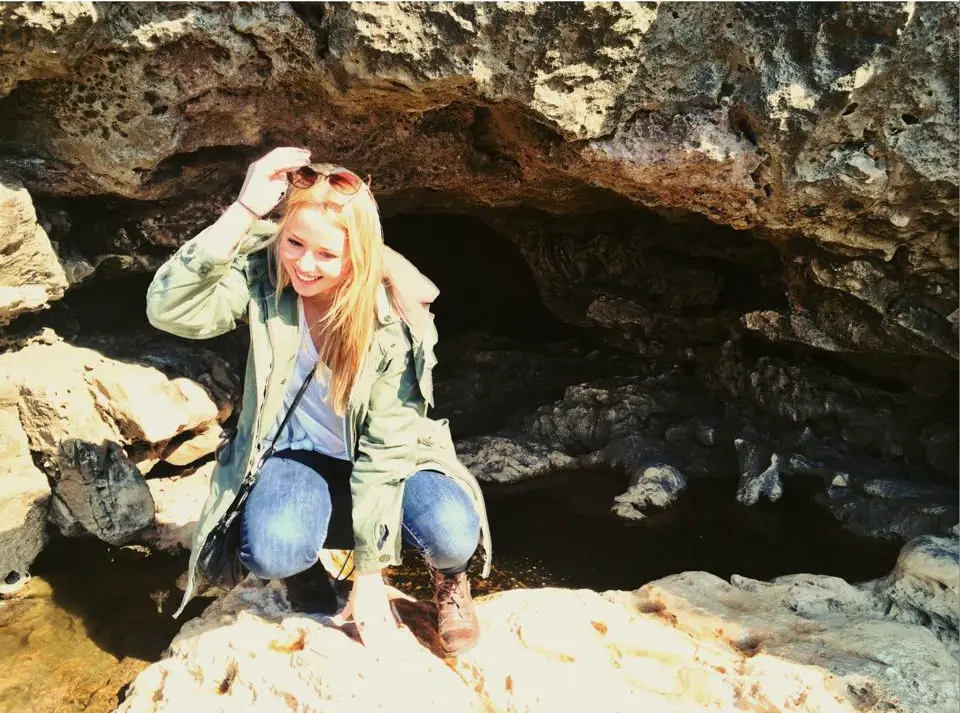 Gehrke's passion for global nutrition comes from her time traveling and studying abroad. She and her co-founders, Elise Kendall, Mikayla Sullivan and Clayton Mooney, saw firsthand the effects of starvation on countries such as India and El Salvador. Something had to be done, so Gehrke and her cofounders took action by using a business plan competition. Their entry would soon result in the creation of KinoSol, a company "focused on finding a solution that met the needs of subsistence farmers, and could provide them with a tool for empowerment, economic flexibility and proper nutrition."
Though Gehrke has worked tirelessly to launch the company and help alleviate food struggles worldwide, the effort of even managing their small part of the solution has required her to lean heavily on her team, a privilege that she acknowledges and grateful for. "KinoSol really managed to stay afloat and flourish as a company because of our team," she says, "which consists of four, extremely hard working and passionate individuals." With the help of her coworkers, Gehrke can keep her business while still maintaining her grades, social life, a life outside of school and her company. 
As expected, KinoSol has impacted Gehrke as both a student and a person, as her experience in the field has led her, in part, to pursuing a degree in Global Resource Systems and a double minor in Biology and Emerging Global Diseases. KinoSol has allowed her to learn more about her respective fields and other disciplines. "The company pushed me out of my comfort zone on a daily basis and made me interact with cultures and people I never would have had the opportunity to do so before," she says. "I interacted with designers, engineers, nutritional specialists, business experts and various others, all from Iowa State and all willing to lend their expertise because they believed in our mission."
KinoSol has other supporters in addition to the people of Iowa State. Gehrke's team has earned advocates from churches and charities all over the world, one of which is the Lutheran Church of Hope, which has locations in Ghana, Uganda, Haiti and South Africa; she has also received support from partners such as the Green Africa Initiative (GAI) and the Kyosiga Kyokungura One Voice Campaign (KKOVC).
Not only does KinoSol have supporters from everywhere, but it also has users everywhere too, most of whom are families. KinoSol's products have enhanced the lives of over five hundred people in nearly twenty countries and is continuing to work to produce more life-changing technology. In addition to the Orenda dehydrator, KinoSol is in the process of making a domestic dehydrator that accommodates city life. It is aimed at Europe and the U.S. and received funding from Kickstarter last year. The new model will be released in 2018.
Starting a business teaches a person many lessons. Gehrke has learned so much from her co-founders, the people of Iowa State and other countries, but the biggest lesson Gehrke's company has taught her was always to stay resilient and not listen to those who tell you otherwise.  "Don't let naysayers get into your head. You know your business model better than anyone else. You are the expert, so act like it," she says. Given Gehrke's and KinoSol's success, global effects and plans for the future, it's safe to say that she and the KinoSol team have thrived, which means less food will be wasted, more people will receive proper nourishment and Ella Gehrke and her team will continue to make a difference in the world.
Correction: The article previously stated that Gehrke was a student at Colgate University, which was incorrect. She is a student at Iowa State University. We regret the error.