Connor Abeles, a senior at Emerson College, is reveling in his latest success. A two-year project in the making, his mixtape "Gorgeous Nonsense" was released in April and is gaining traction. Abeles, better known as "Cab Ellis" on stage, debuted at the Middle East Club in Boston as a freshman for a small crowd of his close friends. The rapper booked the club once more for the release of his tape; tickets sold out and the house was packed. The collaborative venture incorporates nearly a dozen other singers, mixers, producers and musicians from around the Boston area. Laden with personal sentiment for the artist, it also packs big potential for his future in music.
The Mixtape
After witnessing other student talent at his school and universities close by, Abeles sought to diversify his sound by adding contributions from other artists. Not his first release, but his first collaborative work, nearly each track of "Gorgeous Nonsense" co-stars a featuring artist.
Compared to his previous tapes and EPs, this title better resembles an album; the feel-good beats strike a balance between presenting a cohesive, retro vibe and incorporating individual flair into each song. Live instruments like the saxophone, trumpet and some percussive guitar lines compliment Abeles' rap verses and a few that he sings—another element setting the new release apart from his previous music. Two of the new songs, "Boogie" and "Do That," are out on SoundCloud; Abeles is working to expand the platforms where his songs are available, aiming to reach iTunes and Spotify, or potentially to produce physical copies of the tape in the future.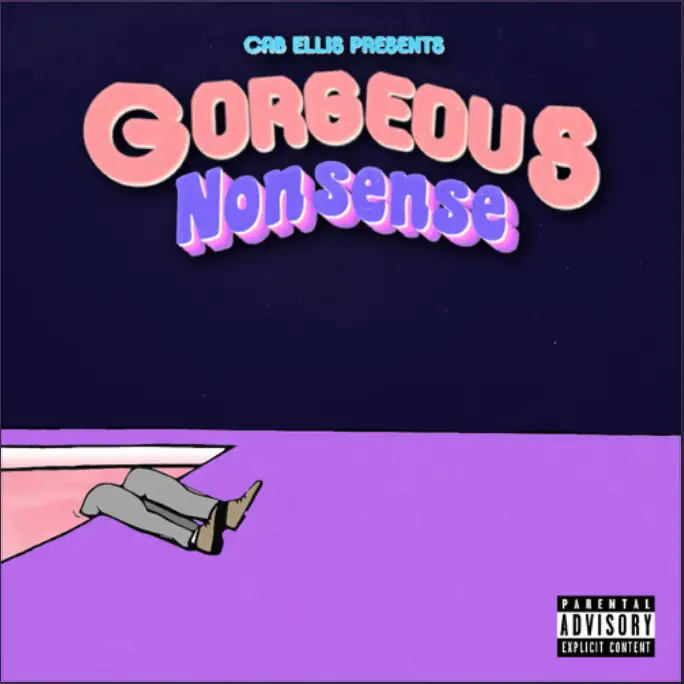 Currently, the two songs from "Gorgeous Nonsense" available on SoundCloud are climbing quickly in the number of plays they're accumulating; each has reached about an equal number of plays as compared to other songs he has previously released that have been posted for over a year, though the new tracks have only been available for a few months.
The Process
A rather spontaneous project, the idea for the album came together during recreational improv sessions with friends. After, the sophomore at the time began questing for collaborators while attending shows, lounges and other musical happenings around the area. Many of the guest artists are Ellis' friends, and he connected with the ones he didn't know through mutual friends.
The vocal features range from soloists, like Abeles' sister, to groups like the university a cappella group she sings with and even a middle school choir. Instrumentalists include a saxophone and trumpet player, a couple guitar players and a percussive guitarist who taps beats on his guitar while playing, to name a few.
The vision for the finished tape was for it to be a collection of recordings that celebrated music and would reach a wide audience; centered around the young hunger to find security in passion and escape expectation, its sentiment is relatable for listeners and tangibly personal for the creator. Abeles took the lyrics to the next level. His past lyrics were constructed for aesthetic sound, while the "Gorgeous Nonsense" lyrics are deeper, the subject matter is more vulnerable and there are more lines packed into each track. The rapper reveals little pieces of himself through them. "Every single line means something or comes from somewhere," Abeles says.
He stumbled across the title after a suggestion his mom made. He had previously penned a track donning the title, which she had mentioned that she liked. After considering the message behind the word pairing, it seemed to fittingly depict the process of making the tape itself: sometimes messy, but beautiful in nature.
While the end result of the collaborative undertaking is immaculate, getting it there was not. The biggest challenge the artists encountered was scheduling. Most of the feature artists are students, too. Over the course of the years when the project was in the works, sacrificing social time and sleep to grind out time writing, playing and hunting for beats became the norm; Connor Abeles and Cab Ellis become one persona. "Music was my closest companion for the duration of the tape" he says.
He was motivated to finish the tape, even over its long evolution, so that there would be something to show for the time he spent working instead of being with friends and family. The people he was working with kept him going; seeing them give their heart and energy to creating music galvanized his passion for what the tape was becoming and what it would be when it was finished. "I never could've imagined that I would be able to work with this many people," the rapper says.
From Past to Future
While the tape has been a successful move towards a career in music for Cab Ellis, it is more notably a personal success. In his early college years, the budding performer booked a show at a Boston club, certain that he could sell enough tickets to meet the minimum requirement. While that show turned up some of his closest buds but didn't boast much more in terms of sales, his last show amassed a sold-out crowd, tangible proof of the anticipation surrounding the album and of his growth as an artist.
What hasn't changed is the conviction Abeles performs with. From his first demos as a freshman to his shows now as a senior, he performs with a raw fire every time. "I'm ripping my guts out and giving them to you, gladly, every time I rap," he says, and his avidity is apparent. The release of the mixtape represents Abeles' ardor for making music while helping him to achieve his goal of diversifying his sound.
From here, the rapper/writer will trek to Los Angeles to lay the foundation for a career rapping, writing, playing and eventually producing music, the next skill he wants to tackle.