For many high school student athletes, the idea of attending practice for hours and competing against other schools every weekend while in college is definitely a no-brainer. Just like a childhood blanket or stuffed animal, a favorite sport is something hard to let go of; and with athletics being such a prevalent part of college culture, any prospective student is bound to choose a school where they can continue playing whatever sport they grew up on.
Though, for what it's worth, it's pretty rare that a student finds a college sports team that possesses the same environmental values as themselves. Eighteen-year-old Sydney Adams is a self-proclaimed tree hugger, having been concerned with the earth's well-being for more than ten years—just as long as she's been serving volleyballs over the net. Now a rising sophomore at Maine Maritime Academy, Adams was one of the lucky few to make her NCAA tournament debut in a 100 percent recycled volleyball jersey, an achievement she holds as reverently as her record for the most aces in NCAA Division III Women's College Volleyball.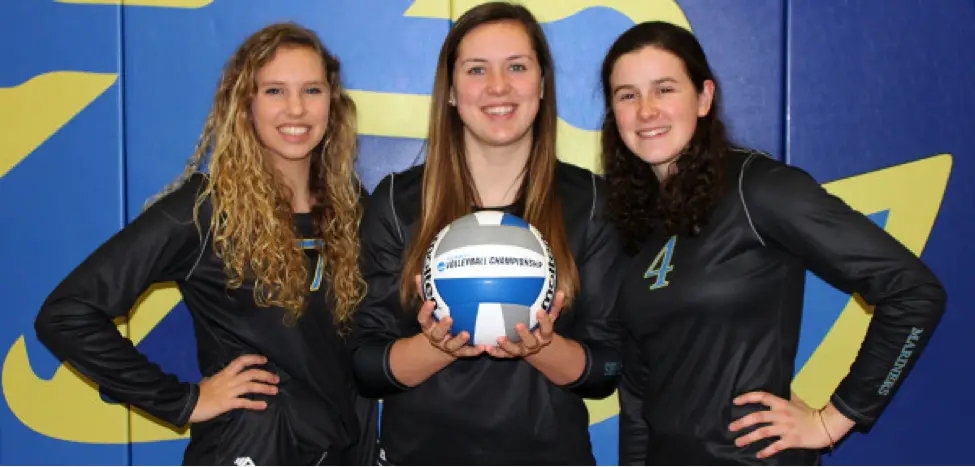 The team uniform isn't the only tie between Adams's love for volleyball and the environment at MMA, though; she credits her volleyball recruitment for leading her to her school's dual-degree program in Marine Science and Small Vessel Operations. After speaking with Adams on the phone last week, I was able to find out just how much her volleyball career and desire for environmental change intersect, and what other opportunities she has taken already in order to help the planet.
Cherie Litvin: Why did you first start playing volleyball, and what has motivated you to keep playing?
Sydney Adams: I started playing volleyball because my parents both played the sport, and growing up, I was around the courts where they both coached. So, eventually, I started attending volleyball clinics and camps, and I got really into the sport and fell in love.
CL: When you were recruited to play for Maine Maritime Academy, what expectations did you have of competing at the college level?
SA: I really expected the level of play to be much higher—but not too much higher—since volleyball is a pretty fast-paced game no matter what level you play it at. And I know this is a bit off base, but I was also hoping to become friends with all of my teammates and form a family with a group of people who love volleyball as much as I do.
CL: I totally understand where you're coming from. Speaking of your team, you guys are the first in the NCAA tournament to wear 100 percent recycled uniforms. How did you react when you first received these uniforms, and what's it like to be on a team that's devoted toward making the world more eco-friendly?
SA: I was so pumped, because I'm a tree hugger and it always makes me really happy to see other people who support environmental change, since I usually get called out for being a crunchy granola. When I initially heard about the recycled uniforms, I didn't think my team would actually get them, but we did, and when I got to wear the jersey, it was so cool. Not only was it sick to see me and my volleyball team take on up-cycling, but we got to show that anyone could help the environment in one way or another.
CL: That's awesome! Would you also say that your team having this opportunity has inspired you to get more involved in taking care of the environment?
SA: Definitely! I never would have imagined a company would design volleyball uniforms from 100 percent recycled materials, let alone that I would be able to wear one of the jerseys. And really, turning used plastic into sportswear goes to show how something so small can make a difference.
Nowadays, so many people tend to ignore how our planet is suffering and don't see the point in protecting it. But if everyone were to take even one step toward saving the environment—it could be something simple, like recycling—then we are more likely to keep the earth healthy. I know I've always tried to take as many steps toward environmental change as I could, and seeing how my team's new uniforms benefit our ecosystem has definitely pushed me to continue.
CL: You are also majoring in Marine Science and Small Vessel Operations at MMA. What led you to choosing this particular major, and what do you hope to do once you've completed your degree?
SA: Before I started college, I went to Bridgeport Aquaculture, which is a vocational school for high schoolers that focuses on aquaculture, marine studies and a lot of other sciences related to the ocean. Originally, I was planning to pursue something in the medical field, but attending Bridgeport opened my eyes to how there are several other science-related careers outside of being a doctor. This led me to consider a career focused on helping the environment—specifically the oceans—and right now I'm hoping to someday work in pollution-response or freshwater cleaning.
CL: It seems like you're really set on what you want to do after college. Have you already taken steps toward pursuing a future career in environmental change?
SA: This summer I'm working with a non-profit organization called Harbor Watch, and basically what me and the other interns do is test for different bacteria in local waterways. By running these tests, we are then able to dispose the water of any bad bacteria, and sustain the cleanliness of the waterways going in and coming out of Long Island Sound.