Whether he's practicing riding his unicycle or training for his next half-marathon, Kyle Pandiscio is always looking to learn something new and develop his skills. Kyle isn't one to back down from a challenge. Whether at school, in a competition or just personal goals he sets for himself, he tackles them all with a smile and a positive attitude.
As a marketing major, he utilizes his talents while making an impact through the Project Yellow Light scholarship competition. But he wasn't alone in this; ultimately Kyle and his partner, Julia Keefe, came up with the winning idea. Their billboard design, simple yet powerful, has been seen by thousands of people across the country and was even displayed in the middle of Times Square.
Kyle is currently studying abroad in Spain and I was lucky enough to get to sit down and talk to him about his time in college and how Project Yellow Light, along with other amazing opportunities, have impacted his life.
Cheryl Sutton: So, where exactly in Spain are you right now and what made you decide to go?
Kyle Pandiscio: I am currently in Salamanca, Spain, which is about 130 miles northwest of Madrid. It's a semester long program at the Universidad de Salamanca. The program is a combo between business courses and Spanish culture courses, and I always knew I wanted to study abroad. I guess it's an important piece to my college puzzle.
I studied Spanish throughout elementary, middle and high school. I chose to study abroad in Spain because I wanted the opportunity to fully immerse myself in an international culture and language. Since Spanish is the only language, other than English, that I have experience with, Spain was the best decision to fulfill my goal.
CS: I'm jealous. That sounds amazing! Now, I'm always curious about this with other people, so can I ask what made you choose UMass and marketing as your major?
KP: Of course! In my senior year of high school, I finally decided on a marketing degree. I was into taking art courses and loved thinking creatively, so I knew that it would give me the combination of a strong business degree paired with a creative outlet that would play to my strengths.
I knew that a big college would be the best for me, because of all the opportunities, clubs and organizations available. Isenberg has really risen in the rankings. Dean Fuller and his mission to make it a top tier business state school really inspired me.
CS: About Project Yellow Light, how did you hear about the competition?
KP: I am part of an organization called UMass AdLab, which is the first and only student run advertising agency on campus. We all worked together to try and find the most impactful projects to participate in. Our advisor eventually recommended Project Yellow Light. My partner, Julia, and I decided it would be a great opportunity to work with billboards, which is a medium we don't work with often.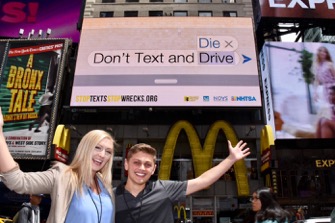 CS: Where did the inspiration for your idea come from?
KP: There were actually five teams in total from the group that submitted entries. Julia and I threw around ideas for a while. We wanted to make a design that was simple, easily recognizable and something youth could relate to. And what is a teenager more comfortable with than their cell phone? We didn't have any real expectations other than this would be an opportunity to learn.
In April, we received the call that we had won and I swear I almost fell to the floor I was so shocked. All of this has opened up so many doors and new opportunities.
CS: What did it feel like to see your billboard in the middle of Times Square?
KP: Insane. When we were invited to the billboard reveal in Times Square, we couldn't stop talking about it. We couldn't wrap our minds around it because when you think about it, it's great and all, but when you are literally in the middle of Times Square and you see people look up and see your creative work, it's so powerful. It's one of the most amazing things I've ever experienced, and Project Yellow Light made this all possible. They were an amazing group of people to meet and network with. I am so grateful for them and for hosting an amazing event.
And the most impactful part was getting to meet Julie and Lowell Garner, the parents of Hunter Garner, who sponsor Project Yellow Light. They lost their son in a distracted driving accident and to meet them was an emotional and powerful experience. It was very humbling.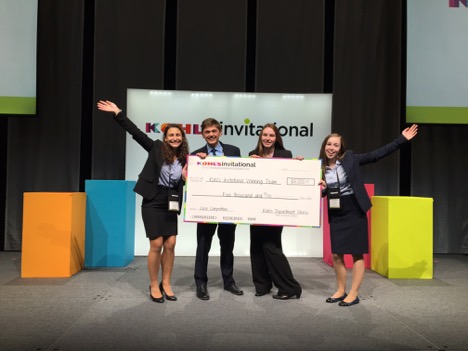 CS: Wow, I can't even imagine. And this isn't the only success you've experienced this year either?
KP: No, a different team of students and I actually competed in the Kohl's Invitational Case Competition where we developed an app called "Kohl's Discover." There were around 200 national collegiate teams, and when we turned in the first video—it was fun—but again, we really had no expectations. We ended up winning both the competition and social challenge, which is crazy.
CS: What are some ways you would describe yourself? And, okay, I have to ask. Unicycling?
KP: I see you found my website. If you were to ask my friends, they'd probably say I'm very quirky, positive and always happy—you never see me without a smile. I try to challenge myself in different ways by trying as many new things as possible.
One day in high school, I heard someone say they had a unicycle. The idea kind of blew my mind that anyone could buy a unicycle. So that night, I went online and bought one. I really challenged myself. I probably fell about 400 to 500 times, but once I got the hang out of it, I was on it 24/7. My parents like to joke that when I find a new interest I become almost obsessive.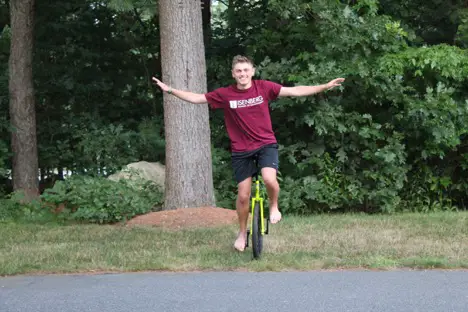 CS: Well, you are obviously a well-rounded, successful, and motivated person. Any tips on how to be successful within your passions?
KP: The biggest piece of advice I have is to just go for it. Go out there and try things that are out of your comfort zone or things you feel unqualified for. If you had told me that I was going to win Project Yellow Light and see my billboard, I would've said you were crazy.
I also like to do things for the purpose of learning and education. This builds my professional skills, but I'm not looking to just build my résumé; it is a nice touch, but I think how I can build skills that help me prepare for the future and also make me a well-rounded individual. If kids can find things they want to do, they'll be more successful than doing things others, like parents or friends, want them to do. I think it's cheesy when I read all this, but they are definitely important things that led to awesome experiences for me.