Rev. Billy Graham, well known for preaching to millions in stadium events called crusades, died on Wednesday at the age of 99 in his home in Montreat, North Carolina.
Graham was a pastor to presidents and the nation's best-known Christian evangelist for more than 60 years.
According to The New York Times, Graham's death was confirmed by Jeremy Blume, a spokesman for the Billy Graham Evangelistic Association.
During his time, the pioneering pastor had a heavy presence on radio, television and advanced communication technologies. He used this media presence and religious conviction to spread his influence nationwide.
Graham made it his job to take the role of evangelist to a whole new level, taking his message from small-town America to the podiums of packed stadiums in major cities. He was one of the first to use communication technologies to help spread a religious message to the masses.
In 1995, the evangelist did a "global crusade" in Puerto Rico. His sermons were translated during this time into 48 languages and broadcasted to 185 countries by satellite.
One thing that made him stand out from other religious leaders is that he did not speak for a particular church. Although he was a Southern Baptist, Graham did not speak for a certain religious group, as, for example, the pope does for the Roman Catholic Church.
NBC News reported that the reverend wrote more than two dozen books, including his New York Times best-seller 1997 memoir, "Just as I Am."
Graham has earned the respect and admiration of millions. After his death, President Donald Trump tweeted "There was nobody like him! He will be missed by Christians and all religions. A very special man."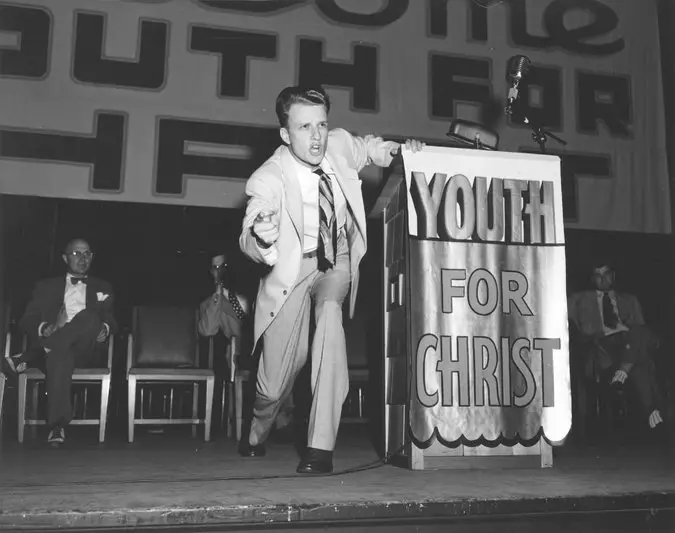 Graham had been suffering from health issues for years and was diagnosed with Parkinson's-like symptoms in the 1990s. According to Graham spokesperson Mark DeMoss, though, the pastor passed away in his slee. "It was described by the nurse and his doctor as a very peaceful passing; he was not in any pain," said DeMoss.
While he was listed in the polls as one of the "Ten Most Admired Men in the World," not everyone was a fan of this famous reverend.
According to Fox News, Teen Vogue columnist Laura Duca tweeted "the big news is that Billy Graham was alive this whole time. Anyway, have fun in hell, bi—h. 'Respecting the dead' only applies to people who weren't evil pieces of sh—t while they were living."
The big news today is that Billy Graham was still alive this whole time. Anyway, have fun in hell, bitch.

— Lauren Duca (@laurenduca) February 21, 2018
Duca has received a lot of backlash for her tweets, with people calling it "gross and despicable."
Though Duca did not provided specific reason for her vitriol, Graham's religious convictions made him unpopular in certain groups.
Graham has consistently run afoul of the LGBTQ community for his disapproval of homosexuality, including rhetoric in which he questioned whether or not God judges people with AIDS.
Still, while Duca mocked him, many presidents gave their admiration and condolences for his passing.