There are few members of the original YouTube community that are still thriving and maintaining a brand for themselves today. YouTube, created back in 2005 and purchased by Google in 2006, has become one of the most popular online platforms of all time.
It has allowed people from all over the globe to express themselves and create content for a mass audience. For many, the site became a do-it-yourself reality television show, a style that YouTube sensation Trisha Paytas has adopted to captivate audiences since her channel's inception in 2007.
More than a decade later, Paytas, whose main channel name is "blndsundoll4mj," has gained 3.8 million subscribers and over 1.2 billion views. Following in the glamorous footsteps of her idols such as Britney Spears and Anna Nicole Smith, Paytas has become an icon in the online video-uploading world. She is, simply put, the queen of YouTube.
While Paytas today is an internationally famous YouTube star, her small beginnings were as dysfunctional, exciting and legendary as her life is today. Paytas, who is known for her sometimes overly candid videos, has revealed essentially every aspect of her life, including her youth and how she ended up in Los Angeles.
Paytas was born in Riverside, California, but relocated to Byron, Illinois, with her mother after her parents divorced. Paytas has described her time growing up as extremely difficult. In her 2013 "Draw My Life" video, she blamed her father's rejection to stay in Illinois with her family as a large reason for her lifelong abandonment issues.
Additionally, she was often bullied for her "awkward proportions" and overall body type and hardly saw her mother since she worked three jobs. Paytas has said that her older brother more or less raised her and that her mother and she hardly got along.
Raised Catholic, she returned to California at age 15 to live with her father and attended an online Catholic school after being bullied at public school. At 16, after a dramatic custody battle between her parents, Paytas moved back with her mother in Illinois.
After she graduated at the age of 18, her father moved her back to California. It was during his period of time that Paytas slowly made her way into the spotlight. A short-lived acting stint on "The Greg Behrendt Show," which was soon canceled, resulted in Paytas starting her job as a stripper to pay her rent, something she has talked about often on her YouTube channel.
She went on to be a lingerie model and escort, eventually starting her YouTube channel in 2007. Throughout her career, Paytas has had multiple TV appearances on shows such as "Who Wants to Be a Superhero," "The Price is Right," "The Ellen Degeneres Show," "My Strange Addiction" and "Modern Family." Paytas has also appeared in music videos of A-list celebrities, such as Eminem, Amy Winehouse and The All-American Rejects.
In the beginning, the YouTube queen's channel was highly known for her elaborate "trolling" videos, in which she said or did purposely provocative things in order to garner views. Some of Paytas' most iconic videos to date were released at this time, including a video in which she asked if dogs had brains.
These trolling videos have continued up into today, although they are less frequent. In response to her absurd video topics, Paytas stated in an interview with Perez Hilton: "I have a lot of insecurities. I just want people to know me and to love me, because I have no love. I literally have zero friends. So, I like people to adore me, but I never had a talent that made people adore me. So, I would try everything."
Over time, Paytas' channel has explored an array of subject matter. At the core, Paytas' channels, including her side vlog channel created in 2014, are lifestyle channels that cover topics such as sex, love, beauty, body positivity, hauls and more. Although her trolling is less frequent, it is definitely still a signature component of her channel. Paytas knows exactly how to gain views fast.
Over the past few years, the YouTube star has uploaded videos of her gagging while eating salad, sensually cooking pasta, doing a "100 Layers of Cum" challenge video and more. Additionally, Paytas' "kitchen floor videos," in which she sits on her kitchen floor and has breakdowns about a variety of topics, have become an iconic element of her channel, with one of the more popular ones entitled "im a chicken nugget."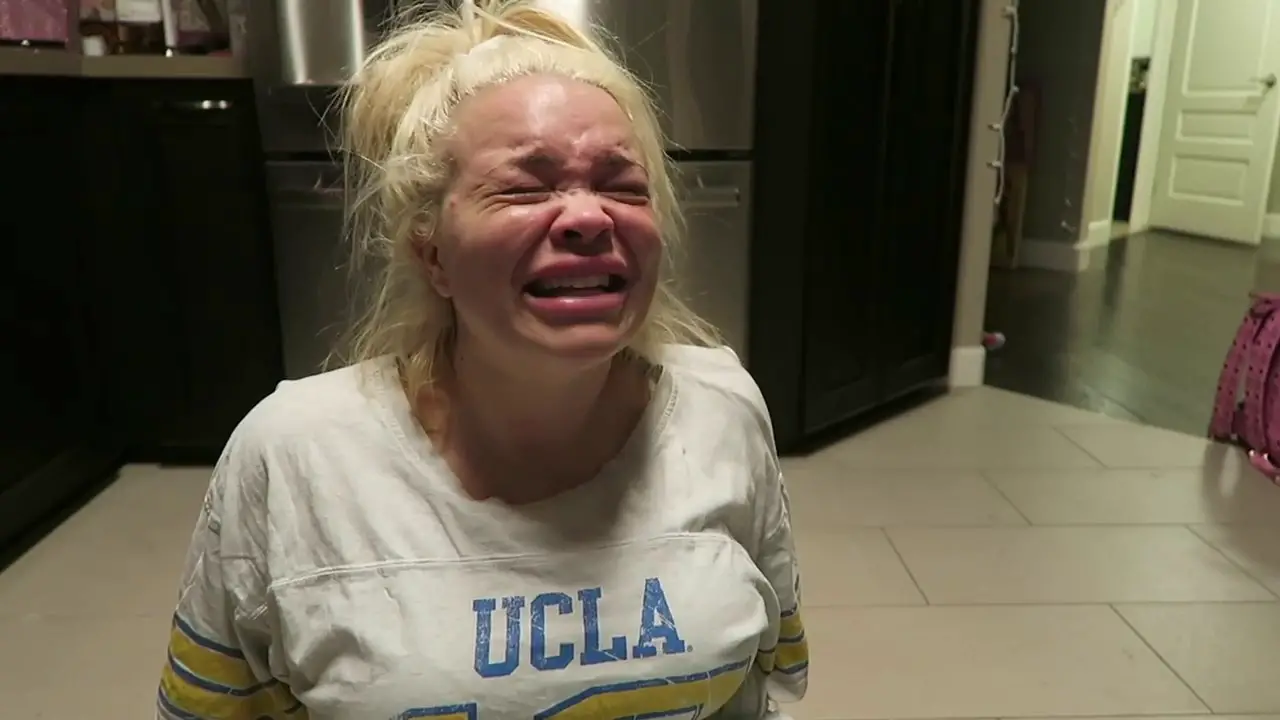 Overall, Paytas' mass appeal all comes down to her ability to be completely and unapologetically herself. Trolling or not, Paytas has never shied away from revealing every aspect of her roller coaster of a life.
Paytas has dished on celebrities she's hooked up with or been in relationships with — including Brat Pack member Anthony Michael Hall — discussed in detail her sex life and use of sex toys, gotten deeply emotional about her mental health, eating and abandonment issues and has given viewers an intimate view into her life of "bougieness." She even owns a custom-designed hot pink G-Wagon.
Paytas unabashedly takes viewers through every aspect of her life, and her relatable personality traits of self-deprecating humor, bubbly obliviousness and, most importantly, her loyal heart, have made her someone you can't help but watch.
While she comes off in many ways as another "ditzy" girl with bleach blonde hair and an obsession with the color pink, she is, above all else, an extremely savvy businesswoman who always keeps it completely real. Paytas explains herself the best in her Instagram bio in which she has written: "just another dumb blonde…but with a brain."
And she's not lying! According to websites such as networthtomb.com, Paytas's net worth is between $3 – $4 million dollars. She has written six books, including "The History of My Insanity" and "The Stripper Diaries," and has released six studio albums and EPs including the iconic "Chicken Fingers and Lipo."
Trisha Paytas has created 27 music videos for her most popular songs with some, such as "Fat Chicks," raking in more than 10 billion views. She has also released a variety of dance videos, has popularized mukbang videos, in which someone eats and talks on camera, and was a housemate on "Celebrity Big Brother 20," which she voluntarily left after 11 days.
Inevitably, Paytas' fame has come with a fair amount of both hate and love. However, many of her issue and problems only add to her appeal, allowing her to gain titles such as being a "skinny legend." Paytas, too, is beloved by many in the YouTube community.
Some of Paytas' closest friends include the king of YouTube Shane Dawson, Gigi Gorgeous, Drew Monson and recently members of the "Vlog Squad" including David Dobrik, Jason Nash, Liza Koshy, Zane Hijazi, Carly & Erin and more.
With 1.7 million Instagram followers, a personal 18+ Patreon Trishyland.com and a dating app, the queen Miss Trisha Paytas has made a name for herself unmatched by any other YouTuber. Long live chicken fingers and long live Trisha Paytas.