The internet is filled with memes and gifs that help enhance any post to hilarious status. One of the most popular shows that has generated many of these video loops is "America's Next Top Model." This is due to Tyra Bank's hilarious overreactions and the variety of personalities that compete on the series.
Since the "ANTM" gifs are saturated throughout the internet, everyone needs to know which ones truly stand out from the rest of the pack.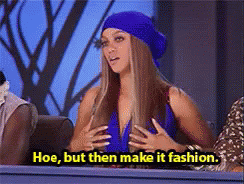 5. "Hoe, but make it fashion"
Where did it come from?: In Cycle 8, the girls were struggling to know how to model sexy without making it look trashy.
Tyra explained to the contestants that modeling is all about adjusting movements just a little bit to turn any "hoe" pose into something that could be in a magazine. This gif shows a brief segment of this amazing, funny and iconic moment.
When to use it: Every girl understands the struggle of getting ready to go out on the weekends; no one knows where exactly the line is between looking cute and looking like a special kind of worker.
Next time a friend asks what they should wear on Saturday night, send them this gif as a reminder that anything can be turned into fashion according to the queen, Tyra Banks.

4. "Fake crying then Sassy Walk"
Where did it come from?: For anyone who hasn't seen an episode of"ANTM," the aspiring models continuously scream and cry about everything. Tyra walks in and they scream. They meet a famous designer and they cry. Ebony of Cycle 1 knew pretty quickly how dramatic the other girls in her position were, so when her name got called to go to New York, she started to cry.
Unlike the others, it turned out she was faking it and immediately showed off her strength and sass by confidently walking to her place with the other girls staying on the show. Doing this, she gave audiences everywhere a gif that embodies everyone's sassy side.
When to use it: This gif is special in many situations could be perfectly summed up into a fake cry followed by a sassy walk.
For example, everyone has had someone tell them that they can't do something and those comments should have no effect. The best way to show them their words don't matter is by sending them this gif. No one can deny the power of a solid sassy walk.

3. "Pumping Fists"
Where did it come from?: Cycle 14 of "ANTM" brought audiences Alasia, a feisty 18-year-old girl. Whenever Tyra announced something that would make the average young woman freak out, Alasia would always go above and beyond by dropping straight to the ground because she could not contain her emotions.
One time, she even ripped her weave out due to her excitement. Knowing this, it's not surprising that when she was the last girl handed her picture during an elimination, her complex feelings took over. This moment lead to this crying-while-pumping-fist gif that took the internet by storm.
When to use it: College students across the country have experienced the struggle of studying for a test. The stress, the cramming and the knowledge of how much the test matters to the overall grade can lead to a lot of tears.
Alasia provided all students with a gif that represents the moment that after all the worry, the professor cancels class and suddenly things start to feel like they are going the right way.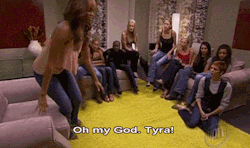 2. "I was acting, acting, acting!"
Where did it come from?: During most episodes of every "ANTM" cycle, they hold challenges that the inspiring models have to go through to prove they have what it takes to be on top. Like most would expect, the introduction to these mini-competitions makes the audience and contestants alike burst out into laughter.
One of the lessons "ANTM" tries to teach all the hopefuls is the importance of knowing how to act. Tyra decided the best way to help let everyone on cycle 6 know they would be putting their performance skills to work was to put on a show.
Her display of her acting chops lead to one of the funniest gifs around. All the girls thought Tyra fainted, but she shut it down quick by jumping up and yelling the words of this video loop.
When to use it: All humans at some point in their life have taken the risk of asking someone on a date. More often than not, this usually ends in rejection.
Instead of letting the awkwardness build, use this gif to make you feel better and help lighten up the mood. Also, maybe this will help them realize how they missed a chance with such a witty person.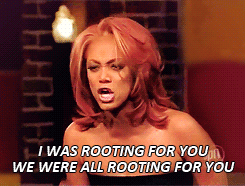 1. "I was rooting for you!"
Where did it come from?: Tiffany of Cycle 3 and 4 came from rough upbringings, and this show was her opportunity for a better life. Tyra and the judges saw potential in her, but she couldn't deliver like the other contestants did, so they sent her home. While Tiffany was saying her goodbyes, everyone in the room felt like she had no remorse or any emotion other than happy.
This reaction rubbed Tyra the wrong way and she went off on the girl, because, like she said, she was rooting for her. Tiffany's "whatever" attitude gave off the vibe that the show, Tyra's baby, didn't matter to her.
When to use it: When Tyra yelled these now-iconic words, she felt a lot of hurt and betrayal. An example of a perfect opportunity to use this gif is when a celebrity couple splits up. Anna Farris and Chris Pratt were audience's comedic parents that no one thought would ever separate.
However, around a year ago, fans dreams were crushed when they announced their divorce. Nothing else can accurately convey people's complex feelings about this heart-wrenching situation than the "I was rooting for you!" gif.
Also, this perfectly sums up the nation's feelings regarding the latest finale of "The Bachelor" where Arie savagely broke up with the girl he proposed to in favor of the runner-up.
Gifs have provided the world with alternative ways to express feelings and "ANTM" produced some of the best ones out there. After learning exactly what lead to these iconic video loops, these gifs now have new life.
Plus, the next time someone contemplates using them, they would know if they truly are attaching it to the right situation.