Swiping Right for Hillary
Politics and mobile games merge in HRC's app—but will it do anything?
By Sofia Rivera, Simmons College
---
Want to be an informed voter but also just want to play games?
There's an app for that.
With Hillary Clinton's new app you can learn more about her past and vision for the future as a presidential nominee, while simultaneously playing games, earning stars and decorating a virtual space.
"Hillary 2016" was released by HRC's campaign on June 25 as a tool to engage voters and inform them in a stimulating way. And what better way to do so than with a mobile app? Considering Americans collectively check their phones more than 8 billion times a day, monopolizing on that epicenter of attention is a smart move.
But is it an app worth downloading?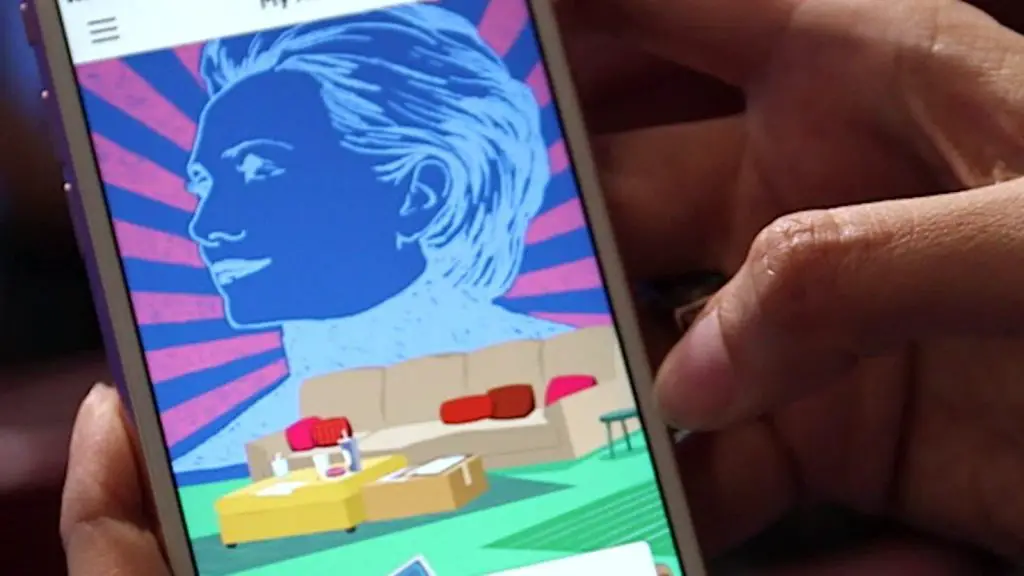 There is a surplus of glitchy, poorly designed apps out there—and ones with typos, such as Mitt Romney's 2012 app that featured the misspelled slogan, "A Better Amercia." The typing slip-up was corrected, but if there's one thing the internet never forgets, it's anything embarrassing that has ever happened to anyone ever.
So when I downloaded "Hillary 2016," I was on the hunt for mistakes, like some obnoxious fourth grader scanning a teacher's handout for typos (no luck, as of yet). And also I was skeptical about what role a game app really has in a presidential election.
As consistent critique of Hillary's appearance has demonstrated, looks are vital and super relevant to politics. Or rather, the attack of her exterior has proved that sexism is alive and well in the media. Either way, I took a page from the "looks are everything" book when I first opened HRC's new app and scrutinized the visual aspect. I found that the aesthetic is bright, fun and pleasing.
"Not bad, 'Hillary 2016'," I thought to myself. "You're pretty cute!"
Which really isn't so surprising, considering the powerhouse of creatives that designed the app included former designers from DreamWorks Animation, Etsy and Livestream.
The home screen is a room you can swipe around to explore, mostly bare save a few desks, a couch, some tables and chairs. But as you complete tasks and challenges on the app and earn stars for doing so, you can buy *cooler* furniture and accessories to deck out your "Digital HQ." As someone who once fervently loved Club Penguin and Neopets (until my neopet died of Neomonia, RIP lil guy) for the ability to play virtual interior designer, I'm drawn to the concept.
But first: Must earn points.
I take a quiz called "Trump or False" where I'm challenged to guess "What's the real Donald and what's all trumped up?" I wrongly attribute a Benito Mussolini quote to Trump, though it turns out the Donald did retweet it." I correctly guess that Trump said, "You have to treat 'em like shit" in regards to women. The screen turns green! I'm conflicted: excited that I got it right but upset because, you know…I'm a woman. I survive the quiz, collect 20 points and a shower of gold stars rains across my screen. At this point I feel very important.
I sign up to receive emails from Hillary's campaign for 20 more points—more golden stars shower me and I am LOVING it.
"Water me!" it says above a potted plant. I tap on the plant and it's watered. I earn five points. "You have such a green thumb," I think to myself with a *smug emoji*, letting myself forget the three different real-life cactuses I've managed to kill.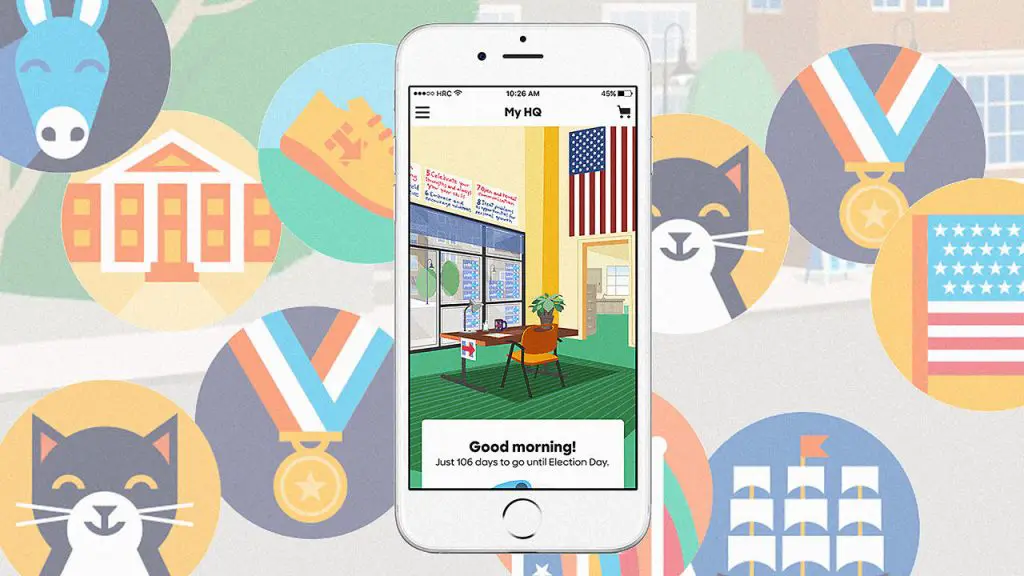 With all my newfound virtual wealth, I go to the "HQ upgrades" store and trade my gold stars in for an "Art of politics" collage, featuring doodle-like illustrations: the Statue of Liberty, an American flag, a rainbow, "I'm with her," "Mrs. President," Rosie the Riveter's arm and a pantsuit.
The style suggests the app is targeting a younger audience, likely students who are voting in a presidential election for the first time. While the collage successfully conjures an image of a strong, American, female presidential candidate, the style feels a little bit juvenile. Some of the diction in the various quizzes or informational reads tries too hard to be relatable as well, causing me to a feel a little indignant.
Yeah, the casual and fun design of the app is great, but students are capable of absorbing more complex text and illustration. In the attempted "hipness" of the app, I wonder if they've distracted a bit from the app's founder?
That being said, the simplicity of the app provides an easily accessible snapshot of Hillary's priorities (or to be fair, the ones she wants to publicize). A whiteboard on one wall of the HQ says: "Equal pay for women" and "LGBT rights." Two days later several other items have been added: "Gun violence prevention," "Criminal justice reform," "Alzheimer's research" and "Education." The message is clear: these are her causes. And by the growing nature of the list, I intuit that Hillary's list is growing and changing as current events bring new problems and solutions to light.
One aspect of the app worth noting is the inclusion of Hillary's opponent.
The app description reads: "The only thing standing between Donald Trump and the presidency is us. Download the new Hillary 2016 app, take small actions every day, help us win this election and make history."
Which, to me and many, is a terrifying prospect.
If Trump is such a fan of firing on "The Apprentice," I shudder to think of him having access to the firing codes for nuclear weaponry.
The app description is also interesting because it's a departure from Hillary's hesitance to critique Trump perhaps for fear of it taking away from her own ideas, but with less than 100 days until Election Day and the margins looking closer than ever, it seems her campaign decided it was time go after the Donald the way he's gone after basically every minority.
All in all, I like the app.
The concept of a virtual headquarters has a lot of merit, as not only do many people feel unwilling or unable to go door to door canvassing, but the square mileage covered via social media is infinitely greater than that covered on foot, "Hillary 2016" stickers in tow.
The app is a vehicle to learn more about the Democratic nominee (and about her opponent), claim your support for her and then share that support with all of your followers. Since seeing someone else say or do something immediately makes it feel more accessible to the rest of the world, creating an interactive tool that encourages supporters to show off their support is an intelligent move.
The Butterfly Effect references the idea that the wing flaps of a butterfly could be related to a wind storm across the world. In other words, small actions can yield large reactions in chaotic, unforeseen ways. In the chilling short story "A Sound of Thunder," a stepped-on butterfly alters not only the alphabet but the results of the presidential election.
Who knows if swiping around "Hillary 2016" will have any longterm effects. But it's a free app and it's worth a try. And earnestly reading and educating yourself—maybe using Hillary's app as a tool to do so—is sure to help make a more informed decision on voting day.
Need some inspiration to get started? Just imagine: Donald Trump wins the election and is sitting in all his stank-faced glory at the head of the Oval Office. "You're fired!" he exclaims, laughing. And there's a sound of thunder.