The first modern comic book was released in the United States in 1933, and the first graphic novel came out in 1978. Memoirs, in general, have been written for quite some time, but stories penned by ordinary people did not gain popularity until the 1990s.
If you enjoy stories, specifically stories that are personal to the author writing them, and you also enjoy art, a graphic memoir may be the best next book to grace your bookshelf.
While the genre might feel out of your comfort zone at first, you may quickly find yourself wishing that you had heard about it sooner. I didn't read graphic novels or memoirs until I was in college, and I felt very disappointed when I realized just how good they are.
Graphic novels/memoirs don't seem as if they would be difficult to read, but they are a lot more complex and layered than they at first appear to be. The text, which reads like tiny captions, intentionally leaves out some details, forcing readers to read between the lines and analyze the images to get a full sense of what is really happening.
Graphic novels may not be respected like more well-known literary forms, but they are just as complex and thought-provoking. So, if the idea of a challenging, half-pictorial memoir sounds appealing to you, here are five great places to start.
1. Anything by Alison Bechdel
Alison Bechdel is a cartoonist who is well known for her comic strip "Dykes to Watch Out For." Her most popular graphic memoir is "Fun Home: A Family Tragicomic," which deals with her relationship with her father. After he dies, Bechdel is left trying to piece together who he really was, as she pieces together who she really is.
The memoir takes on the tragicomic form, meaning that it shows that both good and bad things can exist at once.
However, the book that I really enjoyed by her was "Are You My Mother?" a work that goes into depth about her relationship with her mother, her experiences with therapy as she often examines Freudian theory (which is pretty interesting) and her relationships with women.
2. Anything by Lynda Barry
Lynda Barry, a cartoonist, teacher and writer, is most famous for her comic strip "Ernie Pook's Comeek," but has also written "What It Is," "Syllabus: Notes from an Accidental Professor" and "One! Hundred! Demons!" among others.
My favorite thus far, "One! Hundred! Demons!" is imbued with a distinctly relatable type of humor and quirky, demonic artwork that covers topics such as head lice, "girlness" and her mother. Most people have at least one "demon" of some sort that they must deal with, though for Barry, her ghosts are real.
3. "Persepolis" by Marjane Satrapi
As an English major, "Persepolis" has been on my "to-be-read" list for quite some time. The graphic memoir should definitely be on any bookworm's list.
Marjane Satrapi is an Iranian-born French graphic novelist, film director and author who speaks six languages. Her work, specifically "Persepolis," explains what it is what like to grow up in Tehran during the Iranian Revolution.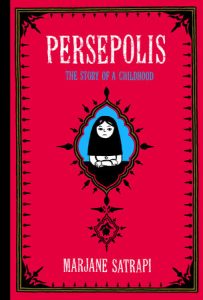 According to Goodreads, it is "the story of Satrapi's unforgettable childhood and coming of age within a large and loving family in Tehran during the Islamic Revolution; of the contradictions between private life and public life in a country plagued by political upheaval."
Out of all of the books on this list, hers is probably the most respected out of all of them for its significance and literary merit. For that reason alone, it is definitely a must-read.
4. "El Deafo" by Cece Bell
Cece Bell is a children's author and illustrator. I included her book "El Deafo" because of how honest and light-hearted it was. The graphic memoir recounts her transition from a deaf school to a hearing school.
Bell, who is depicted as a bunny in the comics, deals with the change by re-imagining herself as "El Deafo," a superhero with the power to hear, brought to her by her Phonic Ear, which is a hearing aid that is quite large.
While "El Deafo" was intentionally written for children, I found it to be just as enjoyable as a 19-year-old when I read it during my sophomore year after one of my friends seemed to really enjoy reading it.
5. "Flying Couch: A Graphic Memoir" by Amy Kurzweil
Amy Kurzweil is an illustrator whose comics have appeared in The New Yorker and other publications. "Flying Couch" is her debut graphic memoir which tells the story of herself, her mother (a psychologist), and her grandmother, a World War II survivor.
Aided by the absolutely stunning artwork inside, the graphic memoir shows an interesting perspective on what it means to be a Jewish woman.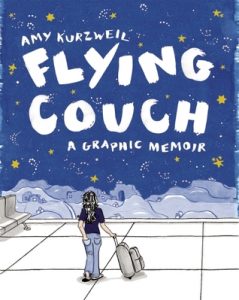 The author expertly strings along these narratives, allowing the memoir to tackle themes such as trauma and identity. It is an emotional rollercoaster of a graphic memoir, but the impactful writing and gorgeous illustrations make it worthwhile.
Graphic memoirs are an underappreciated form of art that both tell and show the truth. Even if you cannot relate to the story that the writer is sharing, you can feel more connected just by seeing the illustrations on each page.
If you haven't read anything in graphic or comic form, I would definitely recommend it. The experience is neat because it allows you to bask in the glory of two mediums at once — art and text. The graphic memoirs listed above are just a starting point, as there are so many other captivating titles out there.