2018 has just started, but we have already had lots of movies to look out for, especially those that were adapted from a novel. Check out these 18 books whose movie adaptations will be released this year.
"Horse Soldiers" by Doug Staton
This book may be at the top of your list since its adaptation, a movie titled "12 Strong," is set for release on Jan. 19. Based on true life events of a small group of soldiers who secretly entered Afghanistan on horseback after 9/11, the story combines old strategies for cavalry warfare with modern technology in telling the story of how those soldiers had to carry the fate of the war on their shoulders while also attempting to win over the hearts of local townspeople. The film is produced by Jerry Bruckheimer, starring Chris Hemsworth, whose wife Elsa Pataky will also play his wife in the film.
Four women venture into the dangerous Area X in this first part of a trilogy. The regular rules of nature don't apply in Area X, leading to loads of action and drama. Starring Oscar Isaac and Natalie Portman, the film comes out Feb. 23.
"Every Day" by David Levithan
The first novel for young adults on the list, "Every Day" follows the story of a person named A, who wakes up every morning in a new body with a new life. As a result, A's carefully set up lifestyle changed when he wakes up in the body of Justin and meets his girlfriend, Rhiannon. The film is set to come out Feb. 23.
"Red Sparrow" by Jason Matthews
We might not get a Black Widow movie anytime soon, but this present day Russian spy novel comes rather close. The main character, Dominika, goes from a prima ballerina to a Russian spy and ends up falling for an American CIA agent in the process. Starring Jennifer Lawrence and Joel Edgerton, the film premieres March 2.
A Wrinkle In Time Official US Teaser Trailer
Another young adult/children's novel, "A Wrinkle in Time," is getting adapted by Disney onto the big screen, starring Reese Witherspoon, Oprah Winfrey and Mindy Kaling, just to name a few famous actresses. The novel follows Meg Murry, her younger brother Charles Wallace and her friend Calvin as they try to save Meg's father, who disappeared while experimenting with time travel. The movie hits theaters March 9.
"Simon vs. the Homo Sapiens Agenda" by Becky Albertelli
Simon has been emailing a boy named Blue, but when an email gets into the wrong hands, his secret of being gay is threatened, and Simon must play wingman for the class clown in order to protect his and Blue's secret. The movie, titled "Love, Simon," stars Katherine Langford from "13 Reasons Why" and Nick Robinson, and will come out March 16.
"Ready Player One" by Ernest Cline
Set in the year 2044, the novel follows teenager Wade Watts, who has become obsessed with a virtual utopia called the OASIS. His life revolves around solving the puzzles hidden within the world, but as soon as he finds the first clue, his life is threatened by others who also want to solve the puzzle for the power and money. The film is directed by Steven Spielberg, starring T.J. Miller and Olivia Cooke. Its release date is set for March 30.
"Where'd You Go, Bernadette" by Maria Semple
Bernadette Fox is an interesting yet agoraphobic mother, and when her daughter aces her report card and earns a promised family trip to Antarctica, Bernadette goes missing. Her 15-year-old daughter, Bee, compiles the correspondences of her mom as she works to find Bernadette. The film, starring Cate Blanchett, Kristen Wiig and Judy Greer, has a release date of May 11.
"Crazy Rich Asians" by Kevin Kwan
This comical novel follows a wealthy heir as he brings his Chinese American girlfriend to Singapore to meet his family. The girlfriend, Rachel Chu, had no idea that she was dating the wealthiest and most eligible bachelor in Asia, and is surprised to meet his family, who have strong opinions about who their son should marry. The film stars Constance Wu as Rachel and is set to come out Aug. 17.
"The Darkest Minds" by Alexandra Bracke
The young adult dystopian novel, "The Darkest Minds," follows the story of Ruby, who has frightening abilities that cause her parents to send her to a rehabilitation camp. Ruby escapes the camp along with other kids, and together they find a safe haven for children with extraordinary abilities. But when they get there, she becomes part of a fight against the government, and Ruby must decide if she should give up her only chance at a normal life for that fight. The film stars Amandla Stenberg from "The Hunger Games," along with Mandy Moore and Gwendoline Christie. It will come out Sept. 14.
"Boy Erased" by Garrard Conley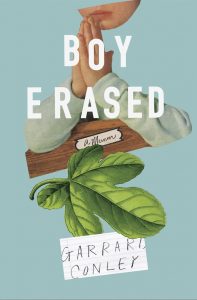 This memoir follows the son of a Baptist pastor who is outed as gay to his parents and must complete a 12-step program designed to "cure" him of his homosexuality. Garrard instead emerges with newfound strength and a willingness to forgive. The film, set to come out Sept. 28, stars Lucas Hedges and Nicole Kidman.
"Bel Canto" by Ann Patchett
Set in South America, this novel follows a group of 58 international hostages kept captive by terrorists. With no common language, the hostages form bonds with each other and their captors. The film stars Julianne Moore and Christopher Lambert, and is directed by Paul Weitz.
"The Black Hand" by Stephan Talty
This nonfiction novel explores the Italian mafia world and the attempt of an Italian-born detective determined to stop the gang from spreading in the United States with everything he's got — even his own life. The film was produced by and stars Leonardo DiCaprio.
"The Guernsey Literary and Potato Peel Society" by Mary Ann Shaffer and Annie Borrows
This novel takes the form of letters from writer Juliet Ashton to a man she has never met, who came across her name written inside a book. Taking place in London in January 1946, the story follows the two main character as they came up with "Guernsey Literary and Potato Peel Society" as an alibi when they break the curfew set by the occupying Germans. The film stars Lily James and Matthew Goode, and is set to come out April 19.
"All the Bright Places" by Jennifer Niven
This young adult novel follows Violet Markey and Theodore Finch, two high school students who pair up to work on a project to discover natural wonders of their state, Indiana. Violet counts down the days until she can graduate and leave town, while Theodore constantly thinks of killing himself. The film stars Elle Fanning and has no set release date yet.