Draft Night
With such a stacked draft class, everyone with a pick could come away with a franchise-building player.
By Patrick Murtha, Eastern Connecticut State University
---
The 2017 NBA Draft includes one of the strongest classes in recent memory.  For the teams who possess one of the first ten picks, it has the potential to change their franchise for the foreseeable future.
1.Boston Celtics (via Brooklyn Nets) – Markelle Fultz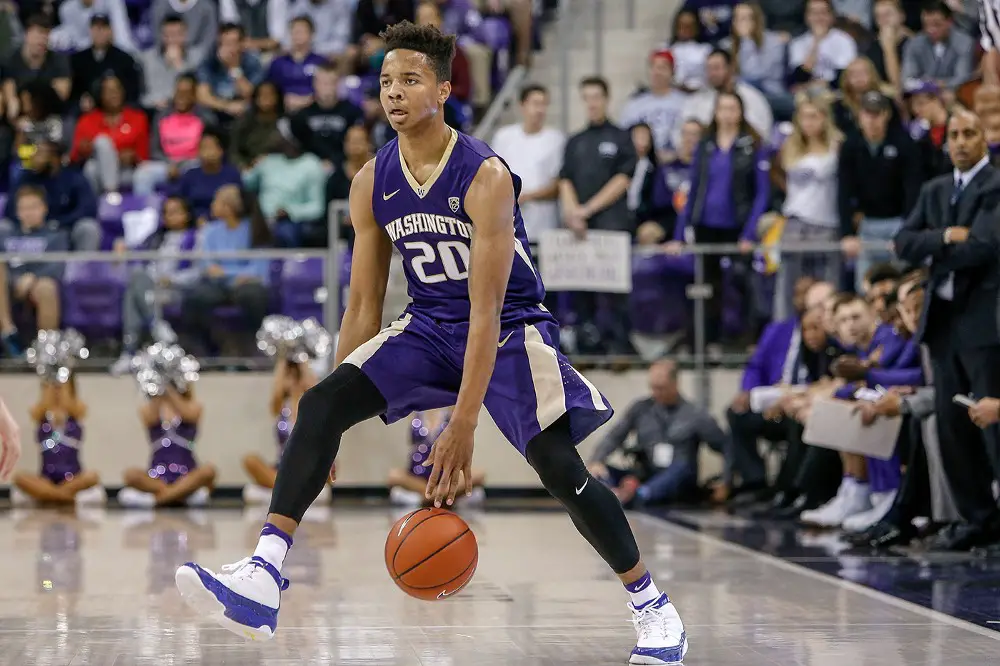 Position: PG
Height: 6'4″
Age: 19
College: Washington
Strengths
Incredibly efficient scorer from 3PT-range and attacking the hoop
Rebounding and passing ability makes him a future triple-double threat
Unselfish passer who will flourish when surrounded by talent like the Celtics have
Weaknesses
Needs to cut down on turnovers (3.2 per game in college)
Free-throw percentage (65 percent)
Not freakishly athletic like many other point-guards in the NBA
Summary
The most compelling story of the 2017 Draft is the fact that the Celtics hold the first overall pick (thanks to the Brooklyn Nets), and finished with the best record in the Eastern Conference last season at 53-29. Considering that the Celtics' main weakness is rebounding, and that none of the top prospects in this year's draft class are big men, Boston will likely look to take the best player with the first pick, regardless of whether or not he fills one of the team's needs.
Markelle Fultz is the most NBA-ready prospect available in the draft. Standing at 6'4″, Fultz possesses abnormal size for a point-guard, which will allow him to play multiple positions if needed.  It will be interesting to see how the Celtics go about using a player like Fultz, as they already have multiple talented guards.  However, his ability to score whenever he wants should immediately translate to success in the NBA.
2. Los Angeles Lakers – Lonzo Ball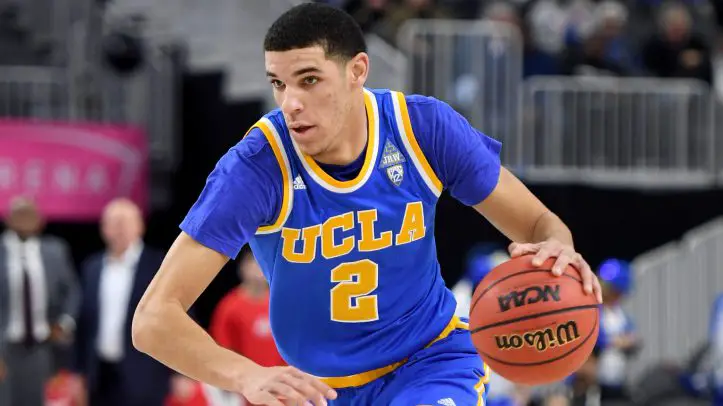 Position: PG
Height: 6'6″
Age: 19
College: UCLA
Strengths
Shot 73 percent from inside the 3PT-line
Led NCAA in assists per game with 7.6
Not afraid to take big shots/is capable of making difficult shots
Weaknesses
Needs to put on weight in order to compete with strong guards such as Westbrook, Wall, etc.
Awkward jump-shot form could potentially limit opportunities to score on the perimeter
Free-throw percentage (67.3 percent last season)
Summary
The Los Angeles Lakers are desperately in need of a guard who makes others around him better; Lonzo Ball fits that description perfectly. Leading UCLA to a 31-5 record, Ball led the nation in assists per game as well. The Lakers also possess a very young core, who will benefit from Ball's ability to get out and run on the fast break.
With the 6'5″ D'Angelo Russell and Ball, the Lakers' guards would both have height advantages against other players in the same position. It takes a very confident player to endure the spotlight that inevitably comes with playing in Los Angeles, and it will be interesting to see if Ball can bring "Showtime" back to the Lakers.
3. Philadelphia 76ers (via Sacramento Kings) – Josh Jackson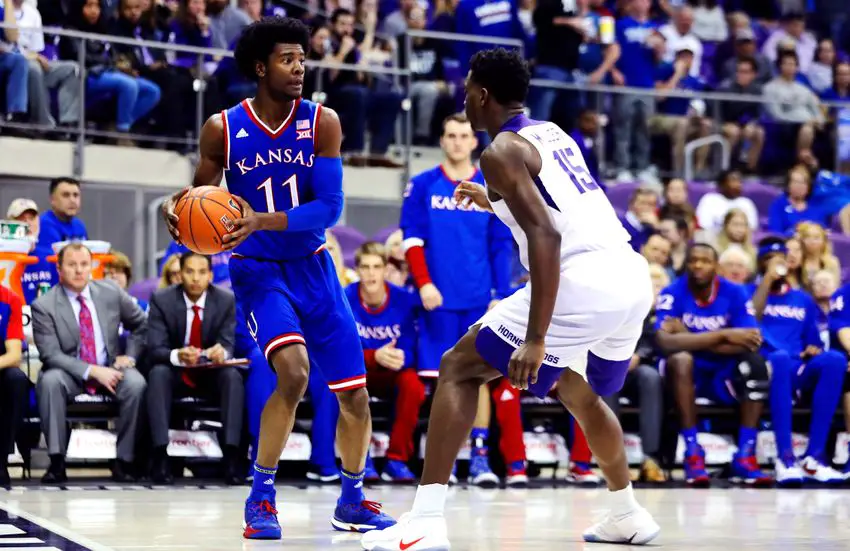 Position: SF
Height: 6'8″
Age: 20
College: Kansas
Strengths
Elite perimeter defender who should immediately compete defensively in the NBA
Extremely high motor/attacks both offensive and defensive glass
Freakish athleticism
Weaknesses
Average 3PT shooting
Free throw percentage (56.6 percent last season)
Struggles to create his own shot off the dribble
Summary
The Philadelphia 76ers have multiple problems with their current roster. However, they hold the third overall pick in the draft, and will hopefully benefit from the debut of last year's first overall pick, Ben Simmons.
With a playmaker like Simmons, and a dominant presence down-low like Joel Embiid already on the roster, the 76ers will look to add perimeter defense and athleticism by selecting Josh Jackson this year. Jackson's competitiveness and drive were visible in his lone season with Kansas, and those are two things that are desperately needed in Philadelphia if they wish to improve next season.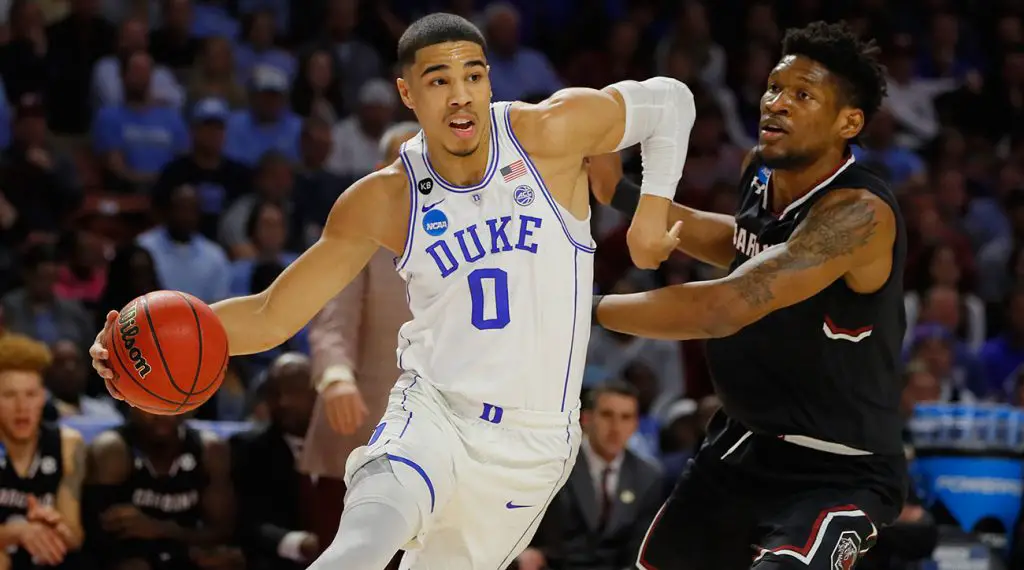 Position: SF/PF
Height: 6'9″
Age: 19
College: Duke
Strengths
Excels at creating his own shot from multiple areas of the floor
Strong post game allows him to play multiple positions
Loves to play in transition
Weaknesses
Does not make players around him better (only 2.1 assists per game)
Inconsistent effort on defense
Shot-selection is questionable at times
Summary
Despite Devin Booker's breakout season (averaging 22 points per game), the Phoenix Suns finished with the worst record in the Western Conference last season. In need of a pure-scorer who does not rely on his teammates to create scoring opportunities, the Phoenix Suns do not need to look any further than Jayson Tatum.
At 6'8″, Tatum is able to create his own shots within the half-court and excels at scoring in transition.  His phenomenal post game has garnered comparisons to Carmelo Anthony, who is also able to use his strength to create his own shots down-low. As Devin Booker continues to progress into a top-flight NBA scorer, Jayson Tatum will not be far behind for the Phoenix Suns.
5. Sacramento Kings (via Philadelphia 76ers) – De'Aaron Fox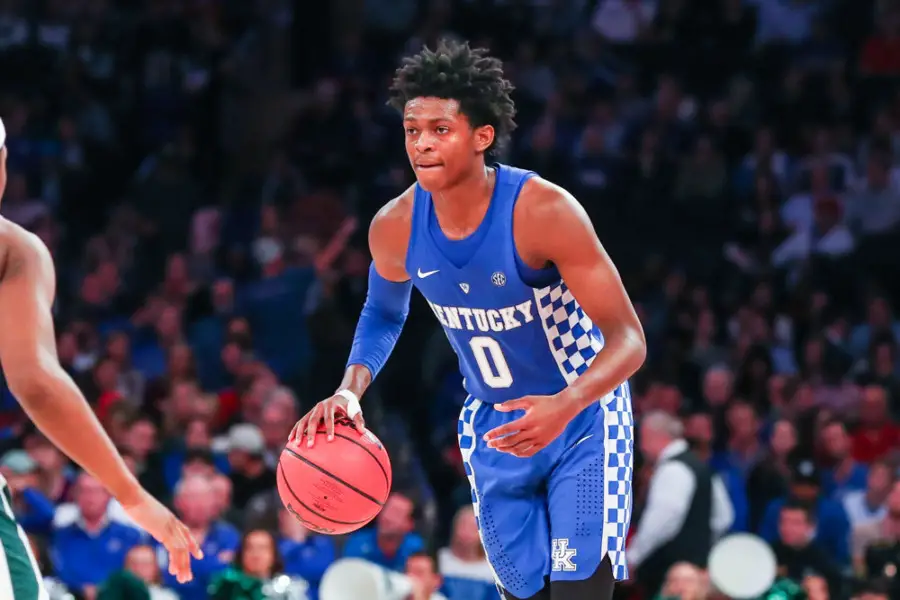 Position: PG
Height: 6'3″
Age: 19
College: Kentucky
Strengths
Fastest player, with and without the ball, in the draft
Aggressive attacking the basket/gets fouled often
Above average pick-and-roll ability for a young guard
Weaknesses
Horrible 3PT-shooter (under 25 percent last season), but his shooting form suggests that he can improve
Needs to gain weight/muscle to maximize athletic ability
Forces shots/passes around the hoop, leading to bad-shots and turnovers
Summary
The Sacramento Kings possess both the fifth and tenth pick in this year's NBA Draft.  Both point guards from last season, Darren Collison and Ty Lawson, are set to be free agents this summer, so it makes sense for the Kings to use one of their picks on a point guard.  With Fultz and Ball likely to be selected already, the Kings will settle for Kentucky's De'Aaron Fox.
Sacramento has a very young core, and will benefit from Fox's ability to get up and down the floor quickly. Fox is an awful 3PT-shooter, but does not rely on outside shooting to have an impact on the game (only two attempts per game last season). Players in the past have also struggled with 3PT-shooting in college, only to improve once they reached the NBA (Mike Conley is one example). With Buddy Hield under contract for the foreseeable future, the Kings will have a strong back court to build their team around after selecting Fox.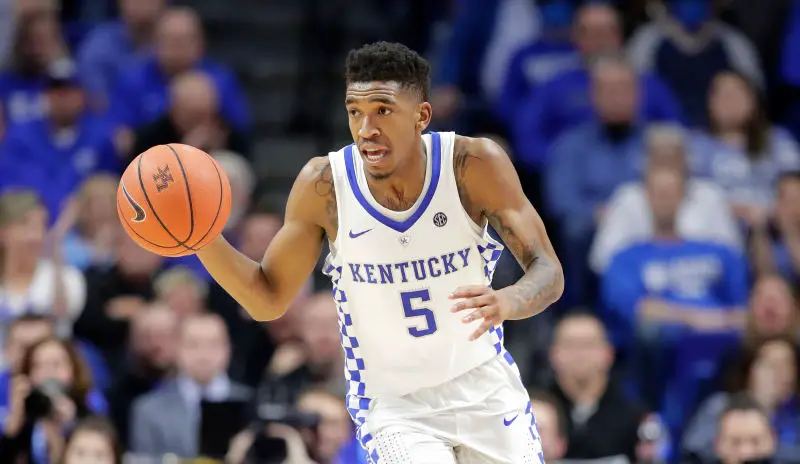 Position: SG
Height: 6'3″
Age: 19
College: Kentucky
Strengths
Fantastic shooter in both catch and shoot and off the dribble
Takes and makes tough shots in big moments
Explosive scorer (scored 47 points vs. UNC)
Weaknesses
Struggles versus physical defense
Undersized for a shooting-guard at 6'3″, but not a skilled enough passer yet to play point-guard
Shot selection is questionable at times
Summary
The Orlando Magic finished in the bottom third of the league in both offensive and defensive rating last season. The NBA Draft has also been a struggle for the Magic recently, as first round picks Aaron Gordon, Mario Hezonja and Elfrid Payton have all failed to reach their potential at this point.
The Magic have not had a player average over 20 points per game since the 2011-2012 season (Dwight Howard), and are desperate for an electric scorer to build their team around. Enter Malik Monk. In one of the most important games of the season for Kentucky, Monk scored 47 points vs. UNC. He made more than four 3PT-shots in fourteen games last season, hitting seven versus Georgia and Michigan State and eight against UNC. Nobody should draft Monk expecting a defensive stopper; in fact, he may be a defensive liability at times, but what he lacks on the defensive end is completely off-set by his elite scoring instincts and ability.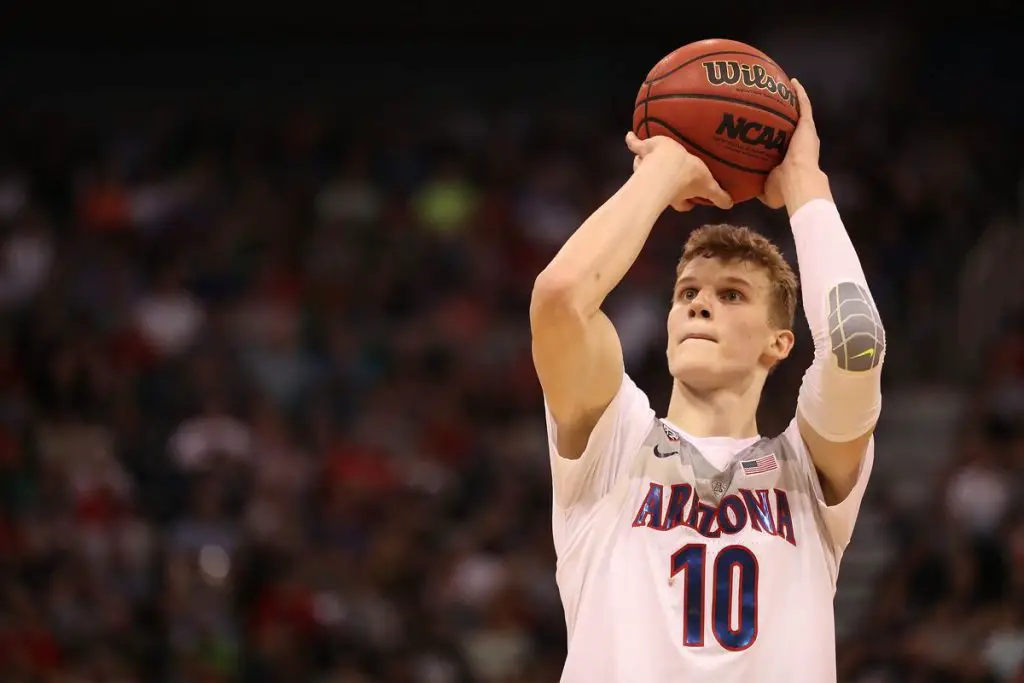 Position: PF/C
Height: 7'0″
Age: 20
College: Arizona
Strengths
Able to stretch the floor and shoot efficiently from 3PT-range
High-release makes his jump shot nearly impossible to defend
Incredible footwork for a player of his size
Weaknesses
Very little defensive potential due to his average wingspan and lack of athleticism
Average rebounding at best
Does not play physically for the most part
Summary
The Timberwolves are in an interesting position as they enter the NBA Draft. They have two players on their team who average over 20 points per game (Andrew Wiggins and Karl-Anthony Towns) and one more who averages 18 (Zach Lavine). All three of those players are capable of creating their own shots and possess extraordinary athletic ability.
What the team needs to reach the next level in their rebuild is a player who will capitalize off of the great players around him by being extremely efficient; that player is Lauri Markkanen from Arizona. Originally from Finland, Markkanen's offensive game will be valuable on any NBA roster. His ability to catch and shoot, as well as create his own shot on the perimeter, will open up the floor for Wiggins, Towns and Lavine to get to the hoop.
8. New York Knicks – Frank Ntilikina (pronounced Nilly-Keena)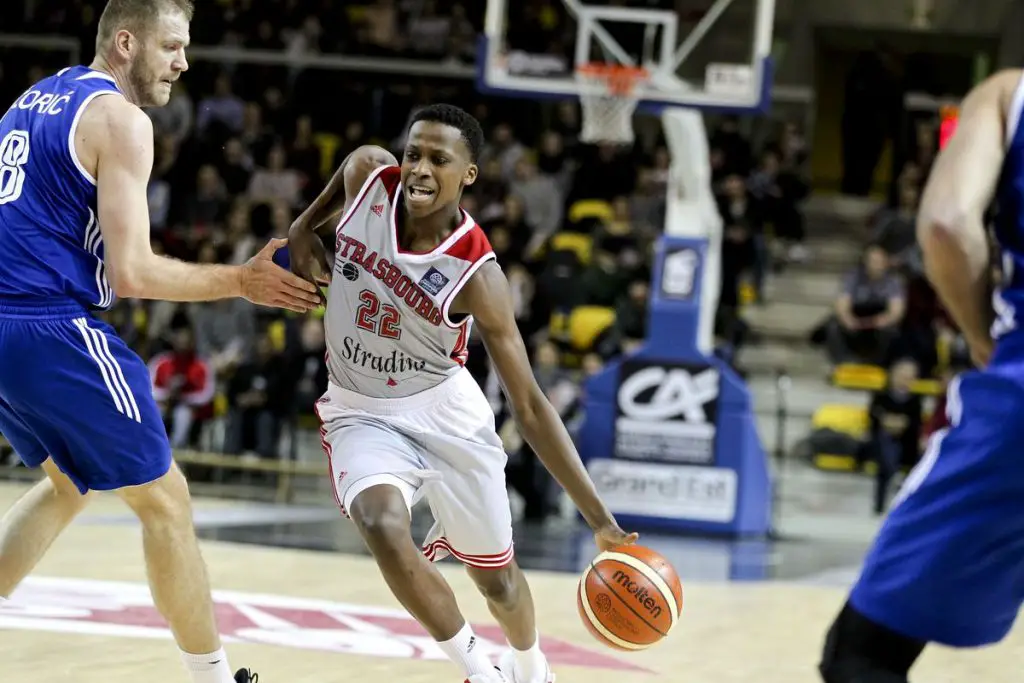 Position: PG/SG
Height: 6'6″
Age: 18
Country: France
Strengths
Superior size for the point-guard position at 6'6″
Beautiful shooting form and consistent 3PT-shot
Great intensity on defense/overwhelms opposing guards with his size
Weaknesses
Limited experience versus top-quality competition
Needs to cut down on turnovers
Weak handle/slow with the ball compared to other guard prospects
Summary
The New York Knicks struck gold when they selected Kristaps Porzingis with the fourth overall pick two years ago.  Since then, they have struggled to find an identity as a team, and find themselves near the bottom of the Eastern Conference once again.  With tension rising between superstar forward Carmelo Anthony and the Knicks' front office, the team could change drastically before next season even begins.
It would make sense for the Knicks to enter a full rebuild if Anthony is not in the team's plan for the future, and drafting a young point-guard to partner with Porzingis would be step one in that process.  Frank Ntilikina is a rather speculative pick, as he has not played against NBA level competition.  However, his effort on the defensive end of the floor, paired with his impressive shooting ability for an eighteen-year-old, all point toward Ntilikina being a valuable target for the Knicks.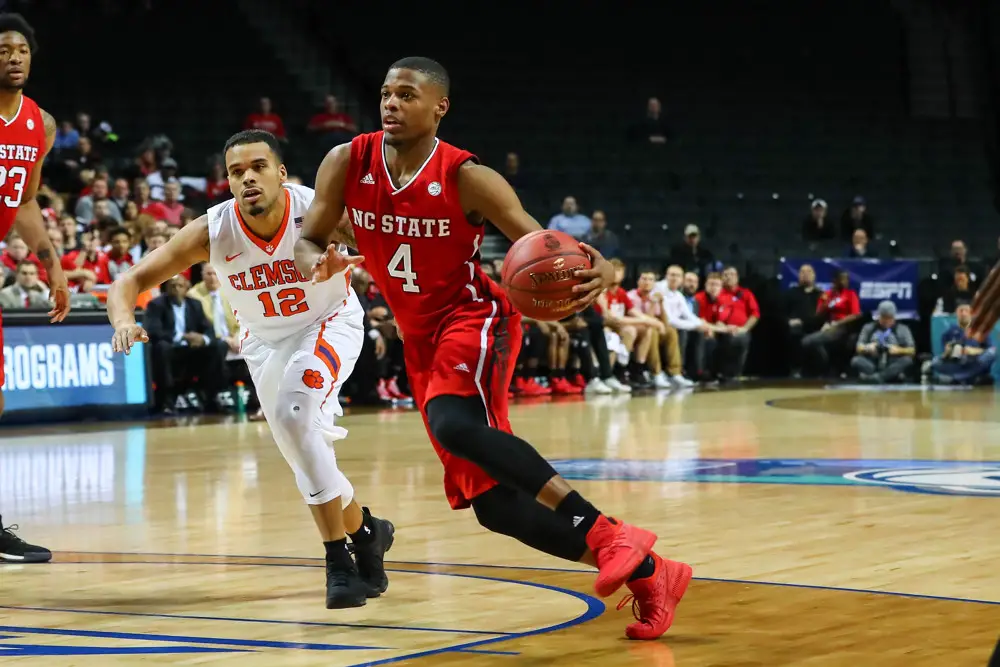 Position: PG
Height: 6'3″
Age: 19
College: North Carolina State
Strengths
Physically gifted in terms of strength and speed
Capable of scoring from everywhere on the floor
Arguably the most raw talent of any player in the draft
Weaknesses
Inconsistent effort when his team is struggling
Holds the ball for entire possessions/kills ball movement
Overall leadership: communication, hustle, etc.
Summary
The Dallas Mavericks started five different players at the point-guard position last season. While players like Seth Curry and Yogi Ferrell certainly played beyond the Mavericks' expectations, neither player is likely to become a superstar during their NBA careers.
If a player like Dennis Smith Jr. is available at the ninth pick, the Mavericks would be foolish not to take him.  Smith Jr. has the potential to be the best player from this year's draft. His physical tools, combined with his score first mentality, point toward Smith Jr. becoming a superstar point guard in the NBA.
However, questions of his leadership and the consistency of his effort have scared away some of the worse teams in the league. With a coach like Rick Carlisle, and an NBA legend like Dirk Nowitzki, Dallas is a great place for Smith Jr. to grow both as a player and a leader.
10. Sacramento Kings (via New Orleans Pelicans) – Jonathan Isaac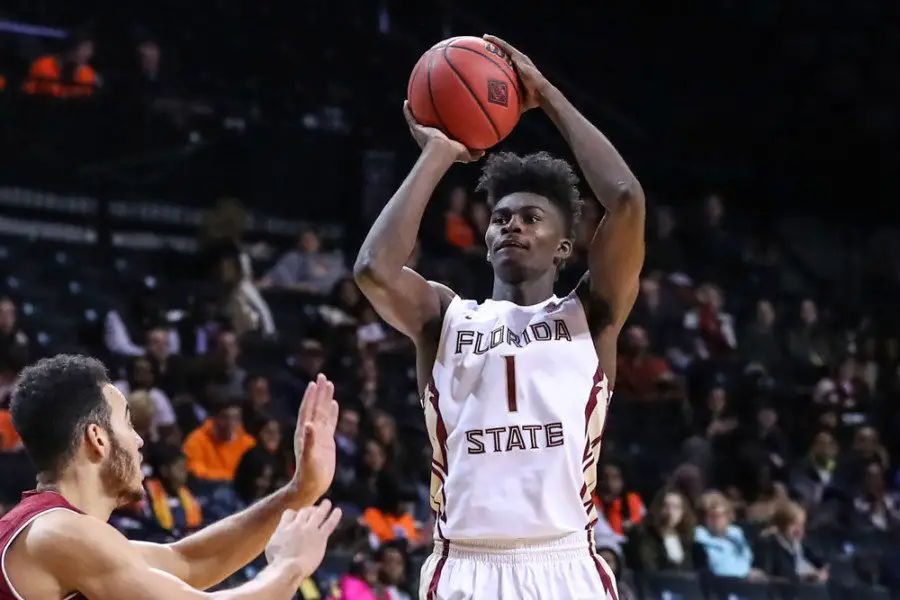 Position: SF/PF
Height: 6'10"
Age: 19
College: Florida State
Strengths
Crashes the offensive and defensive glass
Consistent effort and hustle on both ends of the floor
Efficient shooter from all areas of the floor, including the free-throw line
Weaknesses
Too weak to consistently guard NBA power-forwards
Struggles to create his own offense/reliant on playmakers around him
Diagnosed with asthma, may affect stamina late in games
With the Kings' second lottery pick, they should look to add a centerpiece for their defense. With Jonathan Isaac still on the board, it should be an absolute no-brainer for Sacramento. Isaac is capable of defending point guard through power forward in the NBA, and his defensive potential is only limited by his effort.
His weak frame could pose problems when defending power-forwards in large doses, but his length and athleticism should offset most of the problems he faces. While he is currently unable to create his own shots, Isaac is an efficient mid-range shooter who can step out for an occasional 3PT-shot, as well. Above all, Isaac exhibits maximum effort on both ends of the floor, which is priceless for a young team in the middle of a rebuild.
Final Thoughts
With such a talented draft class, it is expected that some players will be selected higher than anticipated this year, as the gap between the top prospects and the rest of the field is not as drastic as in recent years. Do not be surprised if Philadelphia selects a player like Malik Monk with the third overall pick, as they finished with the lowest offensive rating in the NBA last season.
Although Markelle Fultz is the consensus number one overall pick, Lonzo Ball is the best player in this draft class, and he will prove it next season. Speaking of the number one overall pick, it would make much more sense for the Celtics to trade it away, as they do not have a weakness that can be addressed in the draft and could use the value of the pick to strengthen another piece of their team. However, Danny Ainge does not like to trade picks away, so he will likely hang on to it.
One player to watch out for in the future who will not be selected within the first ten picks is Wake Forest's John Collins, who finished with a Player Efficiency Rating of 36.3 last season. To put that in perspective, when Wilt Chamberlain averaged 50 points per game in 1961, his Player Efficiency Rating was 31.8.
Overall, the 2017 Draft Class is shaping up to be one of the best in recent memory. From top to bottom, the talent available this year should change the landscape of the NBA for years to come.