If you've been on the internet at some point within the last decade, you know about the existence of YouTube. From its birth in 2005, the site has been a source of entertainment and form of self-expression for many people. Over the years, a library of content has been created for every type of audience.
However, because of the site's surfeit of content creators and decrease in original content, some YouTubers are looking to expand their content through another medium: podcasts. Below is a list of prominent YouTubers who have taken their talents to the pod world.
1. Jenna Marbles
Veteran YouTuber Jenna Mourey, better known as Jenna Marbles, created her channel in early 2010 and has grown her fan base consistently since. With almost 19 million subscribers and counting, she currently has the second most subscribers of any female in the United States.
While the content that she originally created was mostly her acting in sketches as different real-life celebrities and the "What Girls and Guys Do" series, her more recent videos have been sit-down style, such as her series "Ratchet Salon." Her newer videos also feature her long-time boyfriend, Julien Solomita.
In 2014, Mourey and Solomita started their podcast channel, entitled "Jenna Julien." With just over 200 videos, the podcast has covered a broad multitude of topics, including sports trivia, thoughts on gaming and other YouTube celebrities, among many others. The episodes are often an hour or longer in length, and some even include guests who join in on the banter Mourey and Solomita have become famous for.
The on-screen chemistry between Mourey and Solomita is undeniable, and their ability to talk about random topics for a long time makes this podcast one that definitely serves as part of the foundation of the YouTube podcast community.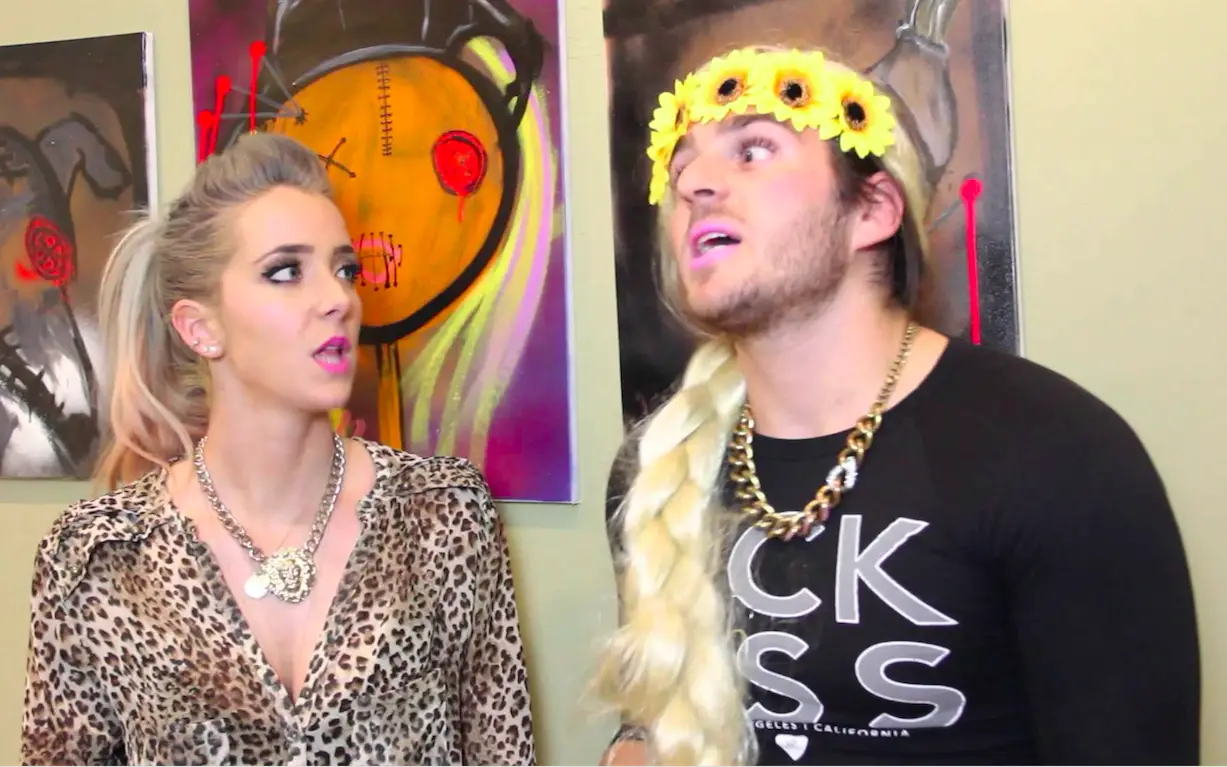 2. David Dobrik and Jason Nash
While David Dobrik and Jason Nash have their own respective YouTube channels, both shot to fame with the rise of video-hosting service Vine, where users could upload six-second looping videos. After rising to fame on Vine, Dobrik relocated from Illinois to Los Angeles in 2015, which is when he started his self-named YouTube channel.
On this channel, he uploads vlog-style videos, which consist of some rehearsed sketches and other genuine material. Along with other Viners-turned-YouTubers, Dobrik inadvertently created the "VlogSquad," which essentially consists of a group of YouTubers who all vlog. The channel gained traction as Dobrik's short vlog style proved to be chock-full of jump cuts and nonstop entertainment.
Nash is a part of this VlogSquad and, in 2017, both Dobrik and Nash started their podcast: "VIEWS with David Dobrik and Jason Nash." With new episodes coming out every Thursday, the main purpose of the podcast is to share the "behind-the-scenes" of their vlogs with their audience. The pair essentially discusses the dichotomy of life behind the screen versus in front of it.
The duo even went on a VIEWS Summer Tour earlier this year with the rest of the VlogSquad. This followed "VIEWS" winning the best podcast category at the Shorty Awards. Clearly, the rise to stardom for Dobrik and Nash has been quite multi-faceted.
3. Cody Ko
Yet another Viner-turned-YouTuber, Cody Ko rose to fame following his debut on Vine. Ko joined YouTube while still working as a software engineer and cultivated his self-named channel Cody Ko. His channel is popular for producing comedic content that reacts to other Instagram and YouTube videos.
In 2017, around three years after the creation of his YouTube channel, Ko created his podcast entitled "Insanely Chill," which focuses on Ko having conversations with other YouTubers and figures that are prominent on social media. Later that same year, Ko co-created another podcast, "Tiny Meat Gang," with his friend Noel Miller. Miller also rose to fame on the Vine app and worked alongside Ko as a software engineer, eventually creating his own YouTube channel.
Together the hilarious duo releases a podcast episode every week, where they discuss various topics from YouTube to politics to everyday life. Ko and Miller recently announced that they would be going on a 2019 self-financed podcast tour. Tickets for the tour sold out in one day, a testament to the hilarity of the pair.
4. Rhett and Link
While Rhett McLaughlin and Charles "Link" Neal both started off as engineers, the pair created their YouTube channel, "Good Mythical Morning," in 2008 and eventually made the channel their main career. This proved to be extremely rewarding, as the channel currently has over 14 million subscribers.
The YouTube channel features a variety of videos that are uploaded every weekday, and this variety of content has allowed the them to have 14 seasons, as well as three seasons of podcast content. Their podcast, entitled "Ear Biscuits," was started in 2013 and consists of discussions with each other about various facets of life, stories from their childhoods and interviews with other notable internet personalities. "Ear Biscuits" was awarded the Shorty Award for best podcast in 2016.
5. Josh Peck
While Josh Peck is most notably known for his role as Josh Nichols in the hit American sitcom "Drake and Josh," his recent internet fame is due to his YouTube channel which he created in 2017. Peck created his channel shortly after meeting aforementioned David Dobrik and becoming a part of the VlogSquad.
Since its creation in 2017, Peck's channel has amassed over 2 million subscribers and is growing rapidly. Peck is often featured in Dobrik's videos and vice versa. In May 2018, Peck dropped his podcast series, "Curious with Josh Peck," which consists of Peck interviewing famous characters such as John Stamos, Jeremy Brosnan and Bob Saget. While Peck's YouTube and podcast careers are both young (and may not be as well known as his child acting career), it's clear that he's making moves in the entertainment community.