Harry Styles has officially kicked off his 2018 tour, and unlike his concerts from last year, he's holding his shows in larger venues and expanding across 20 different countries and 55 different cities.
As if fans didn't feel excited enough to see Styles return to the stage, the singer debuted two unreleased songs live in concert, "Anna," and "Medicine," with fans deeming the latter a "bisexual anthem" because of its suggestive lyrics.
In the song, Styles not only speaks about having a female lover but also a male lover, particularly when he sings, "Treat you like a gentleman" and "The boys and the girls are here. I mess around with him, and I'm okay with it."
Although some fans have disputed that the lyric "I mess around with him" is actually "I mess around a bit," the message remains the same: the protagonist of the song experiments with both men and women.
Harry Styles - Medicine, Stockholm Globen 180318
When the lyrics spread online, both fans and the media began speculating whether Styles' performance of "Medicine" was him "coming out" as bisexual.
Styles' sexuality has been a hot topic since his One Direction days, with some fans believing he had been in a relationship with member Louis Tomlinson. Although the singer has not explicitly put a label on himself, he has shown fluidity in both his sexuality and gender numerous times throughout his career.
For example, unlike some guys who may feel awkward getting intimate with people of the same sex, Styles has shown that he is perfectly comfortable being close to people of all genders.
As a member of One Direction, he has treated both male and female fans equally, never turning down a request for a kiss during meet-and-greets, even if that fan was a guy. Styles has not only gotten close to people of the same sex behind-the-scenes but also on television in front of a massive audience.
For example, he kissed "Late Late Show" host James Corden on television twice, once in 2013 during a kiss cam on "A League of Their Own" and then again in 2017 on the host's popular "Carpool Karaoke" segment on the "Late Late Show." Both times, Styles softly caressed Corden's face before happily giving him a peck on the lips, showing no signs of being uncomfortable whatsoever.
Styles' actions are rare coming from such a high-profile celebrity, especially a male star whose fan base is mostly female. For the longest time, society has grained men to believe that showing any sign of affection toward people of the same sex is shameful, going so far as to call the act "gay" or "feminine."
Yet, when women get close to one another, people see it as nothing more than a friendly gesture. Because of the stigma surrounding male-to-male affection, many men choose not to act too affectionately toward others in fear of people questioning their sexuality.
Despite the beliefs, Styles has shown that he is not afraid of being called gay or bisexual and has actually embraced these labels since he doesn't conform to either gender or sexuality norms.
In 2014, an interviewer asked Harry Styles and Liam Payne about which traits they looked for in girls, with Payne jokingly stating "female." Styles responded to Payne's comment by stating it was "not that important," and he continued to list other characteristics that he looked for in a partner overall.
One Direction Fourplay: Harry Styles and Liam Payne answer your questions
Styles' decision not to place specific labels on himself shows fans that it's acceptable to question their sexualities and not to feel pressured to categorize themselves.
When fans started realizing that Styles may not identify as straight, they began to show him support at One Direction concerts, bringing pride flags with messages of love and acceptance to show that whatever his sexuality is, they will love him no matter what.
In return, Styles took these pride flags and proudly waved them around on stage, symbolizing that he would love and support fans of all genders and sexualities too. Styles' tradition of parading around the pride flag has only grown stronger throughout the years, especially recently.
When Styles began performing as a solo artist, fans continued to bring their pride flags to concerts, but after some fans complained that security had confiscated their flags, Styles called out the guards and said, "I heard this was removed, so I brought it back." He then proceeded to tie the rainbow flag around his microphone and kept it there for the entirety of the night.
The act of placing the flag around his microphone has since become a staple of his concerts. Since then, he has also brought the transgender and bisexuality flags on stage with him to show his support of specific subcultures within the LGBTQ+ community as well.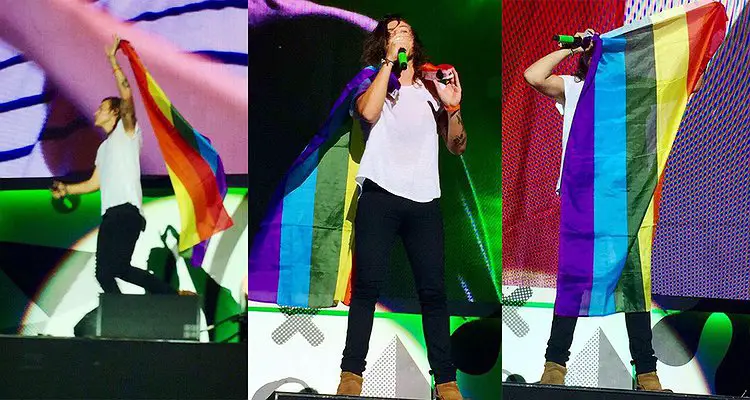 In terms of his gender performance, Styles has also broken norms in the way that he dresses because he has proudly worn outfits with floral patterns and bright colors on them, two styles that some consider "feminine."
He first started to wear the nontraditional outfits during his One Direction days, but because the group had to conform to a certain image as a whole, he couldn't experiment with his attire as much as he would have liked.
Thus, he is embracing the opportunity as a solo artist to experiment with different styles of fashion, even crossing borders by wearing clothing categorized as "women's clothes."
Some may feel shocked to realize that Harry Styles may not be straight, but his longtime fans have been aware of his fluidity for years. Whether he considers himself as a part of the LGBTQ+ community or simply an ally, Styles' experimentation has brought a significant amount of attention to what it means to be queer.