Just a couple of weeks ago, the singer and songwriter Morrissey came out with his latest album, "Low in High School." Steven Patrick Morrissey rose to fame as lead singer of the Smiths in the early 1980s. With hits such as "There is a Light That Never Goes Out" and "Heaven Knows I'm Miserable Now," the UK band was labelled as the most influential group of the decade. The alternative rock group widely influenced audiences beyond the UK with their music, which ranged from songs about love, war and heartbreak to controversial topics that caused an uproar from listeners and critics.
In 1987, after their last album, "Strangeways, Here We Come," the group went their separate ways as guitarist Johnny Marr left the band and Morrissey went to continue writing and performing his own music. If you don't know too much or even nothing at all about Morrissey, here are six facts you need to know about one of the most influential singers of the century.
Just last April, Morrissey finished up his World Peace Is None of Your Business Tour in Dallas, Texas. Sadly, he won't return to Texas for his upcoming tour, but he will be up north! From October 31 to December 7, Morrissey will be touring from Oregon and California to New York and Massachusetts. After that, he'll make his way to the UK and Ireland from February 16 to March 9. Recently performing at the Hollywood Bowl in California, Morrissey brought up his hits, "How Soon is Now?" and "I Started Something I Couldn't Finish." The rest are mostly tunes from his newest album, such as "I Wish You Lonely" and "When You Open Your Legs."
2. Morrissey has stayed away from drugs and alcohol for the majority of his career.
At an outing with David Bowie, Morrissey remarked, "David quietly tells me, 'You know, I've had so much sex and drugs that I can't believe I'm still alive,' and I loudly tell him, 'You know, I've had SO LITTLE sex and drugs that I can't believe I'm still alive'." During the Smiths's emergence into the alternative scene, drugs were regularly used and abused. Morrissey has stayed clean even when drug abuse was happening right next to him and the band's bassist, Andy Rourke, was arrested for heroine possession. In fact, he tried to keep the group away from drugs and eschewed from the aesthetic of heavy drugs and excessive sex.
3. He started taking anti-depressants at seventeen years old.
In an interview with Larry King, Morrissey described his depression as a "black dog" and that it's a sign of intelligence to be somber. Originally from Manchester, he grew up as one of the "inner-city slum kids" who weren't needed by society. The song writer strongly believes that sadness never goes away or gets better. He stopped taking medication, claiming that "it's pointless." Even in a number of songs such as "Asleep" and "There is A Light That Never Goes Out," the singer talks about wanting to die and being okay with death.
Despite this somberness, Morrissey's music doesn't lack depth in either its meaning and musicality. On the contrary, he used his depression and sadness to fuel his music, which is why he still has millions of fans clinging on since the breaking up of the Smiths.
4. Before the Smiths and his musical career, he had a different passion: music journalism.
Yep, before Johnny Marr turned up at his doorstep to ask him if he wanted to form a band, Morrissey was a music journalist in the works. Back in the early 1980s, he began his music journalism career shortly after disbanding from the Nosebleeds, a group he had led for a short period of time. He worked for the music review publication, Record Mirror, and simultaneously wrote a couple of short books for Babylon Books publishing company, which included a twenty-four-page book on the New York Dolls.
5. Morrissey was a vegetarian, even in his music.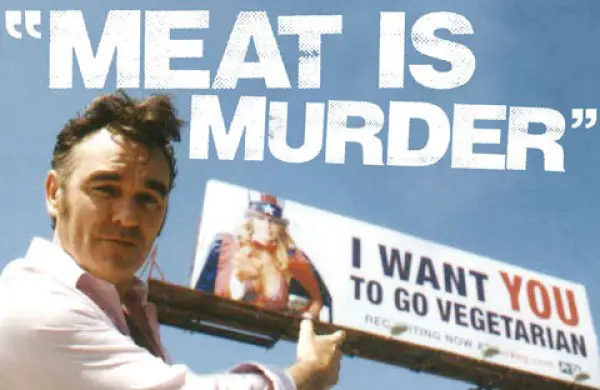 At age eleven, Morrissey ditched meat under the influence of his mother, who was also a vegetarian and an anti-hunting activist. He's actually proclaimed to be one of the UK's most outspoken animal advocates. In 1985, the Smiths released their album "Meat is Murder"—the album's name is pretty self-explanatory. Its title track, "Meat is Murder," preaches that "Heifer whines could be human cries" and "the flesh you so fancifully fry is not succulent, tasty or kind." Morrissey even goes to the length to make sure that only vegetarian food is served at his concerts, especially after an interview in 2015 in which he told Larry King he's going full-force into veganism. He's an active member of PETA  and has actually collaborated with them over a number of occasions. Seriously, the guy even created shirts with very PETA-like slogan such as "Meat is Murder," which he used before a concert in Dallas a couple years ago.
6. Collaborations are just not his thing.
Back in 2015, the clothing brand Supreme asked Morrissey to collaborate with them just as they do with most high-profile singers and actors. After finding out Supreme is sponsored by fast food company White Castle, which made its name out of the signature beef sandwich, the songwriter wrote a statement in order to terminate the collaboration agreement. Despite the clothing company's effort to fix the issue on both ends, the collaboration was doomed to fail due to a clash of principles.
Morrissey also had the opportunity to collaborate on an album with the Gorillaz, Ron Mael, and Easterhouse guitarist, Ivor Perry. Needless to say, all of these endeavors failed and there is no evidence that Morrissey has collaborated or will do so with any artist in the future. (I'd probably die over a Radiohead and Morrissey collaboration, so let's hope something switches up.)
Morrissey is one of the true songwriting geniuses of our time. People simply don't understand his complexity, so they label him as rude and standoffish. The beauty behind his music is not readily obvious to everyone, but once you pay it some attention and time, you will be wowed, which is also the reason why I hope he never stops creating. "There is a Light" that would certainly go out if Morrissey ever stop singing.