Mack Beggs recently won a second consecutive title in the Texas Girls' Class 6A 110 pound division at the UIL wrestling competition in February 2018. Now that sentence might be confusing at a first glance, but Beggs's story can explain.
Mack Beggs is a transgender wrestler at Euless Trinity High School near Dallas and has been competing in the girls wrestling division throughout his high school career and transition to manhood.
When he qualified for the University Interscholastic League, or UIL, Beggs and his family had been persistent that he competes in the boy's divisions in 2017, the first year he won the UIL wrestling competition. The deputy director, Jaime Harrison, refused to let Beggs play in the boy's division and defaulted to the birth certificate rule as his reason.
The birth certificate rule dealt with gender identification of students and student-athletes based on the sex of their birth certificate, which meant Beggs was stuck to compete against girls. The birth certificate rule was put up for amendment in 2016 but was unanimously voted to remain the same.
Although the rule could be amended, Harrison doubts change will come soon. The rule is intended to help schools determine competition.
Although Beggs continued to play in the girl's division and won the competition, the transgender issues did not go away, specifically concerning the steroids Beggs was prescribed and the timing of the Senate Bill Six.
Beggs received backlash about his weekly testosterone intake because it was thought that it gave him an unfair advantage over other athletes. Since the weekly testosterone is considered a steroid, Beggs was actually slowed down just before UIL wrestling season started.
Attorney, and parent of another wrestler, Jim Baudhuin, filed a lawsuit in February 2018 for Beggs to be moved to the boy's division. When the request for Beggs to play in the boy's division was once again denied, Baudhuin, blamed UIL for "kicking the can down the road" and hoping the situation went away.
Because Beggs is taking the minimal amount of testosterone to begin his transition, Beggs struggled against the doubts of his right to compete in UIL. In response to Beggs's controversial competition, UIL released a statement addressing the transgender question and the steroid use.
In regards to the transgender question, UIL responded by defaulting with the gender on the birth certificate and said it will recognize any amendments made to birth certificates if an athlete does make a change, such as their gender. In regard to the steroid use, UIL does not tolerate illegal steroid use except when prescribed by a medical practitioner for a valid medical purpose.
Both the Texas Senate Bill 6 and the North Carolina House Bill 2 or "bathroom bill" state that individuals must use gendered facilities that correspond with the sex on their birth certificates.
Around the same time, the Trump Administration had begun rolling back federal protections on public facilities for transgender students, which made room for states like North Carolina and Texas to enact their own policies about gendered facilities.
Although these laws are passed, the state legislatures are aware of the increasing awareness of transgenderism, Texas, for one has noted that it is possible to change the sex of one's birth certificate.
As if that is an easy thing. No one can get their license renewed in a timely manner, imagine how hard it must be to change the sex of a birth certificate.
The response of dealing with transgender identification at the state level is crucial because while trickle-down economics fails, trickle-down politics is a little bit different. Now that the state government has set a precedent about dividing gender by the sex of the birth certificate, then other state-wide entities, like UIL, will naturally follow suit on defaulting gender a similar way.
Then we find ourselves looking at cases like Beggs, left with a transman taking low dosages of testosterone competing in a high school girls' division.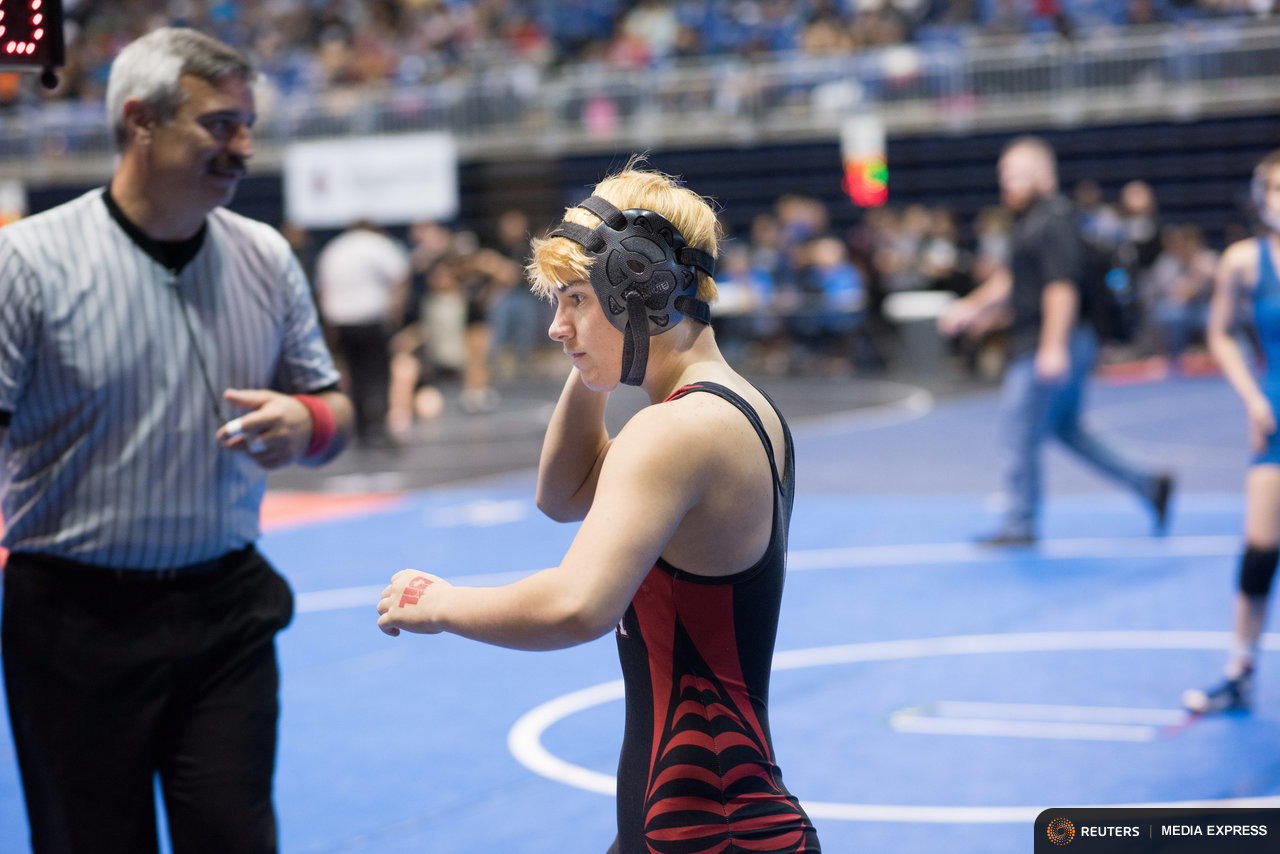 It is unfair on several fronts because the state's and UIL's responses left Beggs stuck in his position, both in transitioning and competing in wrestling.
Beggs was stuck in transition because he was limited to his dosage of testosterone or T levels. Since testosterone is a steroid Beggs takes weekly, Beggs has to be careful about his weight gain being proportionate to keep his bone density stable with the muscle increase.
If Beggs had been competing in the boys' divisions from the get-go, like he, his family and even an attorney had been fighting for, then Beggs's transition would be different.
In terms of wrestling, Beggs would be categorized in the men's divisions because of his weekly T levels. However, his weekly T levels were not enough for Beggs to compete in the boy's division in high school, so Beggs missed out on the opportunity of competing with the boys and the environment of being in the men's competition in college.
Although grade school is the time of development, those public sectors fail to assist its citizens in developing themselves as a person. Rather than hindering development like Beggs experienced in high school, state governments ought to encourage and help Beggs's transition earlier as part of the development that grade school should deliver.
High school should not be a time when students are constantly trying to get deputy directors attentions, but rather, spent working on themselves. Although college is everyone's time to shine and be introduced to the world as themselves, grade schools have failed Beggs's development of himself.