After Ed Sheeran sparked marriage rumors with a silver band on his ring finger, a historic debate was highlighted. Aside from not letting anyone know when he and his fiancée, Cherry Seaborn, will actually get married, Sheeran stated that he "never understood why men didn't wear them too."
In traditional Western society, women have always worn engagement rings and men were the ones who proposed. Women wore rings as a symbol of their partner's commitment to providing for them in marriage.
In recent years, however, gender roles have changed drastically. Now more than ever, men are wearing engagement rings as an emotional bond rather than a financial commitment. Also, because many women work in this day and age, the cost of the ring is often split.
Along with Sheeran, more and more famous men are starting to wear "mangagement" rings. For instance, Michael Bublé was spotted wearing one in Nov. 2009 after getting engaged to actress and model, Luisana Lopilato. Lopilato is from Argentina, where it is traditional for both men and women to wear engagement rings.
Mark Ballas ("Dancing with the Stars," Alexander Jean) also received a ring in 2015 from then-fiancée, BC Jean ("If I Were a Boy," Alexander Jean). The couple married in 2016.
Furthermore, professional wrestler David Otunga proposed to Jennifer Hudson on her birthday. Seven months later, contradicting tradition on Otunga's birthday, Hudson proposed back with a 5-carat ring.
Despite these examples, the trend of men wearing engagement rings (or "mangagement rings") hasn't quite hit the American mainstream yet. In countries like Brazil and Sweden, it is traditional that men wear engagement rings. However, in the United States, only 1 in 20 women propose to their man.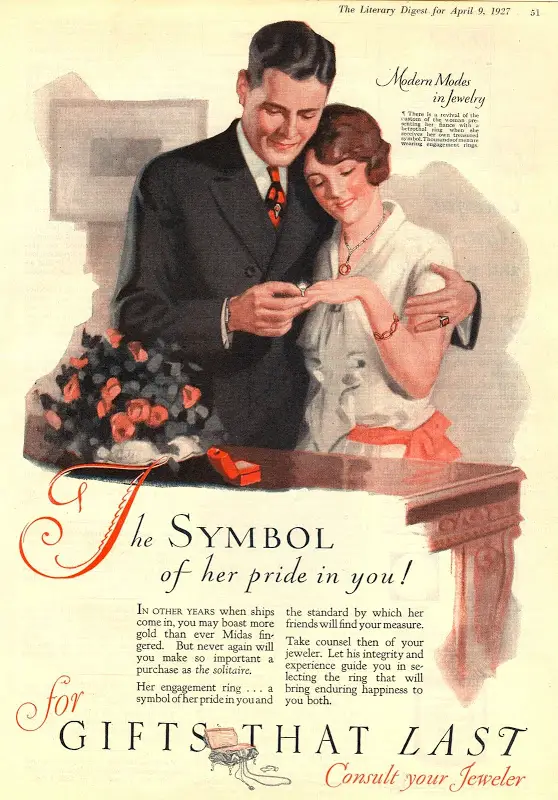 This isn't the first time mangagement rings have hit the market. In 1926, companies designed rings for men and tried to lure men with ads. Sadly, they weren't enough to overcome the symbol of femininity and they ultimately flopped.
Wedding rings for men weren't even a thing until the 1940s. During that tumultuous period, the ring expressed togetherness after coming back from the war and was a symbol of the American Dream. Times were very different in the 20th century as men still primarily dominated relationships. Now, nearly 90 years later, the tide is turning as the idea becomes more regulated.
With only women wearing rings, it seems more like they are owned by their partner while the man is not taken. How else are flirty women supposed to know that a man is off the market?
For a lot of couples, rings are a simple way to show equality. Rings show that women are taken, in love and happy.
When a man receives a ring from his partner, it should show the women's commitment and love for her significant other in turn. This trend further promotes equality in that the woman works hard to save up for a ring, instead of shouldering the financial burden solely on the man.
Gender roles have changed so much in recent years, so why shouldn't women get down on their knee and pop the question? With this new trend, women can also put their creativity to the test and design a personable and fashionable ring for their man.
According to a study by XO Group Inc., 5 percent of men now wear engagement rings. More and more jewelers are designing rings for men that are simple and less expensive, yet still get the point across.
Men wear jewelry to show strength, status and blessings. Many men feel blessed and excited to be engaged and they should be able to express that like their fiancée can — with a ring.
Same-sex marriage becoming legal has increased the trend of mangagement rings. Both partners wear rings and the proposal stereotypes go out the window. Honestly, straight couples should follow in their footsteps.
Celebrities such as former boy bander Lance Bass, actor Neil Patrick Harris and Ellen DeGeneres have all broken down contrived proposals in favor of passionate, romantic moments. Furthermore, New York ring designer, Rony Tennenbaum, now makes a collection of unisex engagement rings.
On that note, there is absolutely no right or wrong way to wear a mangagement ring. For example, men in South American cultures move the engagement ring to their right hand after the marriage ceremony.
However, despite the progress mangagement rings have made, they are not catching on with everyone. According to an article from the U.K. Metro, mangagement rings should not "become a thing" because men don't want "girly-looking" rings. Furthermore, the article states that they are a waste of money and don't show that women are "off-limits" to other men.
Despite the backlash that these rings are getting, mangagement rings aren't going anywhere anytime soon. Indeed, when celebrities start doing something that is not in the mainstream yet, most of the time fans will follow in their footsteps; expect to see this trend climb in the coming years.
So, ladies, if you like it, you should put a mangagement ring on it!