On June 6, Juul Labs announced they will be releasing an educational advertising campaign meant to inform the public about smokeless-tobacco and warn teenagers about the dangers of underage vaping. This program is the first step in a three year, $30 million community engagement plan with the intention of combating underage use of their product. Part of the adPre reads, "JUUL is for adult smokers. If you don't smoke or vape, don't start."
Juul is the most popular vape-styled nicotine product on the market, and its popularity exploded in the past year, racking up over $454 million in sales. It offers a sleek, discrete design and delivers varying levels of nicotine in attractive flavors such as creme brulee, cucumber and mango.
If you look close enough you can find people juuling all across college campuses with such frequency that asking someone for a "rip" of their juul is just as popular as smokers asking each other for a match.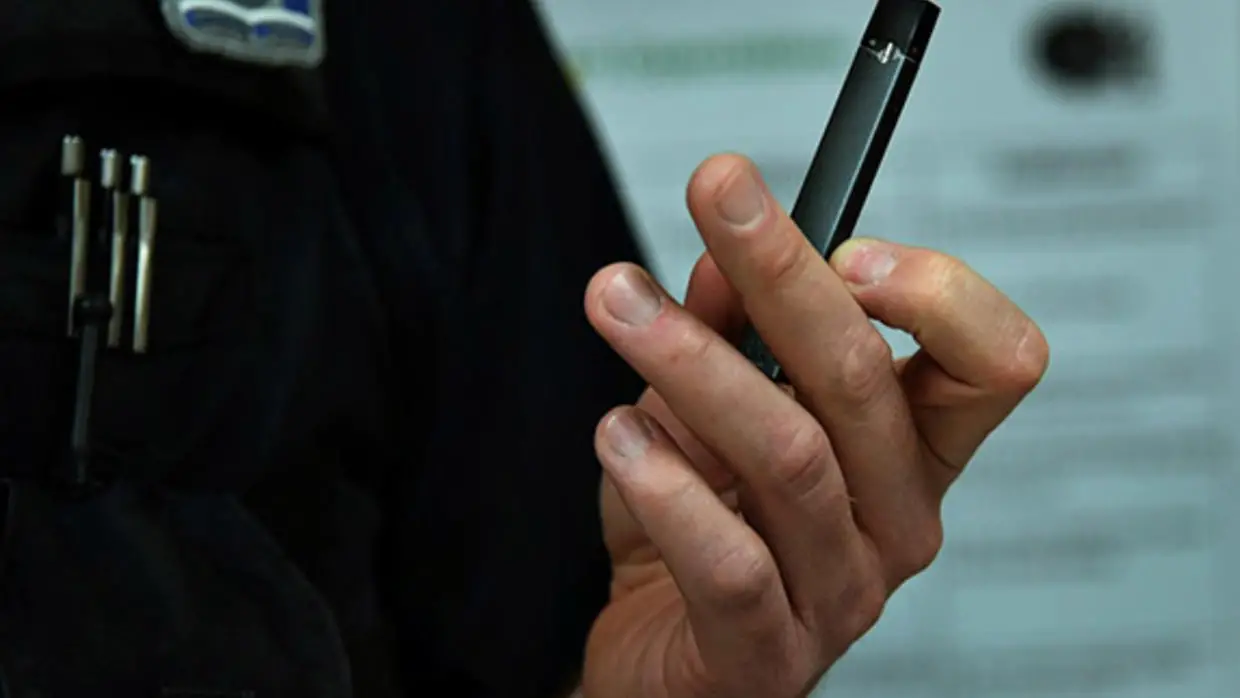 Between 2015 and 2018, Juul made a name for itself as a safe smoke-alternative option but earned an unwanted following in high schools. Across the nation, high schools and even middle schools fight a losing battle with students using the Juul.
Because of the small, flash-drive appearance and almost unnoticeable amount of "smoke," students sneak Juuls into backpacks, school buses and past parents. As the popularity of cigarettes dies, smokeless-tobacco products take its place. Even people who would have never smoked cigarettes before Juul regularly.
The use of smokeless-tobacco has become a social club within educational institutions, and the incoming Juul advertising campaign addresses this. On their radio broadcast, they remind the public  "… many kids try to fit in or feel pressured by their friends to try vapor products."
The liquid cartridge called a "pod" used in a Juul contains twice the nicotine percentage used older vape juices, so many parents are primarily concerned with the nicotine addiction that can occur in children as young as 12.
New York senator Charles Schumer blamed the sexy marketing of the product for the increasing use of smokeless-tobacco items among minors and called for federal action to ban the fun flavors that entice children. Juul Labs agreed to add labeling on their merchandise that makes it clear that the brand is a safe alternative for those who already smoke.
Despite the effort to prevent underage use, young users refuse to see the consequences that come with smoking.  A study conducted by researchers at Georgia State University's School of Public Health found that although they become addicted to nicotine after using the smokeless-tobacco product, many vape enjoyers don't identify as smokers.
Juul's new marketing campaign is a response to both the FDA crackdown on online sales and to public outcry, and the push for education about nicotine addiction and early use is admirable in an industry known for exploitation of addiction. Taking it a step further, the company is offering up to $100,000 to schools for anti-tobacco use programs.
Hopefully, Juul Labs will be more successful in reversing the damage of their product's popularity than other tobacco companies before an entire generation grows up with nicotine dependency.