The final weeks of fall semester can drag on and on. The days are short and dark, the study sessions seem unending and the will of motivation begins to run very thin. On top of the demands of finals week, the cold weather often drives everyone inside and away from the campus community at large. During this time, it can be easy to develop feelings of boredom, isolation and sadness.
While this may happen to college students for a few weeks at the end of the semester, citizens of Denmark combat dreary weather and dark skies for most of the year—and yet, Denmark also consistently ranks as one of the happiest countries in the world. One factor that could contribute to this high ranking is the national concept of hygge, defined as a feeling of "coziness and comfortable conviviality," according to the Oxford-English dictionary, that creates contentment and well-being.
Pronounced "hoo-ga," the Danish concept is a lifestyle that emphasizes finding warmth in the form of comforting activities, food, atmospheres, materials, friends and family. The idea has recently taken the UK and US by storm, producing several successful books and countless articles and TV segments devoted to the topic. This winter, it may be exactly what college students need to combat not only the cold weather, but also the chilly separation from friends and family at home during the first part of the holiday season. Here are five steps to incorporating hygge into college life so that you can banish winter blues for good.
Step 1: Create relaxing lighting
One of the main goals of hygge is to create an at-home atmosphere that inspires warmth, comfort and coziness. However, sterile dorm rooms with garish fluorescent lighting can be anything but that.
Start by adding in some soft lighting in the form of lamps or string lights. Candles are also a major tenant of an authentically Danish room, but many dorms do not allow candles for fear of starting fires. Instead, consider investing in some flameless LED candles or tea lights to warm up your room without the risk of fire. The lighting will create a naturally relaxing atmosphere any time you come in from a long day of work.
Step 2: Acquire cozy materials
It's the season for cable-knit, cashmere and fleece! Sweaters, blankets, fuzzy socks and soft carpets can go a long way in creating a dorm room that feels more like a comfy living room and less like standardized housing. Assembling a reserve of soft materials will make hunkering down for winter a little easier.
In Denmark, it is also customary to have hyggebusker, or a pair of house pants meant explicitly for home lounging activities. Setting aside a special pair of pajamas, yoga or sweatpants to put on every time you relax can feel silly at first, but the ritual will help differentiate between work time and relaxation time, allowing for more enjoyment and less worry.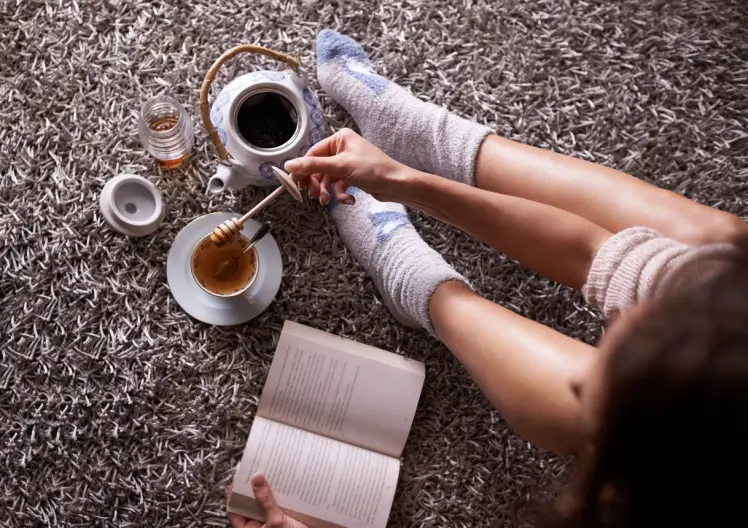 Step 3: Engage in comforting activities
Now that your dorm room is furnished with soft lighting and cozy materials, it's time to actually do some relaxing! Hygge activities usually involve taking pleasure in the simple things: watching Netflix, reading a book, baking, playing board games or knitting. While watching movies and television is fine, random screen scrolling is highly discouraged. Hygge is about unplugging and finding true enjoyment and relaxation from activities normally ignored or undervalued; it's also about relaxing with purpose.
Bonus activity: if you're feeling adventurous, gather some friends to take a winter walk or bike ride. The hygge lifestyle also encourages people to get in touch with nature and natural movement despite the cold temperatures outside.
Step 4: Indulge in comforting food
What could feel more like home than your grandma's warm chicken and dumpling recipe? On days where relaxation is the top priority, consuming food that reflects warmth and home is important. While it can be hard to cook big meals in dorms, try to reserve a kitchenette and plan out a community cooking day with friends.
Dining halls also often offer warm soups, casseroles and desserts during the winter. Take advantage of the quick access to comfort food and bring it back to your dorm to eat in soft-lit peace.
Step 5: Invite friends to relax in tandem
While solitary relaxation can be hygge, the lifestyle also strongly emphasizes staying connected to community during the long, hard months of winter. Instead of enjoying that movie alone, invite a few friends to hunker down with blankets and binge-watch with you. Play board games together that inspire conversation, or share a warm meal in the dining hall, or around your kitchen table.
This component of hygge is crucial because it combats those feelings of isolation and loneliness that can easily creep in during the winter months of school. Keep your friends close, and keep new friends even closer. In the warm, intimate setting you've created in your dorm room, it will be impossible not to become fast friends.
Step 6: Appreciate the moment
Above all, hygge is about being present to enjoy and take pleasure in relaxation and small moments of connection. While I do have soft lighting in my dorm room as well as many cozy blankets, I don't feel truly relaxed until I put away my phone and computer and devote specific amounts of time to relaxing alone or with friends.
Setting aside time to really enjoy the comforting things and people around you is the best way to fight off winter (and studying) blues. It helps to make hygge a purposeful daily practice: instead of mindlessly watching Netflix while frantically eating lunch between classes, try turning off the computer and really enjoying the warm food in front of you, savoring the flavors and nutrients it provides. Instead of avoiding studies by scrolling through Facebook, take a purposeful break to read or bake and then come back with a refreshed mind. No matter how intense studying gets, or how miserable the cold temperatures, making time for hygge can brighten even the dullest of days.