Making a living off of freelancing is literally the dream for a lot of people – not only do you get to choose your schedules from day-to-day, you are also your own boss and can pick and choose who you want to work with. Since freelancing allows you to work from literally anywhere in the world, many avid travelers pursue careers based around working remote. But, it may not be the easiest field to get into, especially if you have no idea how or where to start. Hopefully, these tips will help you get started in the freelancing industry – even if you have absolutely zero experience.
Choose wisely…
In order to become a successful freelancer, you obviously need to figure out what skills you have and what you have to offer. Take a look at your resume and think outside of the box in terms of your experience: have you already taken on work that will inform a freelancing career in some way? For instance, maybe you led a project in which most of the team was in another state and all of the communication had to be done via emails and phone calls. That counts as valid experience. Does your position require a lot of writing? Well, maybe content development is where you should specialize as a freelancer.
Build that portfolio…
No one is going to hire you unless you have a portfolio of work to show off. After all, why should they take you at your word when you say that you are the best person for the job? You should probably wait to launch your official career until you have plenty to back up your claims. While building a portfolio isn't necessarily hard, it may not be fun for you, especially if you have absolutely nothing to start from. Getting those samples to show people will probably mean that you have to take on some work for very little pay (or sometimes none at all). While you're at it, ask for some client testimonials, so that you have a handful of quality references. Trust us, once you have something to show for your talents and the clients come calling, it will all be worth it.
Network and brand yourself like crazy…
Once you figure out your niche and have a portfolio, take advantage of social media platforms and put your best self forward. As a freelancer, you won't have a company to hide behind, so your clients need to know who you are. They don't want to open your Facebook profile and see party pictures from your college days, so clean up your accounts. Or make your personal accounts private and start new company-focused ones. Always remember, you are your brand. While embarking on your branding mission (and possible even before) you need to put your interpersonal skills to the test and freelance network like a fiend. Don't be afraid to tell everyone that you know that you are embarking on a freelance career, because you never know what connections you may made through word-of-mouth.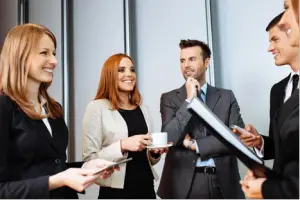 Pitch, pitch, pitch…
Now comes the times to throw yourself out there and hope that potential clients take the bait. While networking can bring people to you, you still need to go out there and grab work for yourself. Seek clients you know are willing to pay what your work is worth and take the time to really understand what they do before you pitch your skills to them. If it's a company with a blog, read everything on it and come up with ways in which they can improve their SEO. Maybe you could even create a new logo mockup if theirs is looking outdated – they may not want the logo, but they may like your style for other projects. Businesses like being pursued, so present yourself in a way that makes your pitch seem specially tailored just for them. You can also use job listing sites; Remote.com is a hub for remote workers where you can find positions with a variety of companies.
Budget yourself…
Since you are working for yourself, you won't have a company at your back figuring out your paycheck, health insurance and taxes. Make sure to create budgets and invoices appropriately, so you can keep track of your finances yourself. You won't want to find yourself stuck come tax day, because you didn't account for it earlier in the year.
—
(This post is brought to you by one of our many partners. They help us keep the lights on!)