Everyone knows a friend or a family member who loves creating film. Whether they're an amateur cinematographer or film editing fanatic, there's a gift out there for them that they'll love. Below are a list of gifts for all budgets to satisfy their filmmaker's appetite.
GorillaPod
TheGripTight ONE GorillaPod Stand is a flexible tripod with a universal phone holder. This product by JOBY allows you to keep your phone still on almost any surface to achieve the perfect shot. He or she probably can't take their high-definition camera wherever they go, but they can keep their smartphone handy in case they see the perfect shot. The GorillaPod can flex around branches and poles, stand on sturdy surfaces, and even attach to magnets if you get the Magnetic Impulse model.
GoPro
GoPros aren't just useful–they're fun! Anyone from the beginner to the expert can enjoy a GoPro that makes fun action shots portable. This is the perfect gift for novice filmmakers who want to experiment with style as well as sports cinematographers.
Smartphone Steadicam
Once again, their camera can't go everywhere with them. That's why a portable smartphone Steadicam will do the trick. The job of the Steadicam is to hold the camera still while you move. No more bumps, twitches, or shifts in the frame! If he or she loves filming sports or action shots, they will love this gift.
Drone
Like the GoPro, drones present the next new wave of fantastic filmmaking. Once reserved for million-dollar blockbusters and documentaries, the panoramic overhead shot is now available to all. Never has versatile filmmaking been more accessible or achievable. Now anyone can fly their camera high above a city or landscape and take sweeping shots to add drama to their film. There are plenty of little drones that pack a big punch with speed and versatility. A cool drone is exactly what they need if they want to experiment with something new.
Draw Tablet
A draw tablet is an unexpectedly useful gift for those who like to create a concept from start to finish. Products like the Wacom Intuous Draw tablet allow users to sketch out images that present themselves on a computer screen. Editors, directors, story boarders, and even screenplay writers will appreciate this gift if they like to visualize their work ahead of time.
Final Draft 9
Do you have a screenwriter in your life? Final Draft 9 is the standard for writing screenplays for TV and film. All studios accept scripts only written in a particular format, and Final Draft 9 is a software that makes it all easy.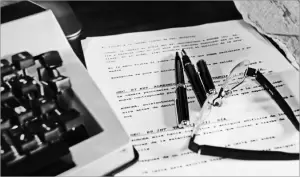 Film Magazine Subscription
Film enthusiasts of all kinds can appreciate a film magazine subscription. Magazines like Film Comment have the latest in film news, critiques, and advice. If they're major readers, this magazine will be a great learning tool. If they're not, it will still make an excellent coffee table magazine to show off their interests.
Noise Cancellation Headphones
Anyone–cinematographers, editors, screenplay writers, and directors–can use a pair of noise cancellation headphones. Sometimes an artist just needs to tune out the rest of the world to make their masterpiece. The high-definition sound of noise cancellation headphones help inspire screenplay writers and immerse sound and film editors into the experience. Plus, they're a great tool to use when they need to take a nap in the college library.
Audio Recorder
If you're not a filmmaker, you may not know how much effort goes into making clear uninterrupted sound. Audio recorders come in all sizes for all budgets. For something portable, invest in a pocket-sized audio recorder that they can attach to their phone. Now they can make any film on their smartphone more streamlined and professional.
Stove Top Mocha Machine
Filmmaking is hard work. No matter what part of the process they're involved in, it takes hours upon hours to get the film just right. That's why they need coffee, and lots of it. A stove top mocha machine is perfect to make a shot (or two or three) of espresso to awaken the senses during those late night sessions.
—
(This post is brought to you by one of our many partners. They help us keep the lights on!)