Art speaks while the eyes listen, and while we're comfortable with the canvas stories portrayed by Van Gogh and Picasso, Destini T. Riley is a young Black artist who is creating her own lane in and transcending the world of art.
"Durham was known as a black place for black prosperity and arts … "
Destini Riley was born and raised in Durham, North Carolina, home to where some of her greatest ideas have manifested. A lot of her work deals with people of color, specifically Black culture, as it is part of her identity.
Through the perspective of a Black woman, she uses her creativity as a medium to share her culture's struggle and beauty.
It's no surprise that Riley uses her art to be a voice for her community; her activism stems from her great-uncle, Walter Riley, of whom she said in my interview with her, "My uncle was a part of the Carolina theatre sit-in, which sparked the civil rights movement here in North Carolina."
Riley believes that her great-uncle didn't just inspire her; his legacy inspires and lives through her family. "It kind of made us, as a Black family in the South, aware of our importance. So, through that I sometimes kind of learned to use my passions for painting and art."
Riley has had several successes in her life, one being her first short film, "I, Destini," which she made at the age of 13. The film has since been showcased around the world, including the Full Frame Film Festival, Short of the Week and Aspen Film. It was even archived in the National Museum of African American History and Culture. It was also a 2016 CINE Award finalist.
"I, Destini" made her the youngest filmmaker named as one of the "25 New Faces of Independent Film" by Filmmaker Magazine in 2016.
Filmmaker Magazine revered the "haunting animation" that deals with familial loss and the woes of the criminal justice system. The flower-in-the-crack beauty of "I, Destini" even made its way to The New York Times OpDocs series.
Like her great-uncle, Destini Riley is writing her name in history with a permanent pen.
Destini Riley prefers her creativity to speak through film, but recently, she has made great friends with her canvas. She developed a series of paintings called the Legend Series, which features a wide variety of portraits that tell complex stories through an abstract lens.
The series first manifested from Destini Riley's anger as she sat in a high school classroom. That anger, passion and what she assumed to be mindless doodling birthed the existence of "Legend One," which she submitted for her college portfolio back in 2016. It was also featured in the movie "Sorry to Bother You."
"Legend One"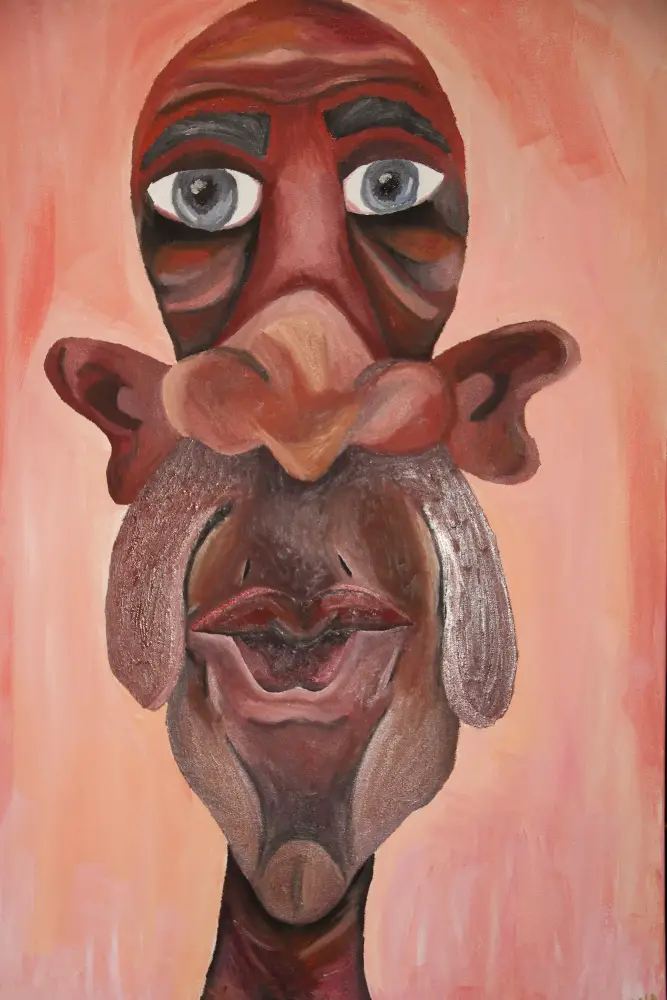 "Legend One" is a painting of a masculine face in front of a fiery background. With this painting, Destini was influenced by the features of the human face, such as the nose, which is one of the most prominent features.
"'Legend One' I, like, really, really wanted to, like, focus on how I was feeling, and I don't remember the actual situation that I was going through, but I know I was mad, so, which is a lot of, like, fiery and warm tones."
Another noticeable feature on the man's face is his captivating eyes, which look like they're following you in every direction you move. "I wanted to really, like, focus on the man's pain in his eyes," said Riley. "That's why kind of the big eye focal point is, like, the bags in his eyes. I want those to, like, stand out."
And they do stand out. You feel the pain, and if it's not pain you feel, it's something that still allows you to lose yourself in a rabbit hole of gray orbs.
With Durham being a home of art for several Black artists, it is only natural for Riley to look to her hometown for direction.  She said, "I really wanted to, like, stay within, like, the clay type. That's, like, the clay mud. North Carolina mud right there."
"Legend Two"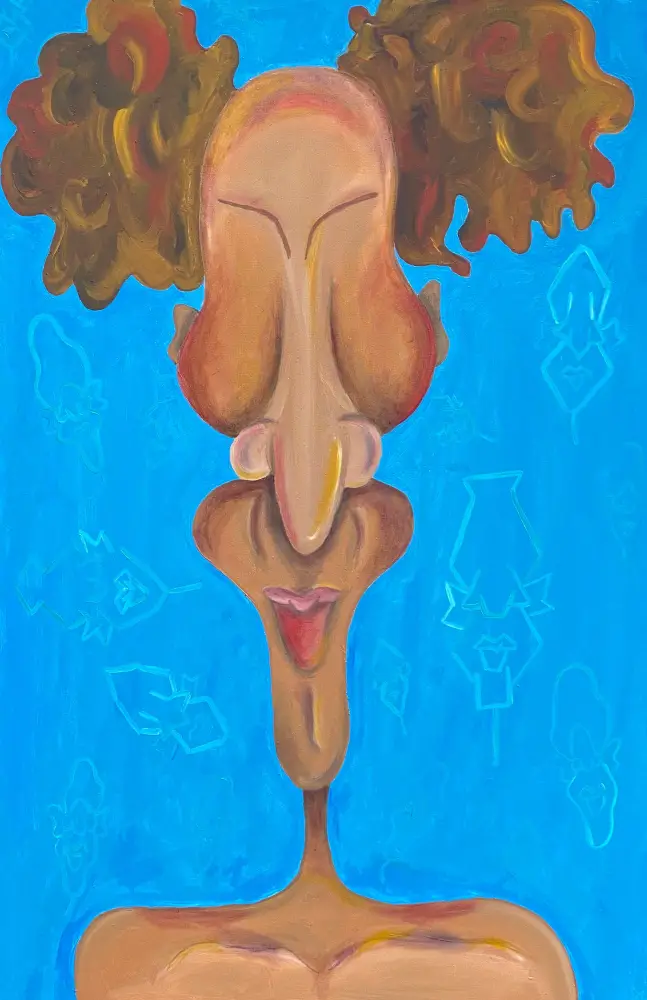 "Legend Two" is the continuation of the Legend Series. This painting gives off the energy of femininity due to the face mirroring parts of the female body.
Although the image looks to be feminine, with the hair and the body, Riley chose the blue background for a specific purpose.
"I try to, like, steer away from saying, like, 'That's a she.' That's the key, because it really could be, you know, anybody, so I try to just make the Legend people be relatable to anybody that views them, and, I don't know, it's kind of just tapping into, like, me exploring."
Between the red and pink background of "Legend One" and the blue background of "Legend Two," Destini Riley is using her work as a device to show that gender is complex and does not have to conform to society's expectations.
She wants people to look at her paintings and feel that times are changing as people become more educated about gender. "This is the painting, it's going to be beautiful like … it works for everybody," Riley explained.
"Legend Two" was created during the beginning stages of the COVID-19 quarantine when Riley wanted to paint something that made her feel free. She said, "Things might be horrible outside, but I can paint a world in paradise that feels comfortable."
"6877"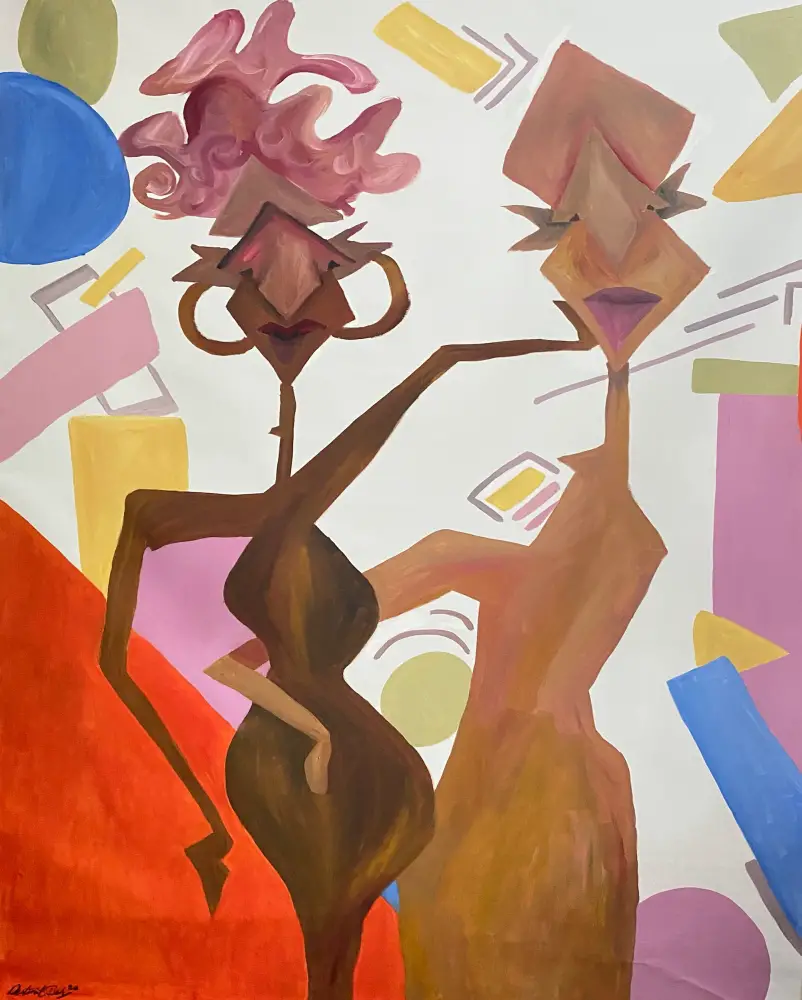 Then there's the painting "6877." The title is a combination of the years 1968 and 1977, the respective years when Riley's aunt and mother were born. Riley uses this painting to reflect on the women in her life and to reflect on growing up surrounded by women.
"Having that type of, like … upbringing and culture … I kind of just was able to figure out how I fit into what feminine means."
The painting shares a story of women coexisting in a non-competitive environment and shows that women come in all different shapes, sizes and complexions.
She wanted the painting to encapsulate the emotions she feels when she's around her mother and her aunt, a feeling of love and happiness. The background honors her mother's and aunt's eras with the use of '60s and '70s themed shapes.
"I wanted people to look at it and be like, 'Oh, I feel happy, I feel like dancing,' because that's the joy I feel when I'm around my auntie and my mom."
Destini Riley is a visual storyteller who uses imagery to evoke emotion, challenge stereotypes and reflect the beauty and pain of her community. Her Durham roots run deep within her, while the North Carolina "clay mud" is evident in her progressive style.