Season 3 of NBC's hit comedy "The Good Place" is on the horizon, and fans are awaiting the release with near-fatal levels of excitement. The previous season of the series ended with yet another brain-frying twist, and the months-long wait for continuation has been harrowing.
The show, first released in September 2016, features four main characters forced to bond through their mutual desire to leave a special kind of Hell created by a demon played by none other than Ted Danson. Eleanor (Kristen Bell), Chidi (William Jackson Harper), Tahani (Jameela Jamil) and Jason (Manny Jacinto) must come together, despite their painfully apparent differences, to prove they aren't meant for the Bad Place. Throughout the series, the group remains friends — or at least allies — and prove that sometimes friendship truly is one of the most powerful forces in the universe.
But that story has been told before. I mean, that's the entire premise of "My Little Pony: Friendship is Magic," so viewers surely aren't tuning in to "The Good Place" just for another display of powerful friendship, right?
Most likely, the answer is yes. "The Good Place" boasts quite a list of other watchable qualities that draw in viewers time and time again.
The Cast
What good is a show without its cast? A number of big names and familiar faces have graced an episode or two of "The Good Place," and their performances have been spectacular.
First and foremost, viewers get the pleasure of following Kristen Bell as the hotheaded and rebellious Eleanor; Bell does a great job of tiptoeing Eleanor along the fine line of being too much to handle and appealing to the audience. Eleanor, despite her tendency to yell at environmental volunteers, is lovable, mostly in her willingness to be better.
Next, we have Ted Danson as Michael, a bow-tie-wearing demon who created the façade of the Good Place to trick the main four into torturing each other. Danson starts out as a truly adorable old man who just wants everyone to be happy, so it is all the more startling when he's revealed to be a bad guy — but, boy, is it believable. Plus, he's everyone's favorite archetype: the bad guy who learns to be good.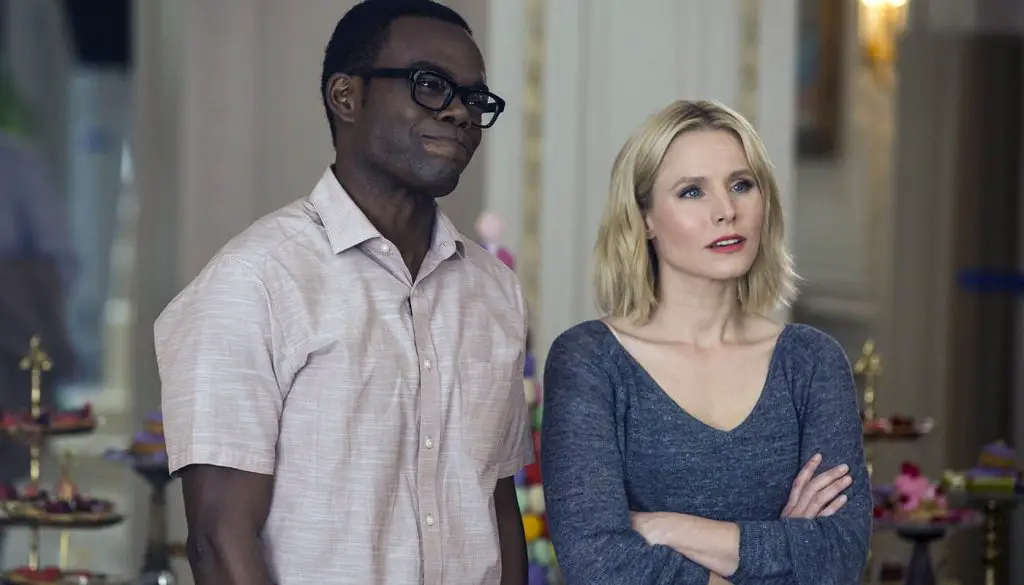 Aside from other big names, including Adam Scott and Maya Rudolph, "The Good Place" is home to actors like Jameela Jamil, who plays Tahani. Jamil gives viewers a tender portrayal into the heart of a rich girl who constantly disappoints her parents, and whose "kindness" is generally construed as selfishness.
Manny Jacinto fulfils the stereotypical Floridian character as Jason. Jacinto's metamorphoses on the show — from quiet and serene monk Jianyu Li to utterly immature and unpredictable DJ Jason — was not only a huge surprise, but also showed a large range of skill. Jacinto's ability to keep a straight face while saying most of Jason's lines is also largely impressive.
The Absurdity
Lines like "Apples you eat their clothes, but oranges you don't?" courtesy of Jason, give the show a very absurdist tone that follows the characters everywhere.
From the first season, there are giant flying shrimp and giraffes everywhere. Later, there are fountains of clam chowder, a house full of clown paintings and a robot whose defense against being shut off is to beg for her life.
For "The Good Place," comedy makes sense in a weird way. Really, it's genius; nobody knows what the afterlife is like, so why not make everything about it as wacky as possible? And the laughs aren't cheap just because the humor isn't always classy.
Given that the creator and producer, Michael Schur, also worked on comedies like "Brooklyn 99" and "The Office," it's no surprise that "The Good Place" has its own very special flavor of humor. That specialness is at the core of what makes shows like this so good; they're different and original, from jokes all the way to narrative.
The Story
How many TV shows today can say that they are about the afterlife? Not a lot, that's for sure. "The Good Place" is unique in its storytelling, especially with a false-Heaven narrative.
Original material isn't very easy to find anymore, what with numerous adaptations and remakes of movies, books and games. For something as original as "We're in Hell that is pretending to be Heaven, and we are going to befriend a demon and turn good so we can leave," I'm not surprised that so many people are interested.
Even more important, the show is not religious. I keep saying Heaven and Hell, but the series really sticks to its own terms, the Good Place and the Bad Place, when referring to the afterlife. Because the story is not heavily revolved around any one religion — and it totally works like that — viewers of various religious backgrounds could be inspired to check out a few episodes. But, because the episodes can't standalone, one-time viewers might then want to check out the rest of the series. It's really a win-win for everyone involved.
Hopefully, Season 3 of "The Good Place" will live up to its predecessors in comedy, acting and narrative. Tune in to NBC for the special hour-long season premiere on Sept. 27 to find out what Eleanor, Chidi, Tahani and Jason are up to next — and what's going to happen to Michael.