On July 13, 2013, unwilling to begin the weekly trek to New York City, my parents and I sat in the parked car outside the garage. My heart beat against the static of radio signals swallowed by the Pocono mountains, creating a cacophony of anticipation as I listened intently for the verdict. Only minutes later, George Zimmerman was declared not guilty in the 2012 shooting death of Trayvon Martin.
In that instant, something in me snapped. Hot tears streamed down my face as I realized, more than ever, America's criminal justice system did not value black lives. No longer afforded the ignorance of youth and forced to examine the nation's social cleavages, I understood this case was a defining moment for my generation.
The impact of the Martin case reverberated throughout the entire African-American community, eventually becoming the catalyst for the Black Lives Matter movement. Although Martin's name was etched on many tongues, the subsequent years continued to collect the corpses of unarmed black men and women, virtually normalizing police brutality and transforming once living souls into week-long Twitter handles.
Six years after the shooting, rapper Jay-Z is executive producing and co-directing a six-part docuseries, "Rest in Power: The Trayvon Martin Story," aimed to reinvigorate the movement with new momentum by presenting an in-depth look into Martin's life, death and legacy.
Behind the Tragedy
The docuseries, which premiered on Paramount Network on July 30th at 10 p.m, began with an ominous tone. The first episode kicked off with inaudible police radio chatter and blue and red lights flashing against falling rain.
Initially, viewers might wonder what they can expect from the project. Rehashing the details of the fatal shooting would resurrect public anger, but in order to bring a novel take to the story, the docuseries needed to expose a new dimension.
Therefore, the project successfully humanizes the faces of a tragedy surrounded by racial tensions. After emotionally charged and transitioning scenes of rallies, marches, 911 calls, white power chants, NRA and Trump speeches, there are individual interviews with Martin's parents, Sybrina Fulton and Tracy Martin.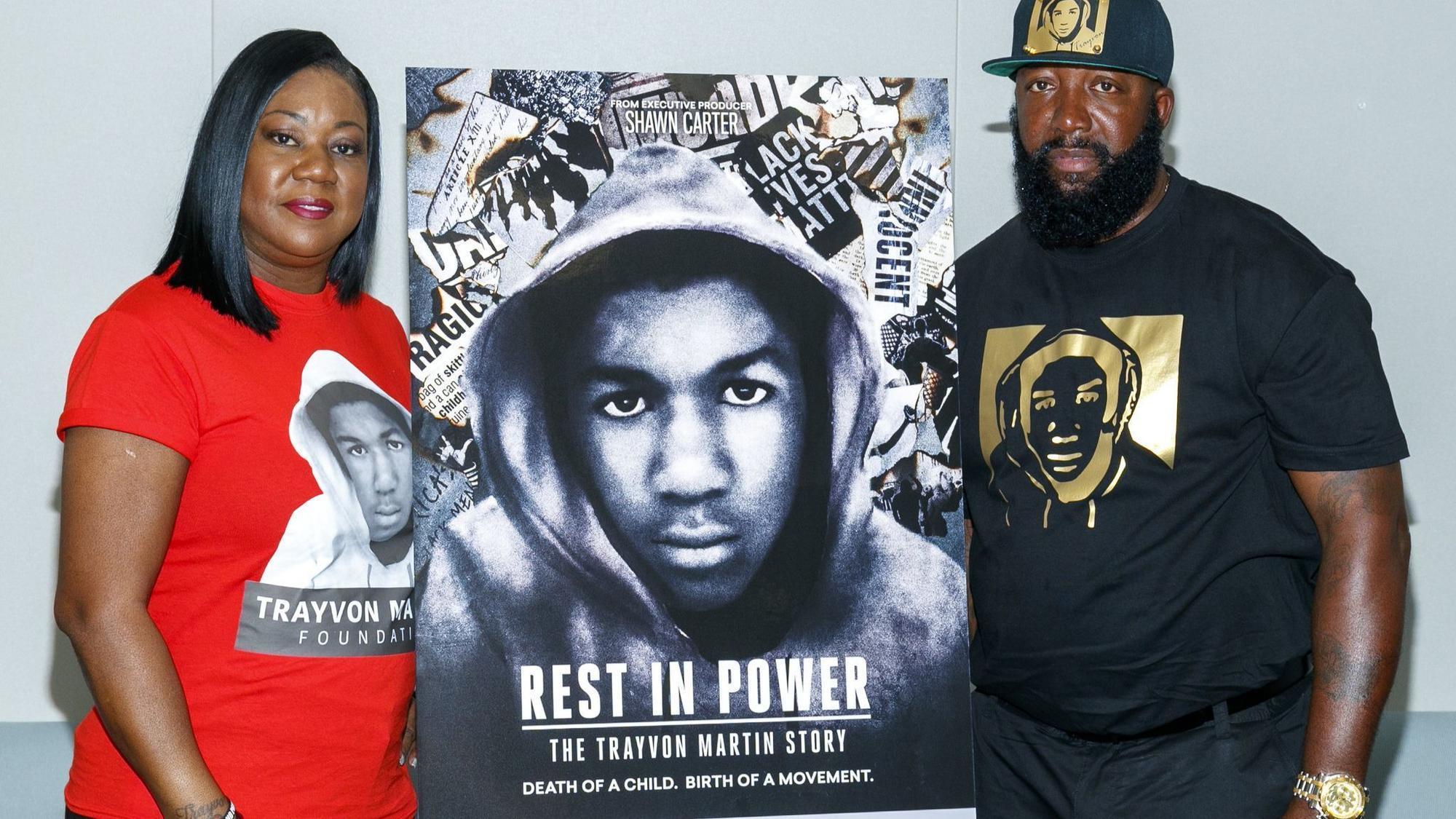 Through somber or glassy eyes, broken voices and shriveled spirits, they share how their son's death affected them. Fulton explains that the life she used to have is completely gone. Contrary to popular belief, time doesn't heal all wounds. When the Martin case was thrust into the spotlight and began to receive national attention, she was deprived of the privilege to grieve. Instead, she chose to fight for justice and fulfill an unexpected responsibility to her community. Martin's dedicated father who brought his son to Sanford, Florida to escape distractions, admits he often wants to "crawl up and cry," but he has to remain strong.
In addition, the docuseries sheds light on who Martin was to his friends and family, elevating him beyond the empty realms of a victim and refuting thug labels pushed by oppositional rhetoric. Viewers see pictures of a chubby-cheeked Martin, sometimes accompanied by everyone's dependable childhood friend, Mickey Mouse. His parents also share a few intimate details, such as Martin's affectionate qualities, his family nickname, "Crazy Legs," his dreams of being a pilot and an eagerness to do everything. According to Martin's father, his son had a "glow," the magic that ignites a fire in most parents' hearts.
The Ripple Effect
One of the most profound revelations in Part 1 of "Rest in Power: The Trayvon Martin Story" is how the 2008 recession contributed to increased racial profiling in the Retreat at Twin Lakes, the gated community where Martin was killed.
Natalie Jackson, a civil rights attorney, explains that residents who lived in the Retreat at Twin Lakes bought houses at the top of the market. When the market crashed, Florida ranked third in the nation for number of foreclosures. Investors saw an opportunity and purchased the foreclosures, which led to an influx of renters. However, many of these new tenants had Section 8 and previously lived in Sanford housing projects.
This demographic shift prompted investors to believe that the community was declining, which supported the creation of a neighborhood watch program. In reality, the program was designed to monitor black people. Obviously too excited about his criminal justice college syllabus, Zimmerman had an overzealous interest in policing, and he volunteered to be the neighborhood watch captain.
Unfortunately, a more racist candidate couldn't have been selected. The docuseries includes audio from several calls to the non-emergency line, in which all of the suspicious people that Zimmerman references are black. In the 911 call preceding Martin's death, Zimmerman states, "These assholes. They always get away, fucking punks," further confirming his prejudice.
Stand Your Ground 
Economics have power, and they eventually influence politics. Although Zimmerman's attorney did not present a Stand Your Ground defense at the trial, the docuseries thoroughly explores the subject because the self-defense law was discussed among jurors.
Established in 2005 under Florida 43rd governor, Jeb Bush, the Stand Your Ground law created a new way of asserting self-defense. The dangerously radical piece of legislation eliminated the obligation to retreat before resorting to lethal force. Based on English common law, the Castle Doctrine used to permit citizens to exercise deadly force if they felt threatened in a legally occupied place, such as their home or "castle." Trading in the days of knights and horses for trigger-happy admirers of the Second Amendment, the Stand Your Ground law expanded what constitutes a citizen's "castle," creating a far-reaching shooting range and potentially launching target practice against people of color.
To make matters worse, Jeb Bush signed the Stand Your Ground law with NRA queen and lobbyist Marion Hammer — a five-foot menace that's surely packing in her purse and panty drawer — at his side. In 2005, Hammer changed self-defense laws in the United States to increase gun sales, solidifying her as one of the most influential gun lobbyists in history. She claimed that Stand Your Ground protected "law-abiding people and victims" rather than criminals. In reality, criminality is fueled by racial biases, and the law legalized senseless murder.
Stand Your Ground recently returned to the forefront of national discourse following a deadly shooting in Clearwater, Florida, on July 19. Hoping to get some rest after a nursing shift, Brittany Jacobs parked in a handicap spot, while her 28-year-old African-American boyfriend, Markeis McGlockton, purchased snacks and drinks at Circle A. Michael Drejka, a 47-year-old white man, was also in the parking lot and often confronted able-bodied people who parked in reserved spots in the past.
Once Drejka examined Jacob's car and didn't find a handicap decal, he initiated an argument about Florida's parking regulations. The incident caught McGlockton's attention, and he rushed out the store to defend his fearful girlfriend. Unbeknownst to him, the situation would escalate further than he could've ever imaged. He pushed Drejka to the ground, and Drejka proceeded to pull a pistol from his pocket and deliver a single shot to McGlockton's chest.
McGlockton bled to death on the floor of the convenience store, while his 5-year-old son, Markeis Jr., watched in despair. However, tears don't change law. Sheriff Bob Gualtieri told reporters that Drejka's character is irrelevant. The only factor that matters is whether the shooter was "in fear of further bodily harm."
Much like Zimmerman, Drejka appointed himself a role: protector of the handicap spot. Unfortunately, civilians such as these two don't earn capes — only acquittals. Drejka sought to defend accommodations for the disabled, but he instead became paralyzed by his own blind rage, possibly ignited by inherent racism.
Time Will Tell
Overall, "Rest in Power: The Trayvon Martin Story" is off to a strong start.
Part 1 thoroughly addresses the convergence of economics, politics and race, taking the story deeper than the news headlines many viewers are familiar with. Nonetheless, I expect the docuseries to maintain this momentum and delve into the verdict of the Trayvon Martin case.
For example, in retrospect, do the prosecution and Martin's parents believe different charges should've been filed against Zimmerman? At any point, did they question whether Martin was the aggressor or think the evidence was insufficient to prove otherwise? What influence did the media have, and did they perpetuate stereotypes?
I also hope the project presents concrete solutions (e.g., legislation, community organizations) for how similar tragedies can be prevented in the future and explores the Martin family's activism throughout the years. Viewers need to be reminded that while change begins with conversation and public outcry, it can only come into fruition within the institutions that work against justice.
Tune in to Paramount every Monday at 10 p.m. to catch the rest of the riveting series, and follow @Paramountnet on Twitter for daily updates.