Do Your Part
If you have no idea where to start, here are some ways you can raise your voice and help end police brutality.
By Bri Griffith, Carlow University
---
In Charleston, South Carolina, 50-year-old Walter Scott was shot five times by officer Michael Slager on April 4, 2015.
Although Slager could have been convicted of murder or voluntary manslaughter, on December 5, 2016, Slager's trial ended in mistrial due to a hung jury.
37-year-old Alton Sterling was shot dead by police in Baton Rouge, Louisiana on July 5, 2016. Sterling was selling CDs outside a convenience store when officers tackled him and yelled, "He's got a gun!" Bystanders recorded the attack.
43-year-old Keith Lamont Scott was shot by officer Brentley Vinson on September 20, 2016. Vinson was placed on paid administrative leave pending an investigation. Ultimately, Vinson wasn't charged—prosecutors claimed the fatal shooting was justified.
896 people were killed by police between the months of January and July in 2016, many of whom were unarmed, mentally ill and people of color, according to thinkprogress.org.
In March, 2015, Barack Obama said police abuse in Ferguson, Missouri was not an isolated incident. He also said, "I think there are circumstances in which trust between communities and law enforcement have broken down, and individuals or entire departments may not have the training or the accountability to make sure they are protecting and serving all people, and not just some."
You might be thinking, "I have no idea what to do," and maybe you want to help, but don't have the information or resources necessary to do so.
Perhaps you're thinking, "Police brutality doesn't affect me, therefore it's not my problem."
So, police brutality doesn't personally affect you, but your silence absolutely adds to the problem; ignoring racism will only normalize racist behavior. Living in a world where white lives are valued more than non-white lives, it's important to remember: People are dying, it's your problem too and you have to do your part.
Here are simple things you can do right now to fight against police violence in America.
First, Shaun King is a Senior Justice Writer for the "New York Daily News." He wrote an article entitled, "Introducing a 25-part series on how to reduce police brutality following the deaths of Alton Sterling and Philando Castile."
You can find the article pinned on his Twitter and Facebook accounts. His Facebook post (from September 10, 2016) specifically details 25 solutions for police brutality. King also included relevant links in the post to help make each solution a reality.
Share Shaun King's post on your social media accounts—the more people who read and share the post, the better.
In addition to supporting civil rights activists online, it's important to identify police issues in your own city. Specific problems include, but are not limited to: excessive use of deadly or physical force, crowd control tactics like spying on political activists (which may lead to unnecessary use of physical force) and verbal abuse, according to American Civil Liberties Union (ACLU). Also according to ACLU, "Police departments differ in size, quality of management, local traditions and the severity of their problems. Some departments are gravely corrupt; others are relatively 'clean' but have poor relations with community residents."
Although demanding information about police practices may be difficult, doing so is vital.
ACLU's "Fighting Police Abuse: A Community Action Manual" is an incredible resource; the manual outlines exactly what you should know, and how to go about holding your city's police officers accountable.
In addition to attacking police brutality locally, state and federal governments can work to improve accountability on a larger scale, which is why it's important to write your representatives.
You can use USA.gov to find out who your representatives are—mayor, governor and so on. Once you're aware of who they are, you can contact them and ask what they're doing to address police brutality. Whether you're calling or emailing them, an article on medium.com suggests advocating for specific parts of "Campaign Zero's" policy agendas. "Campaign Zero," a police reform campaign, was launched by Black Lives Matter activists in August, 2015.
On the official website for "Campaign Zero," it reads, "We can live in a world where the police don't kill people by limiting police interventions, improving community interactions and ensuring accountability."
Their website is another excellent resource because of how detailed the problems and solutions are. For example, "Campaign Zero" aims to end policing of minor "broken windows" offenses like jaywalking, spitting, trespassing and marijuana possession. According to "Campaign Zero," "The following activities do not threaten public safety and are often used to police black bodies."
Referring back to sharing Shaun King's post on social media, it's important to support activists in your community and make your voice heard.
In May, 2015, I marched with 300 others in Pittsburgh, Pennsylvania to protest police brutality. The protest took place because Freddie Gray died while in police custody in April, 2015. I yelled, "Hands up, don't shoot," as well as, "No justice, no peace, no racist police." I watched people cry, collapse in the streets and fight.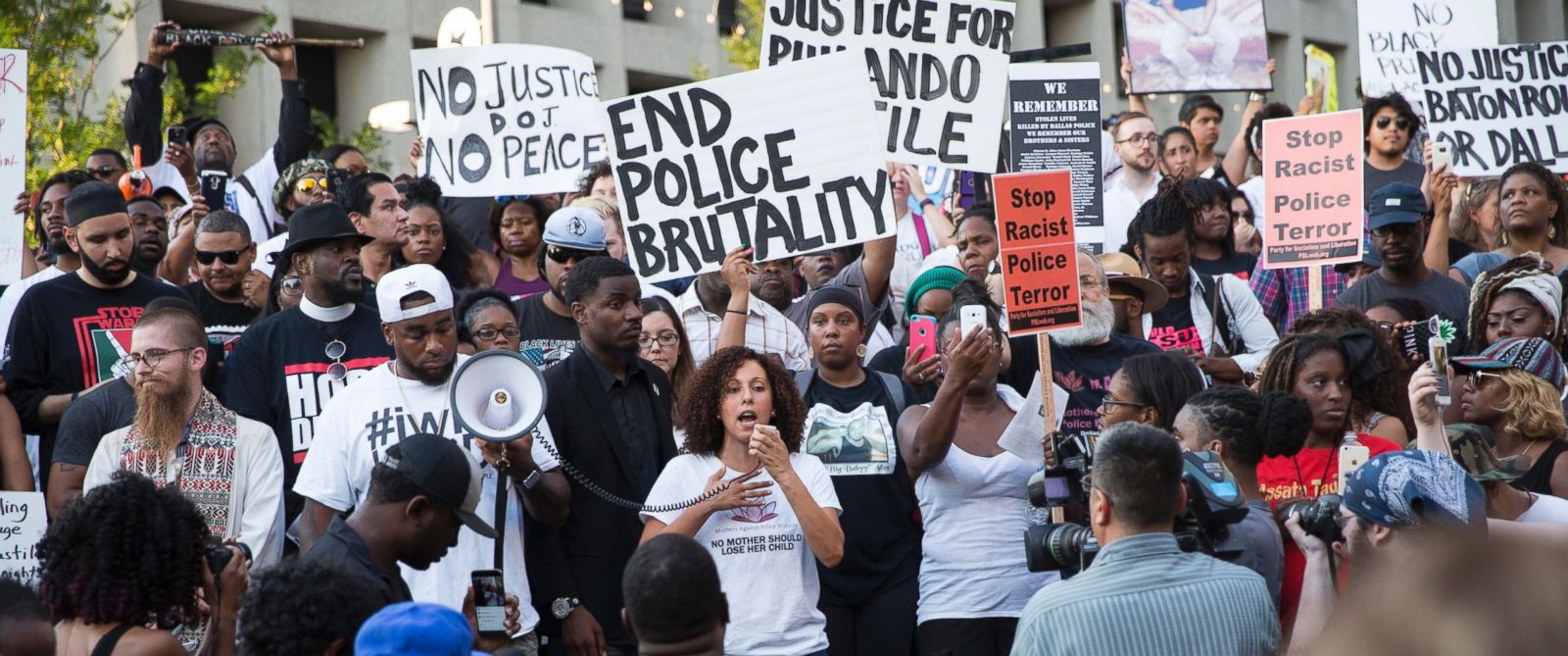 Protests take place in Pittsburgh all the time, mainly because Pittsburgh is a city full of college students. Most recently, students have been holding peaceful "Not My President" protests, as well as "Anti-Trump" rallies to show they don't stand for President-elect Donald Trump's bullshit.
I suggest attending protests and events happening in your area because listening is one of the most powerful things you can do. I gained valuable insight walking alongside people who know a pain I will never know. Attending a protest may completely change the outlook of a person wondering, "Why should I care?"
A friend of mine gave a presentation on cultural competence at my university last month, and she said, "You shouldn't treat people the way you want to be treated; you should treat them the way they want to be treated." An event meant to raise awareness about the issues of police violence would be the perfect place to ask questions about race, cultural appropriation and so on.
In addition to supporting activists and organizers in your city, make sure to support students on your campus. You can help to plan an event on campus, bring a guest speaker to your university or even attend a Black Student Union meeting. Join in the fight to end police violence, and use your voice to speak out against injustices.