Sometimes, a show moving from Cable TV to Hulu is synonymous with a move to the television graveyard. Unfortunately, this was exactly what happened to my relationship with "The Mindy Project." The show moved to Hulu, and without a Hulu subscription, I moved on.
A few weeks ago though, I stealthily found a friend had forgotten to log-off from their Hulu account on my computer. Here I was with a whole other universe of TV options and hours to kill in procrastination. Without thinking, I typed in "The Mindy Project" in a curious urge to see if the show was even still being made. To my delight, there were an entire two new seasons of fresh material for me to watch!
And thus began my renewed love affair with "The Mindy Project." In my honeymoon-stage bliss, I forgot that not many of my friends actually watched the show. I was running around repeating jokes from the show and catching them up on plot lines, but was met with only blank stares. The warm, unabashed comedy is certainly deserving of some more attention, so, I am starting a campaign to renew the love for "The Mindy Project" before its sixth and final season.
Here is a list of six reasons why you should start watching "The Mindy Project" today.
1. Mindy Kaling
As the title would suggest, this show really is Mindy Kaling's project. Her witty writing and character acting were strong in her role as writer/actor on "The Office," but "The Mindy Project" truly allows her brilliance to shine through.
Additionally, the female-driven narrative that is actually written by a woman is refreshing, making the humor even more relevant.
2. Comic Sidekicks
I have laughed out loud at 90 percent of "The Mindy Project" episodes I have watched. Thanks to the well-formed characters and smart one-liners, the show has hit its comedic stride.
Mindy Lahiri's co-workers on the show have always been kooky, oddball characters, and now in the fifth season, the staff of Schulman and Associates is a well-formed, joke-slinging ensemble.
Ike Barinholtz's character Morgan is especially fun to watch. A loveable ex-con who would do anything for his ten rescue dogs and Dr. Lahiri, Morgan is always absurd, and equally as hilarious.
3. Costumes
Most of Mindy's clothes are designed by Salvador Perez, and oh, does he know how to design a costume. The bright, colorful, intricate clothes mirror Dr. Mindy Lahiri's obsession with pop-culture and her spunky personality.
Mindy Kaling also has praised Perez's work for making women larger than a size zero feel confident. Kaling said, "It's…very touching to me as an artist and a feminist, as he puts me in clothes that you just don't see a woman on TV who's not a size zero wear. You know, I am wearing strapless dresses and things, because in any other show or movie, they would put me in a long-sleeve shift because they just don't want to deal with [my body]. On my show, I look fabulous, I have an incredible dating life so men are responding to it, and I look beautiful."
4. Realistic Romance
"The Mindy Project" doesn't abide by the typical storyline of girl-meets-boy and that's the end. Instead, Mindy dates a slew of men, attempting to find love, but not sticking around when she finds out the man she's been dating is a complete weirdo. There are also poignant moments of realization for Mindy in the fourth season, as she realizes that love alone might not make a relationship work.
Without being too sappy, "The Mindy Project" portrays a more realistic view of the ups and downs of dating. Bonus: Guest stars that have played Mindy's dates include Seth Rogen, Bill Hader, Seth Meyers, Josh Meyers, B.J. Novak and Ed Helms. You know a show must be good when this many people are vying to be a part of it.
5. A Relatable Leading Actress
Sometimes, TV show leads can feel just a little too perfect. Mindy Lahiri is the opposite. While she is a funny, confident and successful OBGYN, she can also be a bit of a mess.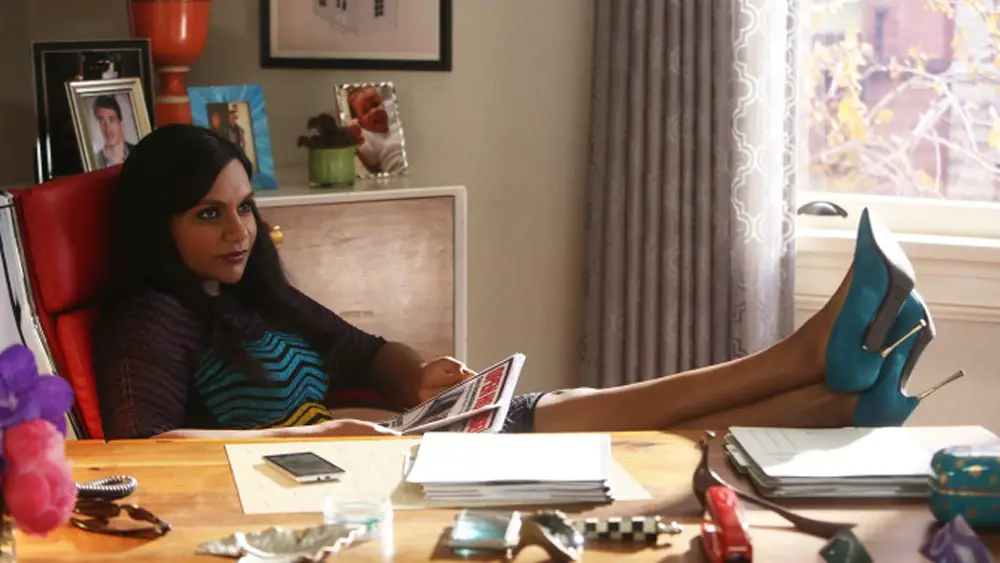 She eats three bear claws for lunch daily, takes her birth control in a cube of cheese to remember and loves to gossip unabashedly. She makes bad decisions, but they don't define her. In fact, Mindy Lahiri's flaws are exactly what makes her so endearing.
6. Comedic Takes on Social Issues
"The Mindy Project" does not shy away from tackling hot-button issues, best exemplified in the episode "Mindy Lahiri is a White Man" in which Dr. Lahiri experiences a day at the office in the body of a white man, revealing gender and racial issues within the workplace.
What could have felt like a tacky "bit," somehow works under the steady hand of the writers of "The Mindy Project," balancing political commentary with the familiar warm humor of the show. Not only this episode succeeds, though. In fact, most episodes manage to navigate this balance between a care for what's happening in the world and a dedication to comedy.