The hit horror film "A Quiet Place," produced by Paramount and starring John Krasinski — the actor who played Jim from "The Office"— and Emily Blunt, is moving forward with a sequel.
On Wednesday, studio chairman and CEO Jim Gianopulos announced the news at CinemaCon as the studio presented its slate of films to theater owners gathered in Las Vegas for their annual convention.
According to The Hollywood Reporter, Paramount has had a tough run at the box office for more than a year. "A Quiet Place" was the first film that went into production after Gianopulos — who formerly ran Fox — arrived at the studio.
"A Quiet Place" was directed by John Krasinski with a script by Bryan Woods and Scott Beck, who have said they have enough material left over for a sequel.
"If you told me five years ago that an almost silent film starring the very funny guy Jim from 'The Office' would have been a hit at Paramount, I would have said, 'Well, I should go work at Paramount,'" Gianopulos told the crowd.
Other than directing "A Quiet Place," Krasinski also stars in the film opposite Emily Blunt, his real-life wife. They play a married couple with two small children who must remain absolutely silent if they are to avoid being attacked by creatures attracted by noise.
"A Quiet Place" took $17 million to make and has defied box-office expectations.
The horror film overtook the big-budget Dwayne Johnson flick "Rampage" last weekend for No. 1 in its third weekend (it opened at No. 1, while coming in No. 2 behind "Rampage" in its second outing). Platinum Dunes's Andrew Form and Brad Fuller produced it.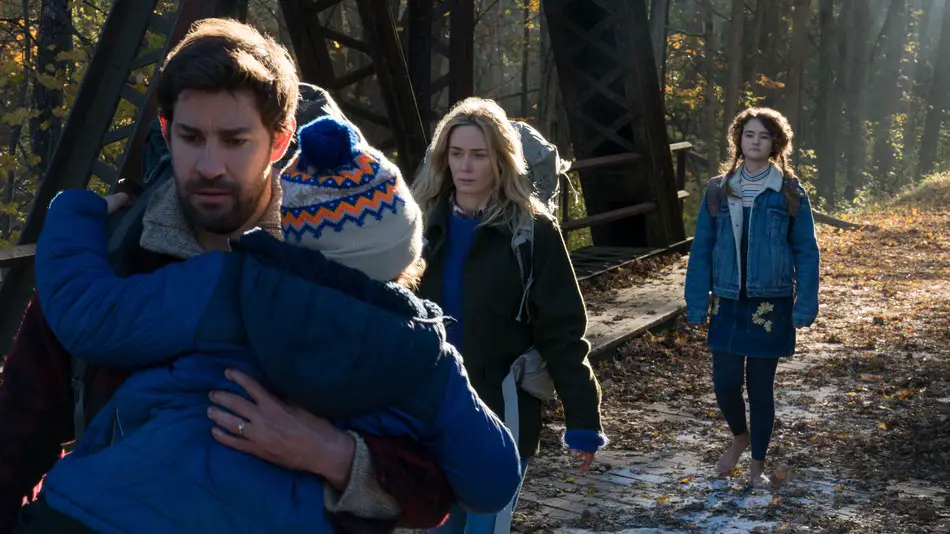 Devan Coggan, from EW, reports that "A Quiet Place" has proved a major critical and commercial hit, raking in more than $134.8 million domestically and $213.3 million worldwide. It boasts a 95-percent "fresh" rating on Rotten Tomatoes.
So far, it is unknown whether the sequel will focus on the same characters as the original film, but Blunt and Krasinski have previously said they want to work together again.
"We really, really do," Blunt said. "It would have to be the right thing, but if he would direct me, I could pop in. I don't have to be the lead!"
"It's definitely going to be hard to top this," Krasinski added.
A Quiet Place (2018) - Official Trailer - Paramount Pictures